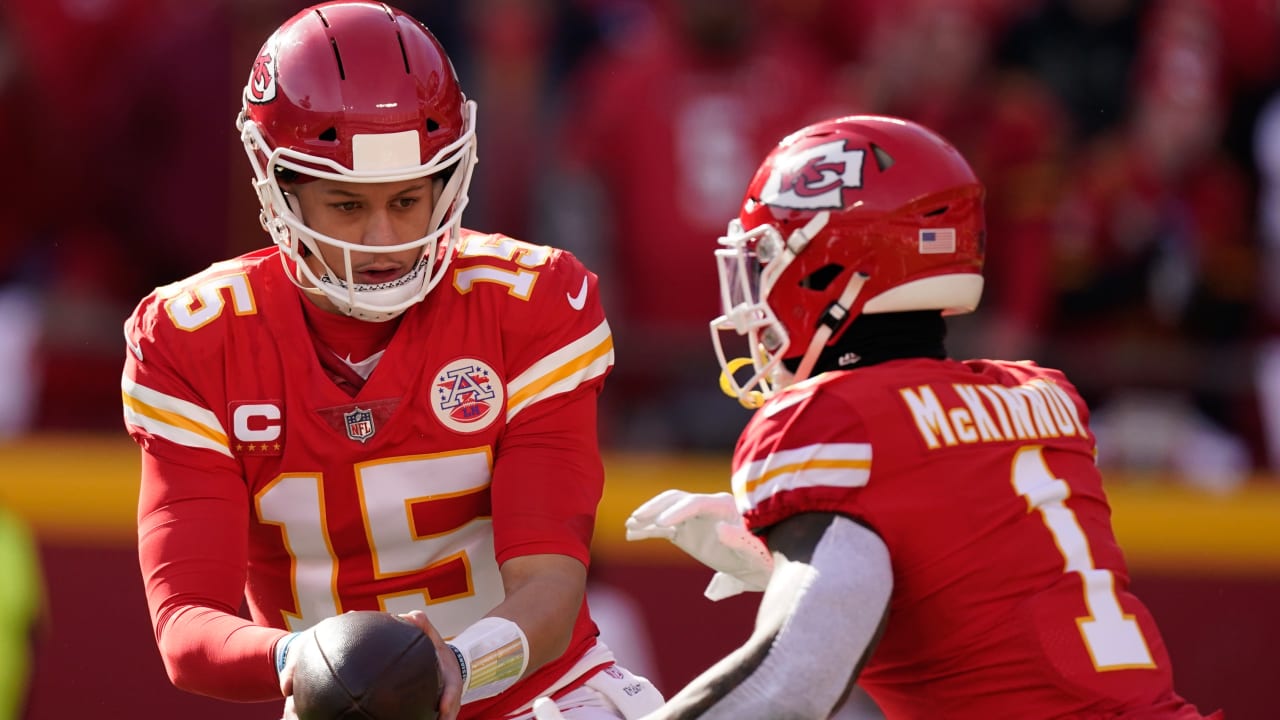 www.nfl.com
NFL Divisional Round bold predictions: Chiefs RUN wild; Jalen Hurts and Daniel Jones forge epic bout
Will the high-flying Chiefs actually do their most impressive work against the Jaguars ... on the ground? Are Jalen Hurts and Daniel Jones about to engage in a record-setting shootout? NFL Network analysts provide bold predictions for the Divisional Round
Sports
With the Jaguars' defense zeroed in on not letting Patrick Mahomes make the big play downfield, the Chiefs record a season-high total on the ground. Andy Reid schemes up running lanes for Isiah Pacheco, Jerick McKinnon and friends, who eclipse the 189-yard rushing mark the Chiefs logged twice this season (in Week 4 and Week 15).
Four of the top 10 rushers remaining in the postseason face off Saturday night in the third Giants-Eagles meeting this season. There will be seven total rushing touchdowns in the game between quarterbacks Jalen Hurts and Daniel Jones and running backs Saquon Barkley and Miles Sanders.
The Cowboys-49ers tilt showcases two Defensive Player of the Year candidates in San Francisco's Nick Bosa and Dallas' Micah Parsons. With 32 combined sacks in the regular season, these two playmakers total four sacks in the Divisional Round finale.
The Giants-Eagles matchup is close to my heart, having grown up in Philadelphia and worked for both of these teams. I've been through joy and heartbreak on both sides, and I know how much passion flows from fans on Broad Street and Broadway -- and how much enmity they have for each other. No way can I pick a winner for Saturday night's bout, but the bold prediction is that Jalen Hurts and Daniel Jones combine for the most passing/rushing yards by opposing quarterbacks in NFL playoff history, surpassing Alex Smith and Andrew Luck's combined mark of 923 yards in their 2013 wild-card matchup between the Chiefs and Colts. (Shoutout to NFL Research's Ben McWilliams for finding this gem.)
All eyes will be on Brock Purdy and Dak Prescott when they take the field Sunday, and despite Prescott having more postseason experience than the 49ers' seventh-round rookie, Purdy outperforms him in two major statistical categories: touchdowns and total yards.
Full Divisional Round schedule
Saturday, January 21
No. 4 Jacksonville Jaguars at No. 1 Kansas City Chiefs (4:30 p.m. ET on NBC/Peacock/Universo)
No. 6 New York Giants at No. 1 Philadelphia Eagles (8:15 p.m. ET on FOX/FOX Sports/FOX Deportes)
Sunday, January 22
No. 3 Cincinnati Bengals at No. 2 Buffalo Bills (3 p.m. ET on CBS/Paramount+)
No. 5 Dallas Cowboys at No. 2 San Francisco 49ers (6:30 p.m. ET on FOX/FOX Sports/FOX Deportes)