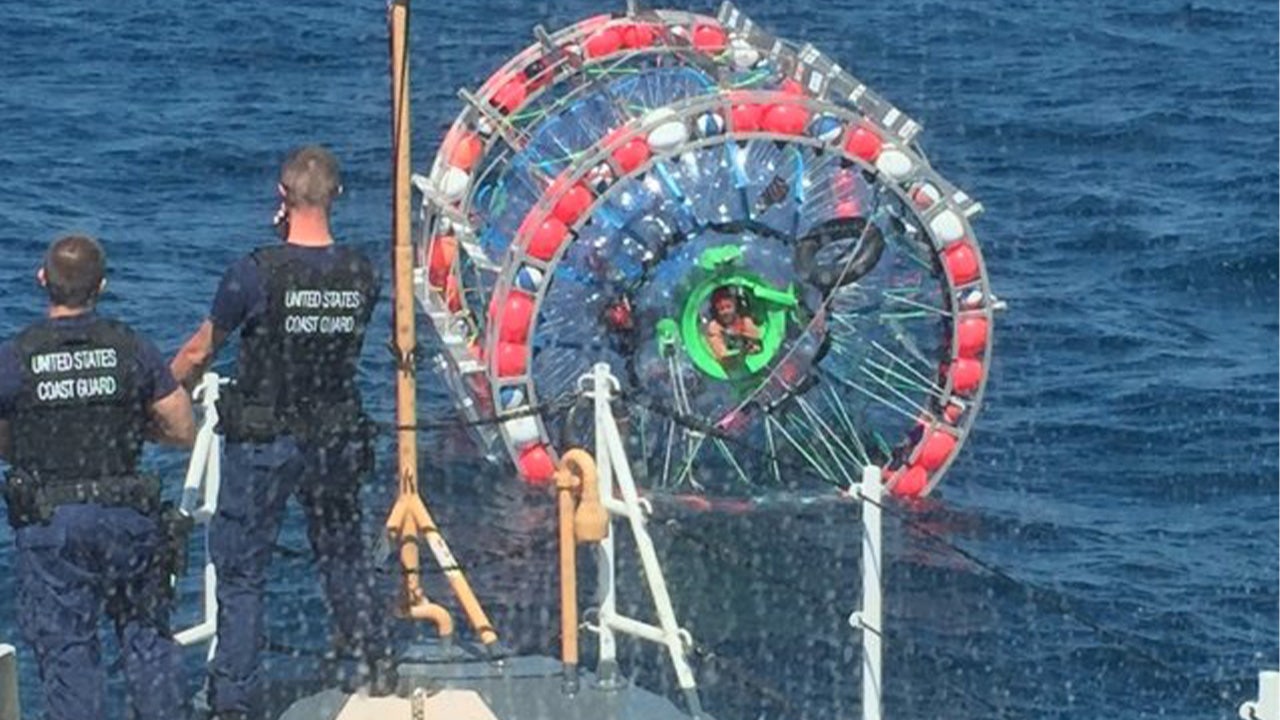 www.foxnews.com
Florida man arrested by Coast Guard for trying to cross Atlantic in human-sized hamster wheel
A Florida man attempting to 'run' across ocean in a human-sized hamster wheel was arrested after threatening U.S. Coast Guard officials.
Local
Coast Guard officials arrested a Florida man after they intercepted his unusual hamster wheel contraption that he was allegedly attempting to 'run' to London.
According to a criminal complaint, 44-year-old Reza Baluchi is facing federal charges after he was rescued 70 miles off Tybee Island, Georgia by coast guard officials. The marathoner was found on August 26 in his bizarre hamster wheel contraption and asked "standard questions."
"Based on the condition of the vessel – which was afloat as a result of wiring and buoys – USCG officers determined Baluchi was conducting a manifestly unsafe voyage," the criminal complaint says.
The complaint says that Baluchi was unable to provide officials with the required registration for his water vehicle and informed officials that he was running in his hamster wheel all the way to London, England.
When Coast Guard officers told Baluchi they were cutting his voyage short, Baluchi threatened to kill himself with a 12-inch knife if anyone tried to apprehend him, and claimed to have a bomb aboard, according to the complaint
After days of trying to get Baluchi to board Coast Guard vessels, he admitted that he did not have a real bomb and on September 1 officers were able to get him to disembark at the USCG Base in Miami Beach, Florida.
Court documents said that this was not his first attempt to run on water in his hamster wheel. Officials said he attempted similar voyages in 2014, 2016 and 2021, all of which have ended with Coast Guard intervention.
He faces federal charges of obstruction of a boarding, and violation of a Captain of the Port order.
According to an exclusive interview with FOX 35, Baluchi efforts were meant to raise money for various charitable causes, including "homeless people," the U.S. Coast Guard and police and fire departments.
"My goal is to not only raise money for homeless people, raise money for the Coast Guard, raise money for the police department, raise money for the fire department," Baluchi said. "They are in public service, they do it for safety, and they help other people."
Baluchi says he's raised a lot of money- but most importantly he will never give up on his dreams.
"I'll never give up my dream. They stop me four or five times, but I never give up."