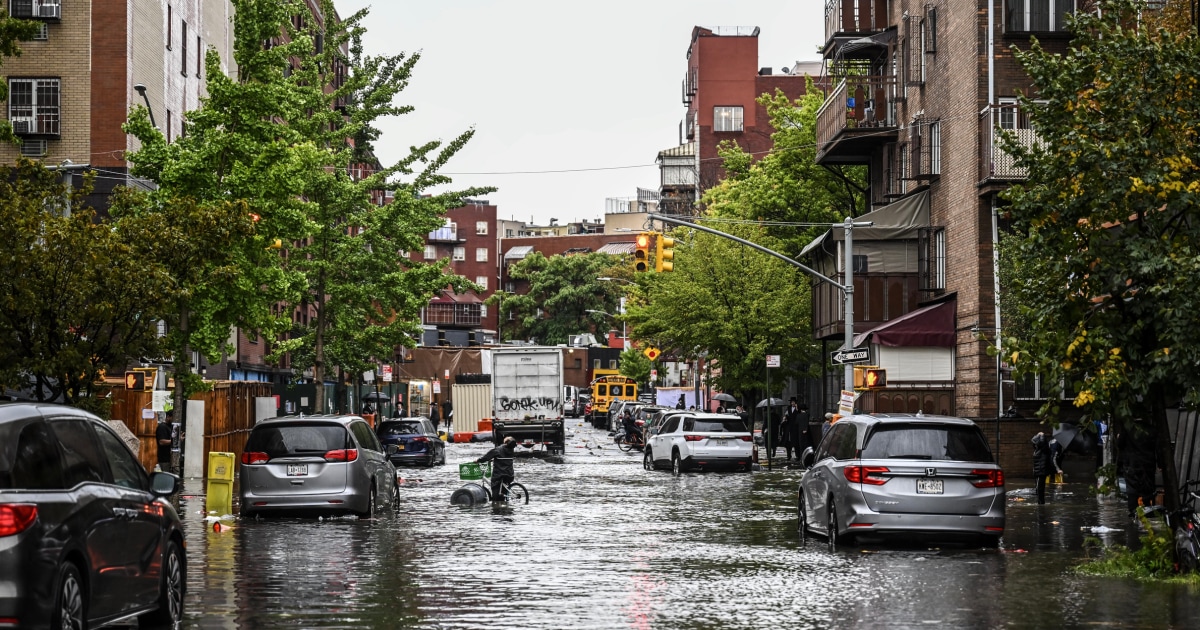 www.nbcnews.com
Climate change and NYC: Historic rains buckle city's infrastructure, again
New York City's lack of preparation for climate change-induced weather events is evidenced by recent flooding and rain-related issues with buses, subways and rail lines.
Local
A severe storm dumped more than 7 inches of rain in less than 24 hours over parts of New York City on Friday, turning streets into fast-moving rivers and grinding subway travel to a halt as water cascaded into underground transit stations.
The storm, which hit just two years after flooding from the remnants of Hurricane Ida battered the five boroughs and killed at least 13 people in the city, laid bare how vulnerable the Big Apple's aging infrastructure is to extreme weather events that are intensified by climate change. And more than a decade after Hurricane Sandy forced officials to rethink the meaning of climate resilience in New York City, it appears there's still much to be done.
Heavy rainfall of up to 2.5 inches per hour were reported in some of the hardest-hit places. A number of roads were closed, cars were submerged and several city buses were trapped as a result of flash flooding. Subways, regional rail lines and air travel was suspended or severely delayed, and at least one school in Brooklyn was evacuated during the storm.
"The reality staring city leaders in the face, including in places like New York, is that the climate is getting more extreme, more unpredictable and requiring more investment," said Joseph Kane, a fellow who focuses on infrastructure at the Brookings Institute, a nonprofit think tank. "Usually, it's too little too late."
Steve Bowen, chief science officer for Gallagher Re, a global reinsurance broker, said extreme weather events like this are exposing how quickly risks are shifting in cities like New York as climate change intensifies rainfall and existing infrastructure gives out.
A warmer atmosphere can hold — and deliver — more moisture, which can make storms more intense, Bowen said.
"The bottom line is that we have infrastructure in New York, infrastructure all across the U.S. and frankly in many, many parts of the world that is just simply not capable of withstanding the climate that we're seeing today and certainly not the climate that is yet to come in the future," Bowen said.
Around 23 million people across New York, New Jersey and Connecticut were under flood watches on Friday. New York Gov. Kathy Hochul declared a state of emergency for New York City, Long Island and the Hudson Valley, calling the storm a "life-threatening rainfall event."
New York City Mayor Eric Adams, who also issued a separate state of emergency, faced backlash for being slow to address the public and for not doing enough early on to warn residents about the seriousness of the situation.
Zachary Iscol, New York City's emergency management commissioner, said that Friday was the city's wettest day since Hurricane Ida.
Hurricane Sandy, in October 2012, was supposed to have been a wake-up call to New York officials about climate and weather risks.
https://www.nbcnews.com/science/environment/nyc-flooding-climate-change-infrastructure-limitations-rcna118170