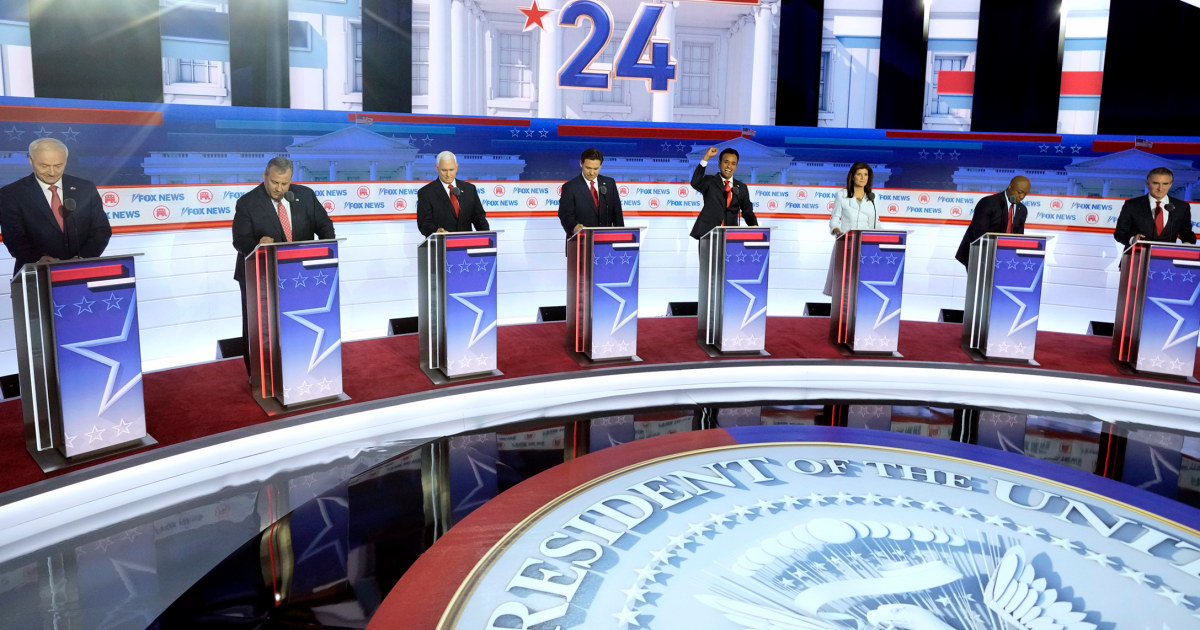 www.nbcnews.com
What to watch for in the second Republican presidential debate
Get a preview of the upcoming Republican debate on Fox News. Learn what to expect and what to pay attention to during the latest presidential debate.
Politics
Seven Republican presidential candidates not named Donald Trump will gather Wednesday evening at the Ronald Reagan Presidential Library and Museum in Simi Valley, California, for the second GOP presidential primary debate — a contest that, much like the first one last month, has the feel of a fight for second place.
Scheduled to participate are: North Dakota Gov. Doug Burgum, former New Jersey Gov. Chris Christie, Florida Gov. Ron DeSantis, former United Nations Ambassador Nikki Haley, former Vice President Mike Pence, businessman Vivek Ramaswamy and Sen. Tim Scott of South Carolina.
Even without Trump, the far-and-away front-runner, in attendance, the event holds significant stakes for each of the contenders onstage and has the potential to add new clarity about where the GOP is headed as the 2024 election nears.
One subject that is sure to get tested, given that the debate is being hosted at the Reagan library, is whether the party even still has room for Reagan's vision of the Republican Party.
The Reagan-era GOP base was made up of fiscal conservatives who wanted to slash government spending while cutting taxes and barriers to free trade, social conservatives who fought to limit abortion rights, and defense hawks who advocated for foreign intervention and steep military spending.
All three parts of Reagan's "three-legged stool" are caught in a tug of war — one that kicked off as Trump remade the party in his image. Much of the party now wants to impose steep tariffs to limit global trade, while Trump and others have shown they have no issue with harnessing state power to achieve culture war goals. Recently, Trump himself has taken to criticizing the anti-abortion rights movement on his Truth Social platform while criticizing six-week abortion bans as "terrible." And the war in Ukraine has deeply divided the party, particularly over how much the U.S. should spend supporting its Ukrainian ally.
At the first presidential debate in Milwaukee, an exchange between Pence and Ramaswamy put the divide over the two visions for the party on full display.
"We're not looking for a new national identity," Pence said. "The American people are the most faith-filled, freedom-loving, idealistic, hard-working people the world has ever known. We just need government as good as our people."
"It is not morning in America," Ramaswamy shot back, referring to Reagan's famous 1984 re-election ad "It's Morning Again in America." "We live in a dark moment."
Pence has sought to hug Reagan's vision tightly on the campaign trail, but to little success. Ramaswamy, meanwhile, has risen from relative obscurity to the top tier of the primary field.
That's just one of several storylines to watch Wednesday.
What year is Pence running in?
The clash between Pence and Ramaswamy at the first debate underscored the cultural and generational divide in the Republican Party. In that regard, the Reagan library is a rather appropriate setting for what could be one of Pence's last debates. (He will be one of the lower-polling candidates onstage Wednesday.)
In style and substance, Pence brings the Reagan vibes. And his campaign leaned into them heavily on the eve of the debate, announcing endorsements from five senior Reagan administration officials, though none of them are household names.
Complicating matters for Pence is his split with Trump, who elevated him to the vice presidency. Pence's refusal to block certification of President Joe Biden's 2020 victory was a touchstone of anger and grievance for Trump — and for the Trump supporters who stormed the Capitol on Jan. 6, 2021.
Can Haley keep her momentum going?
The last debate was a huge win for Haley.
Haley, the lone female candidate in the primaries, tangled with rivals onstage and presented herself as someone who told hard truths other Republicans were too timid or too unwilling to say themselves.
Her noteworthy, news-making moments translated into immediate and lasting bumps in the polls — she is now in second place in both New Hampshire and her home state, South Carolina, where she was the governor, in the RealClearPolitics polling average, while she is third in Iowa and nationally. What's more, other surveys have shown a rise in the proportion of voters who are willing to consider her as an option, too. Her approval rating is solid among registered voters. And head-to-head polls show her doing well against Biden.
But — and this comes with a huge but — all that momentum still has her trailing Trump by, in some cases, 50 points.
So one solid debate won't suffice. She needs to string together strong showings if she wants to be able to catch up to Trump over the next few months. For Haley, the stakes are just as high Wednesday as they were in Milwaukee.
Will Ramaswamy steal the show again — and continue his rise?
Though he was rising in the polls at the time, few expected Ramaswamy to be the center of attention at the first debate. DeSantis, the highest-polling candidate onstage, was sure to have the knives pointed his way.
And yet, after the two-hour contest, it was Ramaswamy who was taking attacks from all comers — and dishing out plenty of his own.
His standing in the GOP primaries since that August night has been relatively stagnant, though he's polling ahead of a number of current and former governors and senators in his first bid for elected office.
He has closely embraced Trump and his brand of politics on the trail. And Trump's faithful seem to really like him, even if they're still on the Trump train.
Reaching as high as second place in some polls, Ramaswamy, unless he starts to highlight more substantial differences he has with Trump, right now serves as a sort of pro-Trump roadblock to the other candidates, further cutting off any path they could have to take down the front-runner. It's part of why other candidates spent so much time blasting him in Milwaukee.
Ramaswamy has thrived when the attention is on him. And it's safe to bet that he will do what's necessary Wednesday to keep himself at the center of the contest.
Will DeSantis be more aggressive?
DeSantis aides predicted he would be the center of attention at the first debate in Milwaukee, a target befitting a rival seen as Trump's toughest competition. But DeSantis largely flew under the radar, facing no sustained attacks and staying away from some of the conflicts and zingers that scored headlines for Christie, Haley, Pence and Ramaswamy.
"The fundamentals of this battle for the GOP nomination have not changed since the last debate," DeSantis campaign manager James Uthmeier wrote in a pre-debate memo to donors and supporters that was obtained by NBC News.
That's not entirely true. And even if it were, it wouldn't be good for DeSantis.
Trump maintains a huge lead in polls. DeSantis remains in a distant second place in Iowa, which has emerged as the make-or-break state for him. And recent surveys show Haley leapfrogging into second place in New Hampshire, which holds the first primary.
Uthmeier's memo telegraphed some shadowboxing with Trump, who, of course, won't be at the debate, singling out his softer abortion messaging and light campaign schedule. So far, though, DeSantis himself hasn't forcefully articulated such criticism in a high-profile setting.
Will Scott stand out?
Scott was building momentum both nationally and in early states.
Then, the first debate happened.
Scott was barely noticeable on the stage, garnering little speaking time and refusing to get into heated back-and-forths with his rivals. In turn, his fellow candidates essentially ignored him for the duration of the two-hour debate.
Since then, Scott, who has a large campaign war chest and remains a powerful fundraiser, has seen rivals like Haley and Ramaswamy surge ahead of him in polls.
But while Scott's campaign has tempered expectations for the second debate, he has started to take a harder line against his rivals and has pledged to highlight "real differences" among them at Wednesday's debate.
Scott, a force on the campaign trail who enlivens the rooms he speaks in, can sometimes struggle to bring that personality out on camera. Whether he's able to in Simi Valley will go a long way in determining how successful his night is.
Whom does Christie mow down next?
Christie had one of the most memorable lines of the night at last month's debate, where he mocked Ramaswamy as a "ChatGPT" candidate running on artificial intelligence. And he continues to press a hard case against renominating Trump, a former ally. But with a field that remains crowded, all of the non-Trump candidates are dividing the anti-Trump vote.
If Christie has designs on being the main alternative to Trump, he'll need to keep up his attacks on Ramaswamy, who is still in the distantly second tier of candidates. If he's playing to win or finish in a convincingly close second place in New Hampshire, where he has focused almost all of his efforts, Haley has emerged as a threat. And DeSantis remains one.
Can Burgum break through this time?
On the eve of his first debate performance, Burgum literally broke a leg — or, more precisely, ruptured an Achilles tendon — during a game of pickup basketball.
The injury helped keep Burgum in the conversation and added an element of suspense to debate day: Would he be able to stand onstage for two hours? Turns out he would, but that was probably the most memorable part of his participation in the proceedings.
And that isn't enough.
Burgum and an aligned super PAC spent big money to meet the donor and polling criteria to qualify for the first two debates. The participation thresholds will be higher for a November debate. Burgum may benefit from there being one fewer candidate onstage Wednesday — sorry, Asa Hutchinson — but he was the last to clinch a spot and needs something to lift him from the bottom tier.