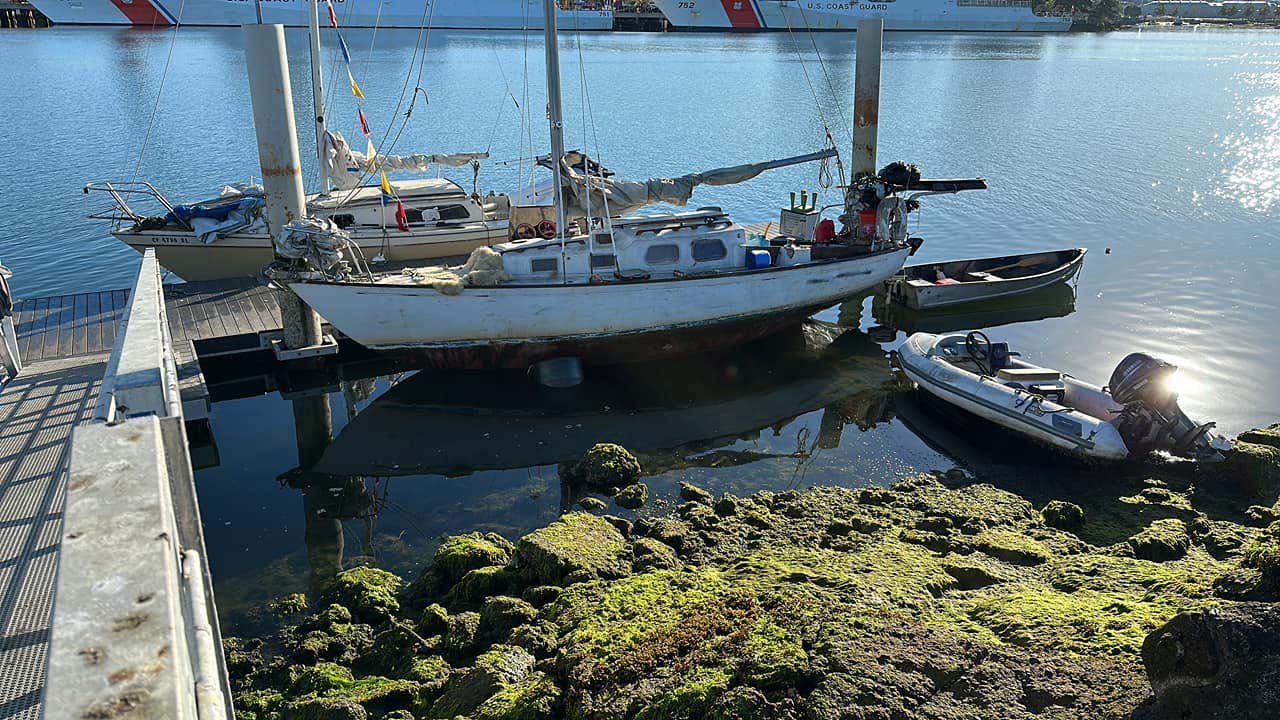 www.foxnews.com
Seabound bandits terrorize San Francisco Bay; some residents blame surge of nearby homeless camps
Harbor thieves in Oakland-Alameda Estuary use small abandoned or stolen boats to board yachts and large ships and steal what they can, residents and police say.
Local
Burglars have been raiding yachts and houseboats in the Oakland-Alameda Estuary in a surge one resident compared to the pirate movie "Captain Phillips."
They steal anything of value, then either sink the ships or dump the remnants of plundered boats miles away in the Oakland Harbor or along its shorelines, said Dan Hill, who lives on his boat like many other families in the 800-foot waterway.
Each "attack" can cost the owner thousands to tens of thousands of dollars, Hill said.
Some in the tight-knit boating community have talked of arming themselves as jurisdiction question marks and eroding law enforcement staffing levels complicate the issue.
"It's probably the most popular boating area in San Francisco Bay," Hill told Fox News Digital of the Alameda side of the estuary. "The weather's great. It's a lovely little place that the people love going to. It's protected. It's beautiful."
But since the summer, he and many other residents believe the homeless encampments in and around Oakland overtook the estuary and wreaked havoc on their daily lives.
"We're in this little, lagoon area, where the water comes in. There's a condo complex, beautiful parks," Hill said. "We started to see homeless people camping out there. That's never happened before.
"That being said, these guys are finding old abandoned boats, stealing them and anchoring out illegal boats. And they're taking dinghies (small recreational boats) and riding around and stealing s--- off people's boats."
Hill described his personal run-in with some of the harbor bandits after he chased them across the harbor.
"Our friend confronted this guy because he looked super suspicious, and he called me and said they are coming your way," Hill said. "We saw him come by, and I jumped in my dinghy with my wife, and we chased him.
"He was much faster than us. We lost him. Turns out it was the boat stolen from the Alameda Community Sailing Center, which had four boats stolen from them."
Alameda police's response to thefts
Alameda Police Chief Nishant Joshi said his department is taking a "regional approach" by partnering with Oakland PD and the Coast Guard, which has a base in the Oakland-Alameda Estuary, to increase patrols and crack down on these crimes.
"In the waterways, it's very difficult to draw a line," Joshi told Fox News Digital in an interview Monday. "There are no roadways or fence lines, so we all have a shared interest, much like crime as a whole, to deal with this as a regional approach."
The partnerships are vital, the police chief said, because Alameda doesn't have its own marine unit and lost about 30% of its police department from years of attrition.
While they replenish their ranks, Alameda Police are working with Oakland PD, which has a marine unit, to make sure there are eyes on the area around the clock.
"We have officers that are trained to handle marine patrols, and we stepped up a standing additional patrol in our marinas," Joshi said.
Where are the bandits coming from?
The city of Alameda is an island with a population of just under 80,000 and is rated as one of the best suburbs to live, according to niche.com.
"Living in Alameda offers residents an urban suburban mix feel, and most residents rent their homes," niche.com says. "In Alameda, there are a lot of bars, restaurants, coffee shops, and parks … The public schools in Alameda are highly rated."
It's a stark contrast to its neighboring city of Oakland, which is where many residents believe the thieves are coming from.
The city has been crippled by an "exploding" homeless crisis that a neighborhood advocate told Fox News Digital in a previous interview had made it "unlivable."
Hill said going from Alameda to Oakland is "like stepping into a third-world country."
Joshi said he didn't know for sure if that's the case, but he's heard that theory from many residents.
"We've not done a deep dive into identifying what particular group in society is committing these crimes," Joshi said.
"But I do think that certainly that anyone who is in a challenged position will turn to crime when they're desperate."
Results of the crackdown
There isn't enough information to statistically show what effects the increased patrols and crackdown have had.
Joshi said he believes there was a recent arrest on the Oakland side but none on the Alameda side.
The Oakland PD didn't return Fox News Digital's calls and emails for more information and interview requests.
Hill said he hasn't personally seen the increased patrols, but the theft "seems like it's calmed down a bit."
But it took months of table pounding at municipal meetings, letters and calls to officials and amplifying their voices through social media and news outlets to get to this point.
Hill, who moved to Alameda with his family a few years ago, said it was a hassle to get law enforcement involved at first. It was a "frustrating" situation for months.