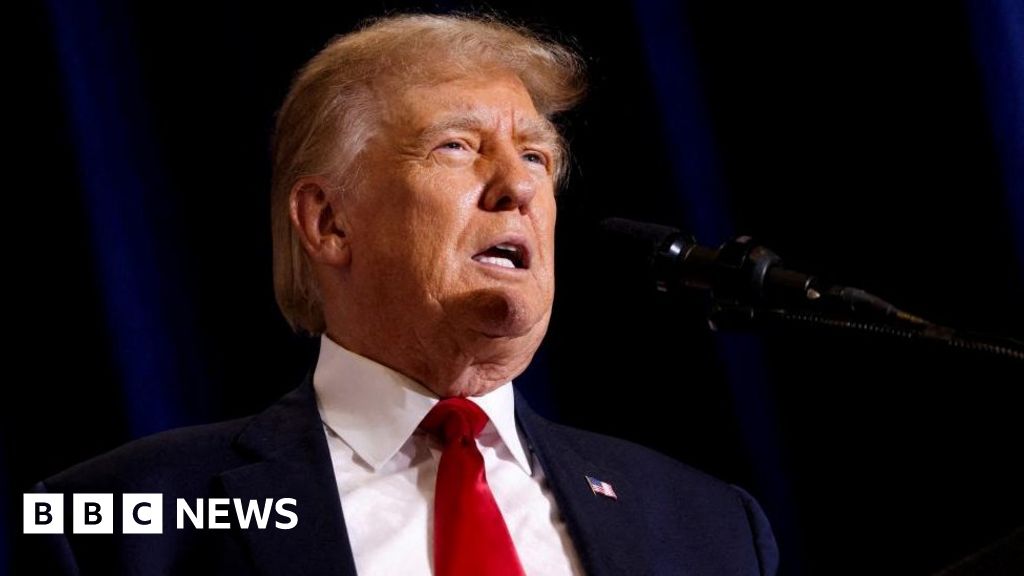 www.bbc.com
Donald Trump liable for business fraud, says judge in New York civil case
The former president was accused of overvaluing his net worth by as much as $ 2.2bn.
Politics
onald Trump committed fraud by repeatedly misrepresenting his wealth by hundreds of millions of dollars, a New York judge has ruled.
The ruling, part of a civil case brought against the former president and his family business, said he defrauded banks and insurers for years.
It is a major blow to Mr Trump that will likely hamper his ability to do business in the state.
Mr Trump and the other defendants have argued that they never committed fraud.
New York Attorney General Letitia James had accused Trump, his two adult sons and the Trump Organization of inflating the value of their properties by more than $2bn (£1.65bn) to suit the needs of their business.
She claimed the defendants issued false records and financial statements in order to get better terms on loans and insurance deals, and to pay less tax.
The scathing decision on Tuesday was issued by Judge Arthur Engoron in the New York state court, after Ms James asked for a summary ruling before the trial begins. She argued that finding certain facts to be beyond dispute would speed up the trial.
The judge determined that Mr Trump:
Overvalued Mar-a-Lago by 2,300% in one financial statement
Overvalued his penthouse at Trump Tower in New York by claiming that it was three times its actual size
"Absurdly" argued that calculating the area of the penthouse was subjective, ruling "a discrepancy of this order of magnitude, by a real estate developer sizing up his own living space of decades, can only be considered fraud"
The ruling resolves the key claim of fraud made in the lawsuit, meaning the trial will now focus on a more narrow set of six remaining claims and determine the size of any potential penalty.
The trial is scheduled to begin on 2 October and could last until at least December. Ms James is seeking $250m in penalties and a ban on Mr Trump doing business in his home state.
In his ruling, Judge Engoron said "the documents here clearly contain fraudulent valuations that defendants used in business".
"That is a fantasy world, not the real world," he wrote.
Judge Engoron also ordered the cancellation of business certificates that allow some of the former president's businesses, including the Trump Organization, to operate in New York.
That will not dissolve his company, but could end his control over signature New York properties like the Trump Tower and the Trump Building at 40 Wall Street.
The judge denied the Trump team's request to throw out the case, and separately fined five Trump attorneys $7,500 each for making "preposterous" arguments already rejected by the court and fuelling what he called their clients' "obstreperous" conduct.
Lawyers for Mr Trump said this ruling was "a miscarriage of justice" and indicated they would appeal.
The former president has denied any wrongdoing and on Tuesday said the case was another political "witch hunt" brought by a prosecutor who was biased against him.
He accused the judge of being "highly politicised".
Mr Trump is still seeking to delay the trial in New York and has sued the judge. An appeals court is set to rule this week on that lawsuit. If it rules against him, Mr Trump will have to fight out the rest of the case in court.
It is just one of several legal battles the Republican frontrunner is facing as he campaigns for an election rematch with President Joe Biden next year and a potential return to the White House.
He is also facing 91 felony charges across four criminal cases. He has pleaded not guilty in those cases.