This post may refer to COVID-19
To access official information about the coronavirus, access CDC - Centers for Disease Control and Prevention.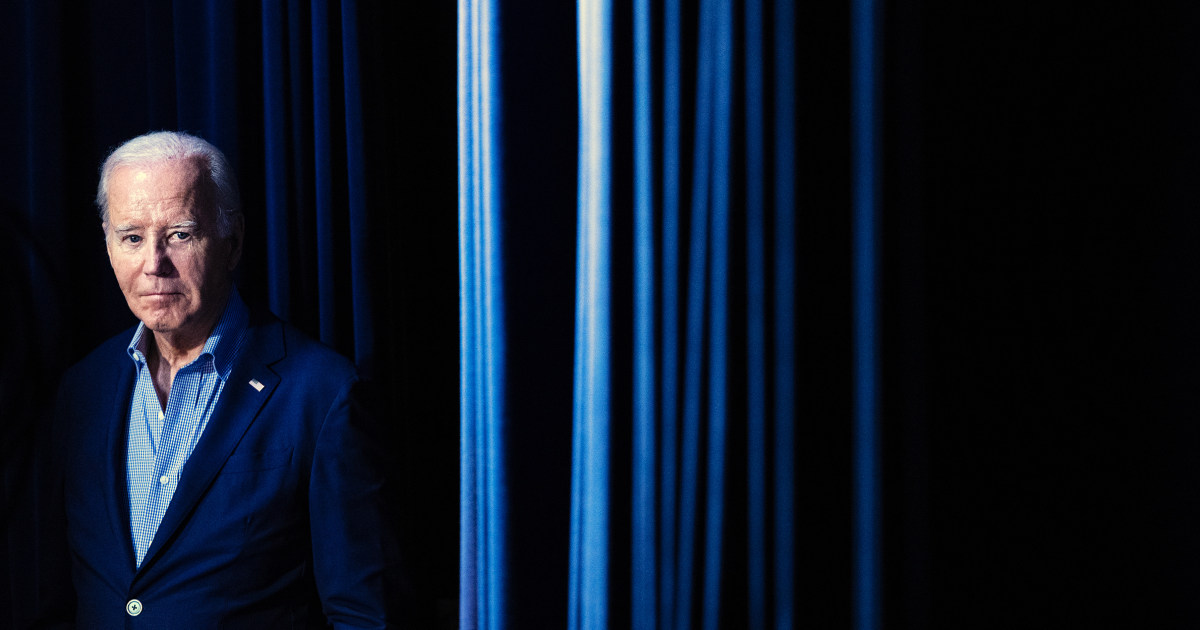 www.nbcnews.com
Biden world is worried about spoilers as third parties threaten to boost Trump
There's a creeping fear inside Biden's circle that the greatest threat to his reelection may come less from Trump and more from minor-party spoiler candidates.
Politics
WASHINGTON — There's a creeping fear inside President Joe Biden's circle that the greatest threat to his re-election may come less from the Republican nominee and more from minor-party spoiler candidates.
In a new national NBC News poll, Biden is tied with former President Donald Trump, the front-runner for the GOP nomination, at 46% in a head-to-head matchup. But when third-party options are included, Trump leads Biden 39% to 36%.
Whether it's the academic Cornel West, a yet-to-be-named standard-bearer for the group "No Labels" or nominees of the more established Green and Libertarian parties, the third-party hopefuls have become the chief internal worry in Biden world, according to more than a half-dozen people who are in regular contact with the White House.
"It's pretty f---ing concerning," said a person familiar with White House discussions about the matter.
Biden met with Hillary Clinton, who had to contend with third-party candidates as the Democratic nominee in 2016, in a private pull-aside at the White House when she visited this month, said two people briefed on their interaction. Clinton pressed Biden to take the third-party threat seriously and come up with a way to compensate for it, one of the sources said.
Clinton spokesman Nick Merrill did not respond to requests for comment about their interaction. Many of her allies have blamed 2016 Green Party nominee Jill Stein for siphoning votes from the Democratic ticket in crucial swing states that year.
Twin realities undergird the fear of third-party candidates: In a boatload of recent national polls, Biden is running neck and neck with Trump, and also-ran candidates have accounted for more votes than the gap between the winner and the loser in decisive states in three of the last five elections, including the last two.
The problem is also twofold for Biden, said the people in regular contact with the White House, all of whom spoke on the condition of anonymity to avoid angering the president. On one political flank, he faces a well-funded effort by the No Labels group to attract moderate voters. On the other side, West could cut into his base — with both Black voters and some liberal white voters — even if only a little bit.
"With a tight election, every vote counts," a close Biden ally said of the third-party threat. "Is it in the back of many people's brains? Absolutely. Do we have to be careful as we move out? Yes, we do."
In recent weeks, the White House has given particular attention to the possibility that Biden is vulnerable with younger voters, many of whom lean more toward Democrats but are dissatisfied with government and do not have deep ties to the party. Gen Z voters have lived through a financial crisis, two wars, climate-intensified natural disasters, school shootings and a pandemic that all exposed weaknesses in the political system's ability to respond to crises.
On Friday, Vice President Kamala Harris announced a new White House Office of Gun Violence Prevention, a move that tracks with the nearly two-thirds of younger Americans who support stricter gun laws.
"We are doing this work in large part because of the activism, the organizing, the marching, the voting of all of you leaders — be it students, parents, teachers, community leaders — who understand that living free from gun violence should be a right," Harris said in a video on X, the social media platform previously known as Twitter.
Harris, who is 22 years younger than Biden, 80, has taken on the informal role of the administration's chief outreach officer for younger voters. Last week, she visited Reading Area Community College, a Hispanic-serving institution in Pennsylvania, a key swing state, as part of a larger campus tour. She has made headlines by saying she has learned about "climate anxiety" from younger voters.
Younger voters have been an important constituency for Democrats in recent elections, but the NBC News poll shows they have less interest in the 2024 race than they have had at similar points in past campaign cycles.
Moreover, Harris' favorability ratings are below those of Biden, raising the question of whether she can be an effective messenger for his re-election campaign. Harris is viewed favorably by 31% of voters — compared to 51% who view her unfavorably — while Biden's splits are 39% and 49%. Trump is viewed favorably by 35% and unfavorably by 54%, according to the survey.
The third-party concern is more acute for Democrats in this election than in the last one.
In 2020, the only significant third-party candidate was Jo Jorgensen, the Libertarian Party nominee, who represented a party with more in common with the GOP than the Democrats. Overall, the minor-party share of the vote dropped precipitously in major swing states, including Georgia, Arizona, Wisconsin, Michigan and Pennsylvania.
Trump got a higher share of the votes in key Rust Belt states in 2020 than he did in 2016, but Biden outperformed Clinton's percentage by even greater margins as the third-party proportion shrank.
But now Biden has to contend with a No Labels push to get on the ballot. The organization is run by Nancy Jacobson, a former finance director of the Democratic National Committee, and it has announced that it plans to pour at least $70 million into its eventual candidate.
In July, Jacobson said her group would not play a spoiler role in 2024.
"As a Democrat? Categorically, that will not happen," Jacobson said. "This effort will nev — we'll pull it down."
Biden and his allies face a bit of a conundrum just in their messaging about White House concerns, according to people familiar with White House discussions. They want Democrats to know that they are aware of the threat they face from third parties but want to avoid stoking panic.
Biden himself is "worried about it," one of the sources said.