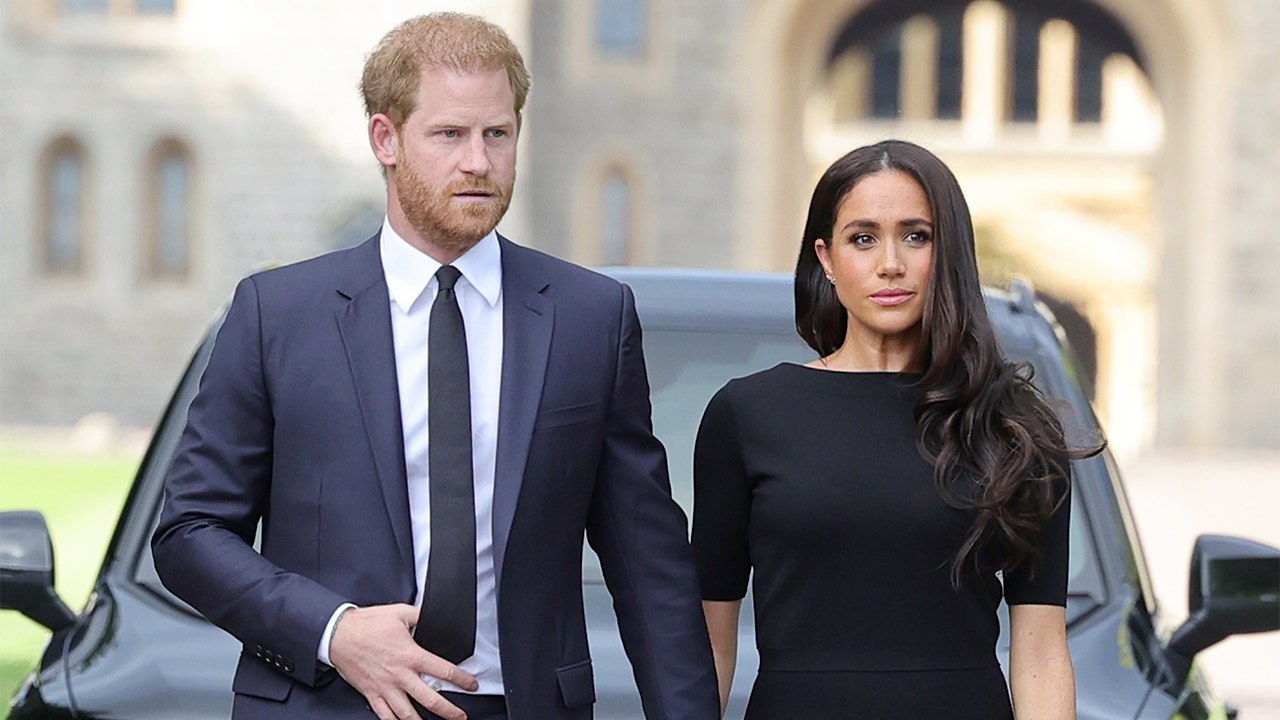 www.foxnews.com
Prince Harry, Meghan's harsh comments and bombshell claims about the royal family: Do they have royal regrets?
Prince Harry and Meghan Markle have been outspoken since they stepped down from their royal roles in 2020 about how they feel towards the royal family and the British media.
Culture & Entertainment
Meghan Markle and Prince Harry recently reunited with Prince William, Prince of Wales and Kate Middleton, Princess of Wales. The "fab four's" reunion comes after the death of Queen Elizabeth II, who died at Balmoral Castle in Scotland at 96.
Although the brothers and their spouses have reunited, it is unclear how their relationship will unfold. Oprah Winfrey recently shared at the Toronto Film Festival that Queen Elizabeth II's death could be an "opportunity for peacemaking" among the royal family.
Harry and Markle have been outspoken in the past about their feelings toward the royal family. In March 2021, the couple sat down with Winfrey and Markle shared that she felt racism from the British media and members in the family.
She has taken to her podcast "Archetypes" in several episodes to discuss the struggles of marrying into the royal family and all it came with.
Here's a look at some of the comments Markle and Harry have made about the royal family and beyond.
Prince Harry and Meghan Markle bombshell sit-down with Oprah Winfrey
In March 2021, Harry and Markle held a bombshell sit-down interview with Oprah Winfrey where alarming allegations were made about the royal family being racist towards Markle and their firstborn son, Archie.
HARRY, IF YOU REALLY WANT TO HONOR YOUR DAD, NIX YOUR SALACIOUS TELL-ALL AND REIN IN YOUR ROYALS-THRASHING WIFE
Markle shared that there was a conversation with a member of the family and Harry around "how dark their baby was going to be."
"They didn't want him to be a prince, or princess, depending on what the gender would be," Markle said of her son Archie before his birth. "He wasn't going to receive security."
Harry kept certain things private in the interview and said that he was not going to share a question he was asked pertaining to his child or who asked him the question.
"That conversation I am never going to share," Harry said. "At the time it was a bit awkward, I was shocked."
Harry and Markle disclosed their reasoning on why they chose to leave their roles in the royal family. The Duke and Duchess of Sussex officially stepped back from their royal roles in 2020.
Winfrey spoke at the Toronto Film Festival recently and noted that Queen Elizabeth II's death could be an "opportunity for peacemaking" among the royal family.
PRINCE WILLIAM, PRINCE HARRY, KATE MIDDLETON AND MEGHAN MARKLE: THE FAB FOUR'S ROCKY RECENT HISTORY
"Well, this is what I think, I think in all families – you know, my father passed recently, this summer, and when all families come together for a common ceremony, the ritual of, you know, burying your dead, there's an opportunity for peacemaking. And hopefully, there will be that," she told Extra while promoting her upcoming documentary about Sidney Poitier.
Prince Harry shares struggles with the media: 'They are not going to stop'
In Apple TV+'s mental health docuseries, Prince Harry sat down with Oprah Winfrey and said he received "total silence and total neglect" from the royal family in response to Meghan Markle's difficulty adjusting.
In the series, which aired in May, Harry shared that he turned to drugs and alcohol to cope with his mother, Princess Diana's tragic passing and how he feared his wife's life might end due to the same paparazzi and media frenzy.
Read here:
https://www.foxnews.com/entertainment/prince-harry-meghan-markle-harsh-comments-bombshell-claims-royal-family-regrets