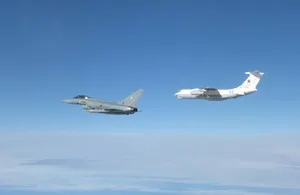 www.foxnews.com
UK, Germany scramble fighters to block Russian jets hours after US drone crash
The U.K. and Germany scrambled jets to ward off Russian planes near Estonia in their first-ever joint action under the NATO treaty on Tuesday, hours after a U.S. drone was downed.
International
The U.K. and Germany scrambled fighter jets to intercept two Russian aircraft flying near Estonia late Tuesday.
The Russian aircraft, a Russian Il-78 Midas refueling plane and an Antonov 148 military transport, approached NATO airspace without contacting Estonian authorities. The incident was the first time the U.K. and Germany have conducted a joint air intercept as part of the NATO treaty.
"NATO continues to form the bedrock of our collective security," U.K. Armed Forces minister James Heappey said in a statement. "This joint UK and German deployment in the Baltics clearly demonstrates our collective resolve to challenge any potential threat to NATO's borders, whilst demonstrating our combined strength."
The incident came just hours after two Russian jets downed a $32 million U.S. drone over the Black Sea. The two jets had harassed the unmanned aircraft for several minutes before clipping the drone's propeller.
"At approximately 7:03 AM (CET), one of the Russian Su-27 aircraft struck the propeller of the MQ-9, causing U.S. forces to have to bring the MQ-9 down in international waters. Several times before the collision, the Su-27s dumped fuel on and flew in front of the MQ-9 in a reckless, environmentally unsound and unprofessional manner. This incident demonstrates a lack of competence in addition to being unsafe and unprofessional," the U.S. European Command and U.S. Air Forces in Europe – Air Forces Africa said in a statement.
"This incident follows a pattern of dangerous actions by Russian pilots while interacting with U.S. and Allied aircraft over international airspace, including over the Black Sea. These aggressive actions by Russian aircrew are dangerous and could lead to miscalculation and unintended escalation," the statement continued.
The drone was conducting routine operations in international airspace at the time of the crash, the U.S. says.
The State Department summoned Russian Ambassador to the U.S. Anatoly Antonov to express its "strong objections" to the intercept, spokesman Ned Price confirmed to reporters.