This post may refer to COVID-19
To access official information about the coronavirus, access CDC - Centers for Disease Control and Prevention.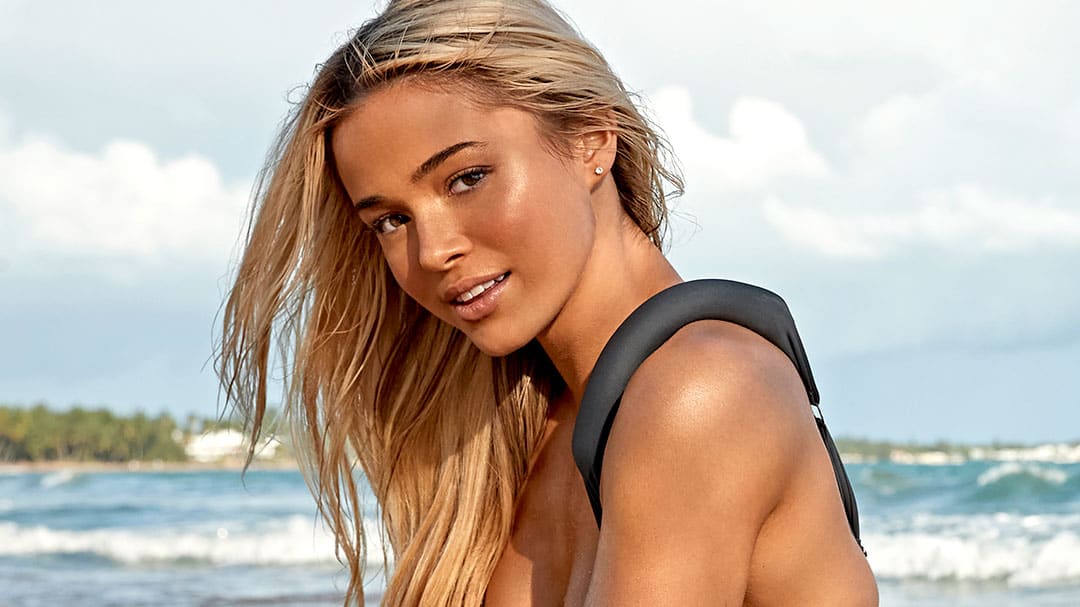 www.yahoo.com
Introducing 2023 SI Swimsuit Model Olivia Dunne
The LSU gymnast is the NCAA's highest-earning female athlete, and she knows that comes with a price.
Fashion & Beauty
The LSU gymnast is the NCAA's highest-earning female athlete, and she knows that comes with a price.
At first glance, Olivia Dunne is the quintessential girl next door—imminently approachable with her bright hazel eyes, shiny blond locks, petite 5' 6" frame and beaming smile. It's part of what has attracted an impressive 11 million followers across her TikTok and Instagram handles, but don't be fooled. The LSU gymnast, who is the top paid female collegiate athlete in the country, is much more than her social media and she's not afraid to say what's on her mind.
In fact, after hordes of her male fans packed the Jon M. Huntsman Center in Salt Lake City at LSU's season opener this January, causing a security threat and swarming Dunne as she was attempting to leave, she tactfully issued a statement on Twitter thanking them for their support while demanding respect.
"Girls aren't responsible for the bad behavior of boys," she says. "A lot of gymnasts are taught to keep quiet, and that led to a lot of abuse in the sport. I want to be part of the new generation that tells girls to use their voice. You can be comfortable in your own skin and be strong, sexy and smart."
In all the content she creates, both in and out of the gym, to share snippets of her everyday life, the 20-year-old posts with intent and purpose—and has her loyal admirers going wild for all things "Livvy."
We're so excited to announce that Dunne will make her SI Swimsuit Issue debut with the release of the annual edition next month.
"Usually being a D1 athlete, an all-academic and an industrious entrepreneur is enough to garner respect and accolades," explains SI Swimsuit editor in chief MJ Day. "But when you are Livvy Dunne and you also mix in being arrestingly beautiful, you unfortunately garner the ire and resentment of a certain niche population. The refusal of some to appreciate Livvy for being more than just a pretty blonde is missing the point. The backlash she received for 'leveraging' her sexuality for endorsement dollars after the NIL restrictions were lifted is incorrect. We are here to celebrate this incredible young woman and encourage the world to respect and applaud Livvy and her fellow athletes for owning the blood, sweat and tears that have fueled a lifetime of achievements."
Day continues, "Livvy is harnessing this newfound power and turning it into a long-term, sustainable brand, growing the sport of collegiate gymnastics and setting an example for athletes of the future of what they are also capable of accomplishing outside of the competitive arena. In a world where women are constantly being forced to pick a lane, Livvy is in all of them, winning. We couldn't be more excited to feature her on the pages of our 2023 issue."
In January, Dunne traveled to Puerto Rico for her first editorial photo shoot with photographer Ben Watts. We later chatted with her about her journey in the spotlight thus far, her experience on set (which she calls "a dream come true") and how she hopes to level the playing field for female athletes to come.
"I hope I can bring attention to how amazing college sports are"
Homeschooled from seventh to 12th grade, Dunne first used social media to communicate with other kids her age. She eventually saw that the medium could provide a pathway to a lucrative career. During the pandemic, users became intrigued with her life as a collegiate athlete, which is how her videos catapulted to viral status to the tune of millions of views and hundreds of thousands of comments.
With this much attention, many are quick to assume they know Dunne on a personal level, making her susceptible to cyberbullies.
https://www.yahoo.com/lifestyle/introducing-2023-si-swimsuit-model-125500982.html