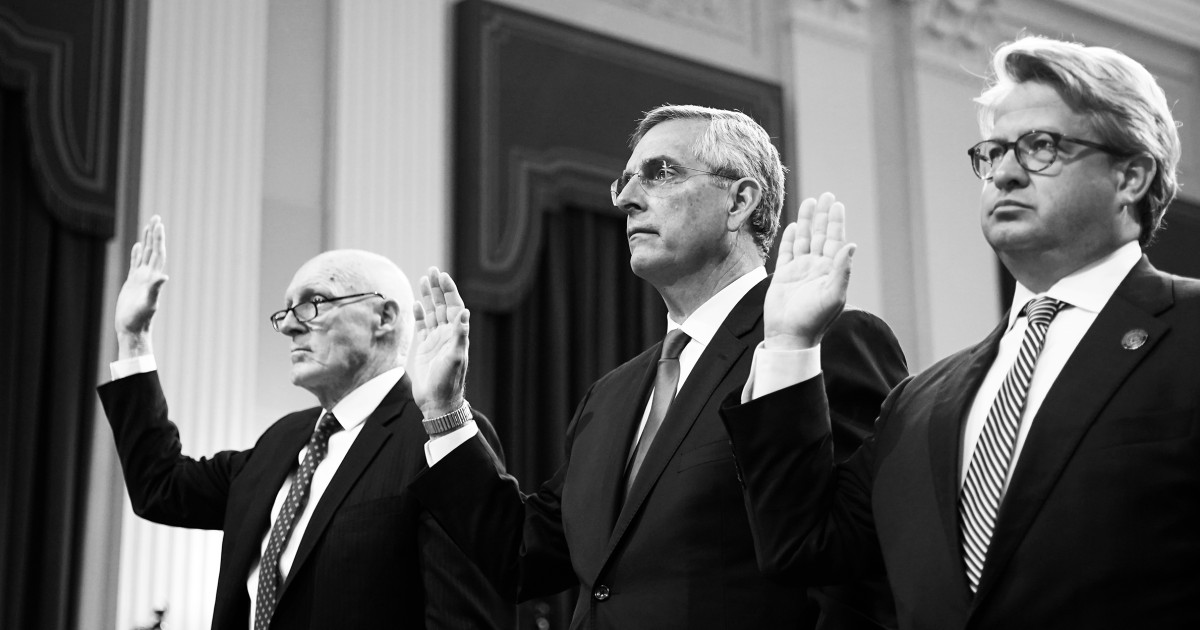 www.nbcnews.com
Key takeaways of Jan. 6 panel Day 4: Defying Trump's election pressure came at great personal cost
The House Jan. 6 committee continued to hammer its main theme on Tuesday: Lacking a credible reason to overturn the election, Donald Trump and his allies
Politics
The House Jan. 6 committee continued to hammer its main theme on Tuesday: Lacking a credible reason to overturn the election, Donald Trump and his allies sought to shame, bully and coerce state officials into manufacturing the victory the voters had denied him.
But in its latest hearing, the committee offered a new perspective. In his zeal to retain power, Trump and his allies trampled largely defenseless people who had the misfortune of getting in their way.
If not for the backbone they showed, Trump might have succeeded in subverting the nation's democratic traditions.
Defying Trump came at great personal cost. In emotional testimony, witnesses described the anguish they suffered from a Trump pressure campaign that has left them shaken to this day. Convinced that the election was stolen, Trump supporters demonized and threatened election officials and low-level workers who had merely tallied and reported accurate results.
Here are the top takeaways from Tuesday's hearing:
Trump and company steamrolled innocent people to get a second term
One of the falsehoods peddled after the election was that election workers in Georgia had plucked fraudulent ballots from "suitcases," giving Joe Biden the votes to win the state. The story was thoroughly debunked. Multiple recounts showed that Biden indeed won the state, while the "suitcases" were actually carriers that are routinely used in storing ballots.
The committee aired a clip of Rudy Giuliani, a former adviser to Trump, appearing before a Georgia legislative committee and alleging that a mother-daughter pair of election workers, Ruby Freeman and Shaye Moss, had "surreptitiously" passed around USB devices "as if they're vials of heroin or cocaine."
Trump mentioned them in the famous phone call in which he asked Georgia Secretary of State Brad Raffensperger to "find" the votes needed to defeat Biden. He called the mother, Freeman, a "professional vote scammer" and a "hustler."
In testimony, Moss described how people came into her grandmother's house looking to find her and her mother and trying to make a "citizen's arrest."
"I felt so helpless and horrible for her," Moss recalled. "She was screaming. I told her to close the door and don't open the door for anyone."