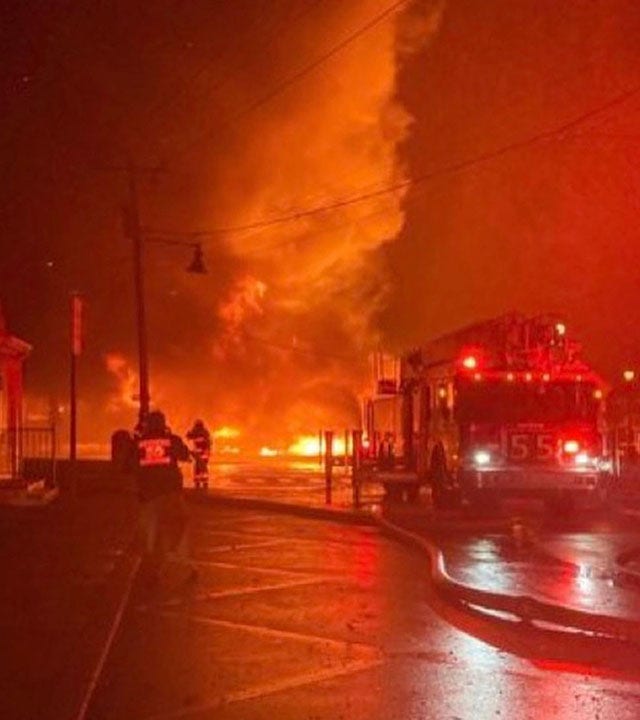 www.foxnews.com
Mystic, Connecticut seaport marina sees massive wind-driven fire destroy buildings, force residents from homes
An intense fire engulfed the seaport marina in Mystic, Connecticut overnight, prompting several agencies to respond and residents to evacuate homes as the blaze neared.
Local
Firefighters battled a four-alarm fire at the Mystic, Connecticut, seaport marina overnight, as shocking videos showed intense southerly winds driving the flames closer to crews at work to stop the blaze.
The fire that erupted at Seaport Marine on Washington Street around 9 p.m. reportedly destroyed at least two buildings and prompted a response from several fire departments in the region.
Mystic Fire Chief Anthony Manfredi Jr. said some residents evacuated their homes amid concerns the blaze would spread to nearby homes including those on Willow Street, The Day newspaper reported.
As the hours passed, several explosions could be heard as the blaze raged on.
Images from the scene showed intense winds whip up a spiral of dark smoke and a massive fireball at one point on the south end of Cottrell Street. The flames stretched across the water and caused sparks on a telephone line.
As engines lined the streets, crews also manned boats, as firefighters maneuvered large hoses pouring water toward the blaze.
Stonington Police Deputy Chief Todd Olson said the Whaler's Inn, a boutique hotel, was also evacuated due to the amount of smoke in the air. The Day reported that crowds gathered across the Mystic River to see the fire, and a state fire marshal responded to assist with the investigation into the cause. At least one home was badly damaged.
Manfredi said no one was injured, but one firefighter was taken to a hospital for an evaluation.
n a Facebook post, the Old Mystic Fire Department said it was requested at approximately 9 p.m. to assist at a structure fire in the Mystic Fire District. Upon arrival, two of its engines established water supplies and provided fire attack and exposure protection, the department said.