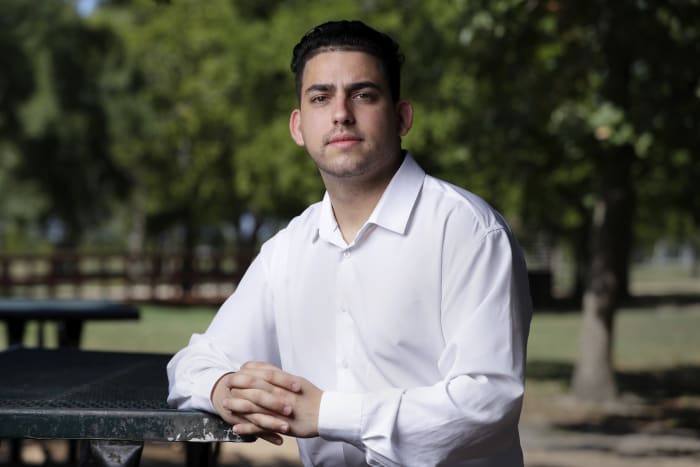 www.local10.com
Both parties want to win South Florida. Here's one Cuban activist's view of the political fight
Soon after Felix Llerena arrived in Miami in 2017, the Cuban activist was drawn to then-President Donald Trump by the Republican's aggressive approach toward Cuba's communist government.
Politics
MIAMI – When Félix Llerena arrived in Miami in 2017, he quickly got involved in the city's politically active community of Cuban exiles. He was soon drawn to President Donald Trump for his aggressive approach toward Cuba's communist government and his stated affinity for Cuban American culture.
Today, Llerena is ready to apply for citizenship and vote for the first time. He's more skeptical of the former Republican president. And his mother was able to come to the United States earlier this year under an immigration program created by Democratic President Joe Biden's administration that's admitted tens of thousands of Cubans and other people from countries with expatriate communities in South Florida.
Both parties' efforts affect Llerena's life and fulfill different priorities he has. While he's leaning toward a Republican candidate next year, he says he tries to avoid sticking to one side.
"I do not worship politicians," he said. "They are simply doing their job. I do not defend political or partisan interests."
His story illustrates how both Republicans and Democrats are perceived by South Florida's powerful bloc of Cuban American voters, which has influenced presidential elections for decades. Even as the Republican Party has made huge inroads in Florida's Latino communities, flipping Miami-Dade County in the governor's race last year, national Democrats say they won't give up on Florida and still think it can be a swing state next year.
The parties use sharply different strategies and arguments and often paint the other side as extremist or socialist — an especially grave insult among Cuban exiles.
Democrats have attacked Trump and Florida Gov. Ron DeSantis, another GOP presidential candidate, on immigration and typically emphasize their treatment of recent border crossers who often include Cubans, Venezuelans, Haitians and other nationalities widely represented in Florida. Republicans generally focus on economic issues and argue Democratic efforts to target inequality end up hurting middle-class families including Latinos.
Both sides will have to respond to a Trump criminal trial next year in South Florida on charges that he mishandled classified information.
The GOP has been winning in Florida since 2016, when Trump flipped a state that twice went for Democrat Barack Obama. That year, Democrats had about 327,000 more registered voters in the state. Today, the GOP has a voter-registration advantage of about half a million. And after barely winning the governor's race in 2018, DeSantis was reelected last year by 1.5 million votes.
Last month, the Florida Democratic Party launched a voter registration effort called "Take Back Florida" to try to regain some lost ground. The party chair said it would be "all hands on deck" in Miami-Dade, where 60% of the voters are Hispanic.
"What the Democrats have lost are the younger Cuban American voters," said Dario Moreno, a political science professor at Florida International University.
Llerena, now 27, pays attention to his image, often wearing a suit and a tie at community events. He has appeared on Spanish-language local networks and as a guest of Univision's Jorge Ramos. He has met with elected officials from both parties in Miami and Washington.
"I may be a 'muelero,'" he said, an expression for someone with the gift of gab. "But I am pragmatic and realistic."
Growing up in Cuba, he said, youth are instructed to be loyal to the state and idolize its revolutionaries, foremost of all Fidel Castro, who ruled Cuba for half a century after overthrowing a U.S.-backed government in 1959. Castro suppressed dissent, jailed political prisoners, and antagonized Washington for half a century.
"In Cuba, the alphabet is not F for flowers or R for roses," Llerena said. "F is for Fidel and R is for revolution."
It wasn't until he was in his teens and began using Internet cafes that Llerena says he formed different opinions. He paid attention to the U.S.-funded Radio and Television Marti networks. Eventually he began resisting the Castro-led government as a religious freedom and pro-democracy activist.
He remembers being 18 and hearing an announcement from then-President Barack Obama that Washington and Havana would move toward trying to normalize diplomatic relations. He still feels admiration for Obama but also disappointment, saying Cuba ultimately took advantage of him.
"The U.S. gave, gave, gave and Cuba gave nothing in return," he said. "The reality for the Cuban people remained the same. I never benefited from the thaw, never felt a real change."
Cuban government agents detained him in 2017 after a visit to the United States that he documented on social media to meet with members of the U.S. Commission on International Religious Freedom. He was expelled from his university and forced to sign a warning for public disorder, which human rights groups say Cuba uses to intimidate activists, political opponents and critics. Llerena left Cuba shortly after.
In 2020, Llerena was vocal about his support of Trump, saying those rallies showed the Cuban government that it wasn't only the aging exiles who arrived after the Cuban Revolution or in the ensuing decades, but those who have come more recently that also support hard-line policies against the Cuban government.
Trump often mentions how Cubans have come to love him. After his arraignment earlier this year in the classified documents case Miami, he made a stop at the iconic Cuban restaurant Versailles Cafe and the crowd serenaded him with "Happy Birthday."
But Llerena said he was offended by the Jan. 6, 2021, attack on the Capitol by a pro-Trump mob.
"I have fled a dictatorship where there has been a cult of personality for many decades," he said. "Politicians are all human beings and they make mistakes. There are many good things to like about Donald Trump, but in others, it was a disaster."
Llerena greatly benefited from changes implemented by Biden to curb the rising numbers of migrants arriving at the U.S.-Mexico border, including many Cubans. A lawsuit from Republican-led states objects to the humanitarian parole program, which started in 2022 for Venezuelans and was expanded to migrants from Cuba, Haiti and Nicaragua. It allows up to 30,000 people to enter the U.S. each month to stay for two years and get a work permit.
Llerena said he wanted to apply right away for his mother, who he had not seen in more than five years. Anticipating a court challenge, he filed her application as soon as the program opened.
He praises Biden for his immigration policies and for his support for Ukraine against the Russian invasion, but notes that he doesn't think the Biden administration prioritized Cuba. Instead, he prefers two Republican foreign policy hawks, former U.N. Ambassador Nikki Haley and former Vice President Mike Pence, who both strike him as "presidenciables" — Spanish for presidential.
If Llerena gets his citizenship in time, he likely won't vote in the state where he entered American politics. He travels often to Miami for events with the exile community but is now living in Texas — another state where the Latino vote is critical and where Republicans have made inroads with Latino voters to win statewide elections.
"I am obviously Cuban and I am going to die Cuban," he said. "I have to advocate for my people."