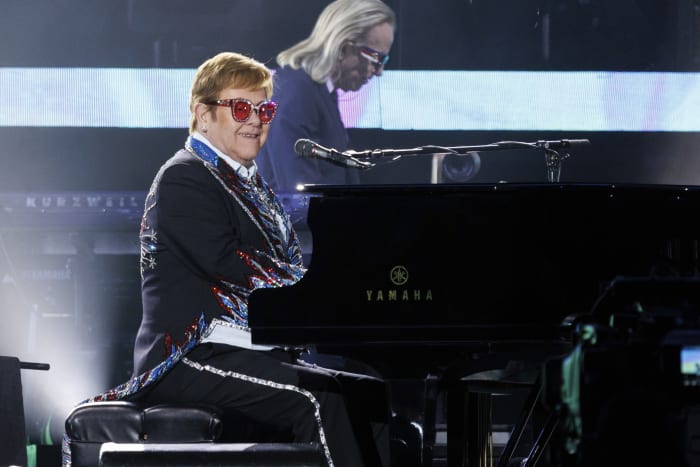 www.local10.com
Elton John rockets toward retirement at Dodger Stadium
Elton John rocketed toward retirement at Dodger Stadium.
Culture & Entertainment
LOS ANGELES – Forty seven years after he took the stage at Dodger Stadium in Los Angeles in a sequined-studded baseball uniform as the world's biggest pop star, Elton John walked on to the same stage on Sunday night wearing a bedazzled Dodgers bathrobe, a uniform more fitting for a 75-year-old man on the verge of retirement.
The crowd of more than 50,000 roared at the moment that came in the final minutes of the final North American concert of a tour John says will be his last.
"I want to spend time with my family because I'll be 76 next year, he said. "I want to bring them out and show you why I'm retiring."
He embraced and kissed his husband, David Furnish, while his two sons, 11-year-old Zachary and 9-year-old Elijah, wearing matching Dodgers jackets that read "Elton" on the back, waved gleefully at the crowd.
John then broke into "Goodbye Yellow Brick Road," the inevitable final song that gave the "Farewell Yellow Brick Road" tour its name.
The crowd full of rocket men and rocket women, of blue jean babies and LA ladies, many John's age but plenty in their 20s and 30s and 40s, swayed and sang along as they had throughout the two-hour show during songs like "Rocket Man" and "Tiny Dancer." Some wiped away tears.
Many were wearing their own sequins and spangles, sparkling spectacles, top hats, feather boas, and in a few cases, Donald Duck suits, representing stages of John's 55-year career.
"Thank you all for dressing up," John said, "it makes me so happy when you wear the most fantastic costumes."
When that last song ended, John shed the robe and exposed another retirement outfit, a green-and-red tracksuit, and climbed into a small, clear elevator that lifted him into an opening in the backdrop. He could then be seen on a giant video screen walking down a yellow brick road into the distance.