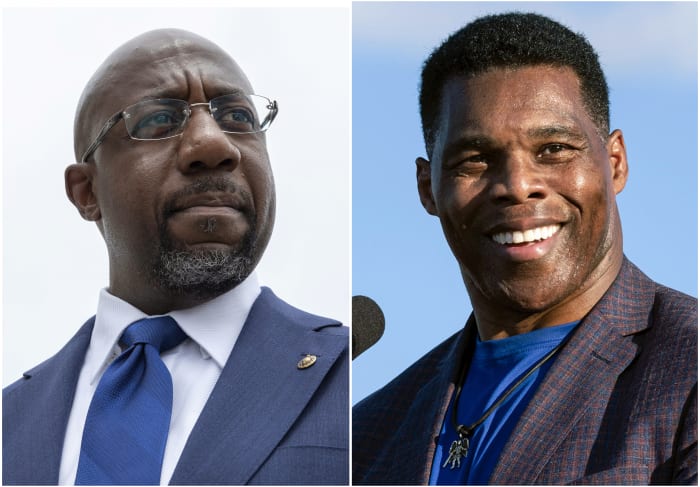 www.local10.com
Ga. Senate runoff between Warnock, Walker has bitter closing
The extended Senate campaign in Georgia between Democratic incumbent Raphael Warnock and his Republican challenger, football legend Herschel Walker, has grown increasingly bitter ahead as their Dec. 6 runoff nears.
Politics
WARNER ROBINS, Ga. – Ads with the candidates' ex-wives. Cries of "liar" flying in both directions. Stories of a squalid apartment building and abortions under pressure. Questioning an opponent's independence. His intellect. His mental stability. His religious faith.
The extended Senate campaign in Georgia between the Democratic incumbent, Raphael Warnock, and his Republican challenger, football legend Herschel Walker, has grown increasingly bitter as their Dec. 6 runoff nears. With Democrats already assured a Senate majority, it's a striking contrast from two years ago, when the state's twin runoffs were mostly about which party would control the chamber in Washington.
"Herschel Walker ain't serious," Warnock told supporters recently in central Georgia, saying that Walker "majors in lying" and fumbles the basics of public policy. "But the election is very serious. Don't get those two things confused."
Walker casts Warnock, the senior pastor at Ebenezer Baptist Church, as a "hypocrite" and servile to President Joe Biden. Underscoring the insult, Walker calls the incumbent "Scooby-Doo," complete with an impression of the cartoon hound's gibberish.
The broadsides reflect the candidates' furious push in the four weeks between the Nov. 8 general election and runoff to persuade their core supporters to cast another ballot. For Walker, it also means drawing more independents and moderates to his campaign after he underperformed a fellow Republican on the ticket, Gov. Brian Kemp, by 200,000 votes.
Warnock led Walker by 37,000 votes out of almost 4 million cast in the first round, but the senator fell short of the 50% threshold needed to avoid a runoff.
In many ways, the shift from his first runoff campaign is exactly what Warnock wanted: a straightforward choice between two candidates. Two years ago, then-President Donald Trump, fresh off his defeat, and Biden, then president-elect, made multiple Georgia trips to illuminate the national stakes of the races between Warnock and Republican Sen. Kelly Loeffler and between Democrat Jon Ossoff and Republican Sen. David Perdue as control of the Senate hung in the balance.
Trump ended up alienating his own supporters and many moderates with his false claims of a rigged 2020 presidential election. Victories by Warnock and Ossoff put the Senate at a 50-50 split, with Democrats gaining control by virtue of Vice President Kamala Harris' tiebreaking vote. Warnock also became Georgia's first Black senator.
This year, with Warnock vying for a full six-year term after winning the 2021 special election, Democrats have already guaranteed control of the Senate by flipping a seat in Pennsylvania. A Warnock win would give Democrats an outright majority at 51-49, meaning that the parties would not have to negotiate a power-sharing agreement.
Warnock's preferred emphasis for most of his reelection bid has been his deal-making in Washington and the personal values he brings to the job. It took until the campaign's final stages — only after two women accused Walker, an opponent of abortion rights, of encouraging and paying for their abortions — for the senator to ratchet up his attacks, arguing Walker is "unprepared" and "unfit" for the job.