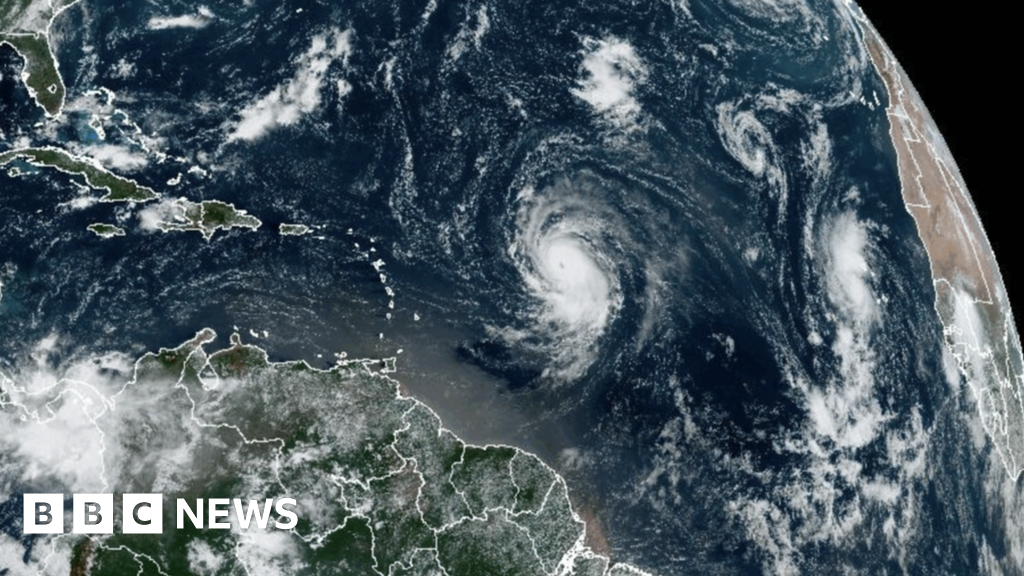 www.bbc.com
Hurricane Lee becomes first category five storm of Atlantic season
The storm has rapidly gained strength in the Caribbean from category one status earlier on Thursday.
Local
Hurricane Lee has powered up to a category five storm, packing wind speeds of up to 160mph (260km/h) as it churns through the Caribbean.
It could cause dangerous beach conditions on the US east coast on Sunday, the US National Hurricane Center (NHC) said.
On its current path the storm is not projected to make landfall anywhere.
Lee is the 12th named storm of the Atlantic hurricane season, which runs from June to November.
It rapidly intensified from a category one within the span of hours.
"Additional strengthening is forecast overnight," the NHC said in its latest update.
"Fluctuations in intensity are likely over the next few days, but Lee is expected to remain a major hurricane through early next week."
Dangerous surf and rip currents are expected to reach the northern Caribbean by Friday and parts of Puerto Rico and the US east coast by Sunday, said the NHC.
On Thursday evening, Lee was about 705 miles east of the northern Leeward Islands, where the Caribbean meets the Atlantic Ocean.
US President Joe Biden has been updated on its trajectory.
Meanwhile, Tropical Depression 14 has become Tropical Storm Margot.
Margot is projected to gain hurricane strength over the weekend, though it is expected to stay over open water.
Out in the Pacific Ocean, Hurricane Jova has weakened slightly from a category five to four storm.
It was barrelling far from south-western Mexico, and it is not expected to make landfall either.
The 2023 Atlantic hurricane season is forecast to be more active than average.
The impact of climate change on the frequency of tropical storms is still unclear, but increased sea surface temperatures warm the air above and make more energy available to drive hurricanes.
As a result, they are likely to be more intense with more extreme rainfall.