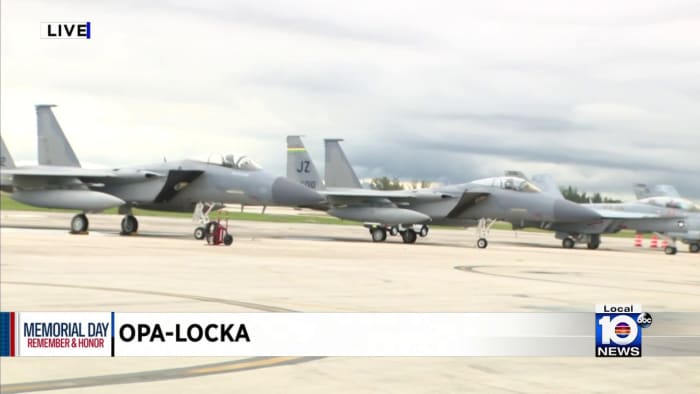 www.local10.com
Hyundai Air & Sea Show remains the main Memorial Day weekend event in South Florida
Miami Beach is preparing for the Hyundai Air & Sea Show, which remains the main Memorial Day weekend even in South Florida.
Culture & Entertainment
"We've never been here before, so very exciting to be here," said one tourist.
"It is going fantastic. The festivities are amazing," said Fred Dubois, who's visiting from France. "You got people flipping dirt bikes. It's a fantastic time."
The event had a heavy turnout as crowds were not deterred by Saturday's forecast that called for rain.
A heavy police presence was scattered throughout the area to keep everyone safe.
Miami Beach Mayor Dan Gelber said there were police officers active at Lummus Park.
City officials said they are hoping to curb some of the negative attention that the holiday weekend has seen in previous years from the crowds.
Ocean Drive was also filled with heavy artillery, not just on the ground but also in the air as men and women in uniform gathered for the event.
U.S. military members from all over the country were preparing to honor the brave who have sacrificed their lives to protect and serve with a patriotic display.
"What we are trying to do is let the American public come back and meet the men and women who protect their freedom," said Mickey Markoff, the producer of the show.
Miami Beach Mayor Dan Gelber said there were police officers active at Lummus Park for all the activities that are happening throughout the day.
"There's so many activations in Lummus Park on Miami Beach. There are concerts at night. It's something you can bring a child (or) a friend," he said. "Having this many people in the military in town does create a sense of safety."
On the other side of the bay, downtown Miami is also bracing for big crowds.
Local 10 News was at the Miami Heat Team Store on Friday as fans were seen stocking up on gear and hoping to get a Game 6 win to secure a spot in the 2023 NBA Finals.