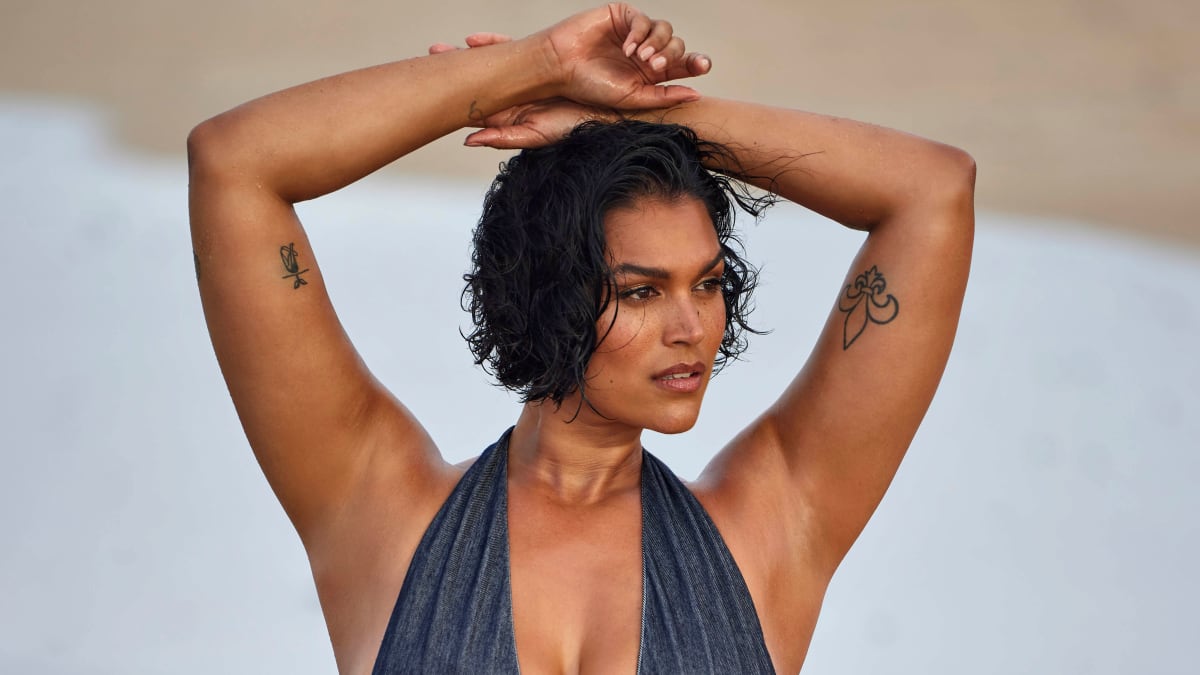 www.yahoo.com
Meet 2023 SI Swimsuit Rookie Jennifer Atilémile
The model, who uses her platform to celebrate unique beauty, makes her SI Swimsuit Issue debut in May.
Fashion & Beauty
While Jennifer Atilémile was initially approached by a model scout at 15, the Australian native pursued her education before pursuing a job in the industry. It wasn't until after she earned a double master's degree in international relations and journalism from Monash University in Melbourne that Atilémile kicked off her modeling career—and she's been unstoppable ever since.
Atilémile became Victoria's Secret's first Australian curve model in 2020 and has worked with notable brands including Maybelline and Clarins on global beauty campaigns.
The body positivity advocate uses her platform to encourage others to embrace beauty in its many forms. The 30-year-old is also passionate about human rights and is vocal about sustainability efforts in the fashion industry. For these reasons and many others, we are so excited to share that Atilémile joins the SI Swimsuit family as the brand's newest 2023 rookie. She will be featured in the annual publication this May.
"Jennifer is an inspiration to us all as she becomes one of the most prominent leaders of the body positivity movement," says editor in chief MJ Day. "On top of that, she's taking the fashion industry by storm, landing global campaigns, gracing the runways and using her platform to share her personal journey as she navigates the industry. We couldn't be more excited to welcome Jennifer as a rookie for the 2023 issue!"
Atilémile recently traveled to Puerto Rico for her first SI Swimsuit photo shoot, where she worked with photographer Derek Kettela. We caught up with the model to dish on her rookie year, how she celebrates her own unique beauty, her self-care essentials and more.
"I was like, 'I wanna do that one day,' and here I am"
Atilémile describes feeling "over the moon" after her rookie photo shoot.
"I was just so excited to just do my best and show why [the SI Swim team] chose me to be a rookie in the first place," she gushes. "I can't believe it's over, but I'm exhausted, so it means I must have worked really hard."
Atilémile adds that the reality of her rookie photo shoot had not yet sunk in by the end of the day on location. She admits that she was nervous but super excited leading up to her photo shoot, and that previous SI Swimsuit models served as inspiration for her own once-in-a-lifetime opportunity.
"I remember seeing Ashley Graham on the cover [of the 2016 SI Swimsuit Issue]," she recalls. "I remember seeing that image I was like, 'I wanna do that one day,' and here I am."
Atilémile says that the SI Swimsuit editors were incredibly encouraging and made her feel at home on set from the very beginning.
"Everyone was so welcoming, and [it was] just like a giant girl squad cheering [me] on and making [me] feel so comfortable," she shares. "Telling you [that] you look hot and sexy out in the water [during the photo shoot], so it's all you could ask for."
As for what she wishes fellow women and girls will take from the images taken in Puerto Rico, Atilémile hopes to encourage others to be proud of who they are.
"I feel like confidence doesn't come overnight, but it can get there. … Anyone and everyone is beautiful," she says. "Just be proud of who you are and where you've come from."
"I really am grateful that I get to showcase my unique beauty"
Atilémile reminds us that we're all unique and that there's only one you. She says she's proud to represent her own individuality and equally thrilled to work with a brand that prioritizes beauty in its many forms.
"What I'm proud of is that I am uniquely myself and Sports Illustrated Swimsuit really shows diversity in that way," she states. "I think there's so much pressure on young women, young girls, just anyone these days to conform to a certain ideal of beauty."
Rather than conforming to those so-called beauty standards, Atilémile encourages each of us to embrace ourselves just the way we are.
"Everyone's beautiful in their own way, and I really am grateful that I get to showcase my unique beauty," she says.
Atilémile's mother is Australian, and her father hails from the French island of Réunion. While her dad migrated to Australia long before she was born, the two learned to speak English together by watching children's television shows when Atilémile was young.
This Australian and French heritage, combined with her experience of feeling that only certain characteristics were deemed "beautiful" when she was growing up, largely influenced Atilémile to look for beauty everywhere. She uses her platform to promote her concept of celebrating unique beauty because she worries that young people are growing up with unrealistic beauty standards in mind.
"We should be celebrating everyone's individual beauty. There's eight billion people now in the world and there really, really is only one you, and that is so powerful and unique and special," she says. "I think if everyone really taps into their own unique power and strength, that just shows through their beauty."
"When you embody it and you feel it inside, that kind of self-love radiates out"
A mantra Atilémile lives by is one that she says was instilled in her by her father from a young age.
"He always told me, 'Dream, believe, achieve,' and I think that kind of ties into manifestation. Obviously you've gotta dream of something, whether it's something big or something small," she says. "You've gotta then believe it, believe you can do it, and then if you believe you can do it, then you put things in motion to allow yourself to achieve it."
While she puts in the hard work necessary to achieve her goals, Atilémile says she practices self-love by speaking kindly to herself and giving herself grace during difficult moments.
Sticking to a regular exercise routine—Atilémile loves Pilates and strength-training workouts—is something the model does regularly to maintain her mental health. She also believes in setting boundaries and saying "no" for the benefit of her mental well-being.
"I just feel like when I move my body, I'm mentally stronger and my focus is clearer and my anxiety is a lot less intense," she shares.
While Atilémile admits she occasionally struggles with self-love and confidence, she says she feels sexiest in a swimsuit on the beach.
https://www.yahoo.com/lifestyle/meet-2023-si-swimsuit-rookie-124845026.html