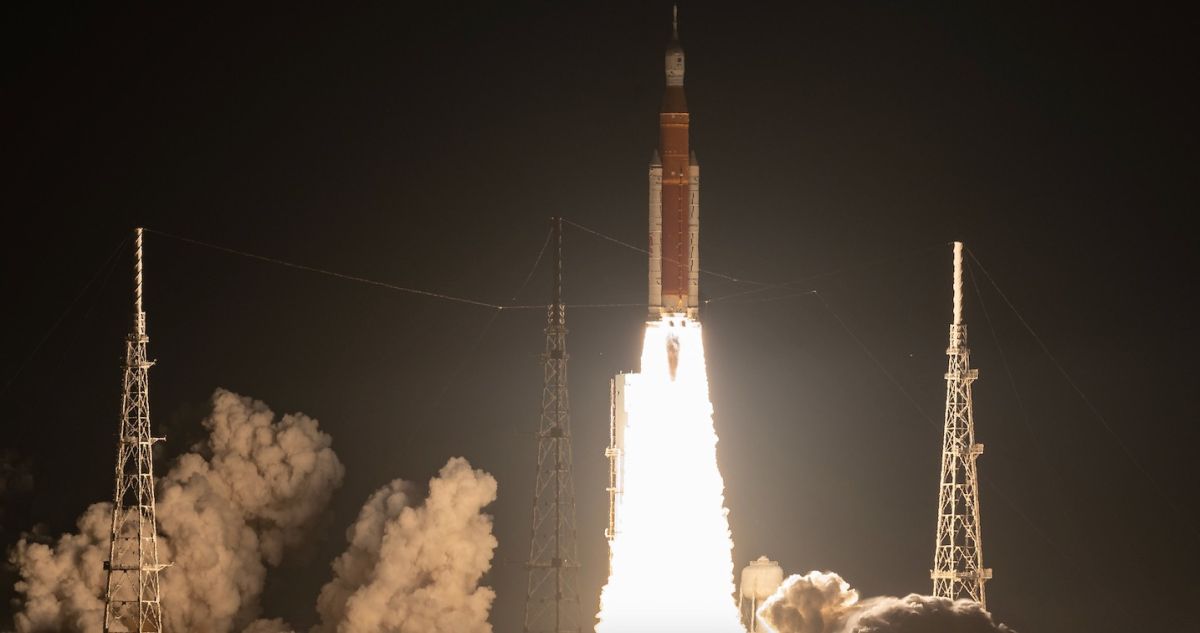 www.space.com
NASA launches Artemis 1 moon mission on its most powerful rocket ever
The most powerful NASA rocket ever built — the Space Launch System — soared into the sky today (Nov. 16) on Artemis 1, an epic mission to the moon and back.
Science & Tech
With a mighty roar, the most powerful NASA rocket ever built — the Space Launch System (SLS) — soared into the Florida early morning sky on the Artemis 1 mission, a risky and long-delayed test flight to send a next-generation space capsule to the moon and back. Liftoff occurred today (Nov. 16) at 1:47 a.m. EST (0647 GMT) from NASA's Pad 39B here at Kennedy Space Center (KSC) in Florida.
Artemis 1 is sending NASA's new Orion spacecraft on an uncrewed test flight around the moon. This shakedown mission, NASA's first flight of a crew-capable moon ship in nearly 50 years, serves as the proving ground to see if SLS and Orion are ready to help return astronauts to the lunar surface by 2025 under NASA's Artemis program.
"Liftoff of Artemis 1!" NASA commentator Derrol Nail said during the webcast of this morning's launch. "We rise together, back to the moon and beyond."
A few minutes later, Artemis launch director Charlie Blackwell-Thompson addressed her team at mission control.
"This is your moment," she said. "We are all part of something incredibly special: The first launch of Artemis, the first step in returning our country to the moon and on to Mars. What you have done today will inspire generations to come."
As in previous attempts, this morning's try saw its share of setbacks. While the SLS upper stage fueling process was underway roughly three hours prior to launch, an intermittent leak was detected in the liquid hydrogen replenishment valve on Artemis 1's mobile launch tower. NASA sent a specialized "Red Crew" to the tower to tighten packing nuts to stop the leak, a process that took roughly an hour.
Following that fix, a separate issue with an ethernet switch at a radar site on the U.S. Space Force Eastern Range caused further uncertainty, prompting a "no-go" on the range until a replacement was found. The ethernet issue was fixed while the launch countdown was at the planned T-10 minutes hold.
This was the third launch attempt for Artemis 1. An initial attempt on Aug. 29 was scrubbed due to a glitch in the cooling process that one of the rocket's four main engines experienced. A second attempt on Sept. 3 was also scrubbed when a hydrogen leak was detected during the rocket's lengthy fueling process. SLS was then rolled back to KSC's Vehicle Assembly Building for repairs and to shelter it from Hurricane Ian, which slammed into Florida's Space Coast in late September.
Most recently, the amended target date of Nov. 12 was delayed to today because of Hurricane Nicole (which was quickly downgraded to a tropical storm following landfall). High winds produced by the storm tore a piece of insulative caulking away from the outside of the Orion spacecraft, prompting Artemis mission teams to study the issue and determine if a Nov. 16 launch was within safety parameters.
Teams here at KSC rapidly assessed the damage in the days following the storm and reached the conclusion that SLS and Orion were still good for this morning's launch. "I feel good headed into this attempt on the 16th," Mike Sarafin, Artemis mission manager at NASA headquarters in Washington, said during a press briefing on Sunday evening (Nov. 13).