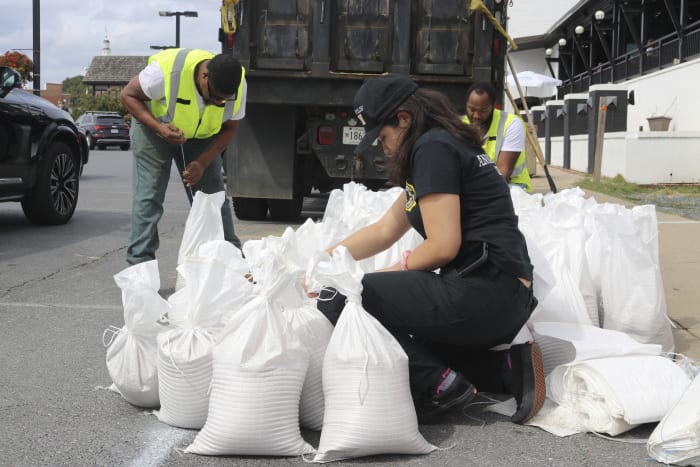 www.local10.com
Tropical Storm Ophelia makes landfall in North Carolina as coastal areas lashed with heavy rain
The U.S. National Hurricane Center says Tropical Storm Ophelia has made landfall on the North Carolina coast, lashing coastal areas with damaging winds and dangerous surges of water.
Local
ANNAPOLIS, Md. – Tropical Storm Ophelia made landfall on the North Carolina coast early Saturday, lashing coastal areas with damaging winds and dangerous surges of water, the U.S. National Hurricane Center said.
Radar, hurricane hunter aircraft and observers on the ground found that Ophelia's center came ashore at around 6:15 a.m. near Emerald Isle with maximum sustained winds of 70 mph (110 kph), the hurricane center said. That's roughly 25 miles (40 kilometers) west of Cape Lookout.
Life-threatening flooding was forecast for parts of eastern North Carolina and southeastern Virginia, but the system is expected to weaken after landfall.
Ophelia is likely to turn north Saturday and then shift northeast on Sunday, the hurricane center said. The storm promised a weekend of windy conditions and heavy rain up to 7 inches (18 centimeters) in parts of North Carolina and Virginia, as well as 2 to 4 inches (5 to 10 centimeters) in the rest of the mid-Atlantic region through Sunday.
A storm surge warning, indicating danger from rising ocean water pushed inland by Ophelia, was in effect from Bogue Inlet, North Carolina, to Chincoteague, Virginia. Surges between 4 and 6 feet (1.2 and 1.8 meters) were forecast in some areas.
A tropical storm warning was issued from Cape Fear, North Carolina, to Fenwick Island, Delaware. A hurricane watch was in effect in North Carolina for the area north of Surf City to Ocracoke Inlet.
The governors of North Carolina, Virginia and Maryland declared a state of emergency on Friday. Some schools closed early and several weekend events were canceled, and in Washington, the Nationals baseball team postponed its Saturday game until Sunday.
North Carolina Gov. Roy Cooper issued the declaration to help expedite preparations and provide a swift response.
"We want to ensure that farmers, first responders and utility crews have the tools necessary to prepare for severe weather," Cooper said.
The North Carolina Ferry System on Friday suspended service on all routes until conditions improve.
Virginia Gov. Glenn Youngkin said the emergency declaration aimed "to ensure that all communities, particularly those with the greatest anticipated impact, have the resources they need." He encouraged residents to prepare emergency kits and follow weather forecasts closely.
Maryland Gov. Wes Moore said the state expects an extended period of strong winds, heavy rainfall and elevated tides.
Nancy Shoemaker and her husband Bob stopped by a park in Maryland's capitol of Annapolis to pick up sandbags Friday. A surge of water during a storm last October washed away sandbags they had in their yard, which is next to the water.
"We're hoping it won't be that way this time," Nancy Shoemaker said. "If we have a lot of wind and a lot of surge, it can look like the ocean out there, so that's a problem."
In Annapolis, water taxi driver Scott Bierman said service would be closed Saturday.
"We don't operate when it's going to endanger passengers and or damage vessels," Bierman said.
Dave Swain, of Havre de Grace, Maryland, took his boat to Annapolis for the weekend. He had already secured the vessel at the City Dock early Friday afternoon and was prepared to ride out the storm.
"Really, you just have to make sure you're tied up, and we've got bumpers out to make sure you don't hit the docks," Swain said. "It's safer here than it would be to go back home right now, so we're going to ride it out and see what happens."
It is not uncommon for one or two tropical storms, or even hurricanes, to develop right off the East Coast each year, National Hurricane Center Director Michael Brennan said.
"We're right at the peak of hurricane season, we can basically have storms form anywhere across much of the Atlantic basin," Brennan said.
Scientists say climate change could result in hurricanes expanding their reach into mid-latitude regions more often, making storms like this month's Hurricane Lee more common.
One study simulated tropical cyclone tracks from pre-industrial times, modern times and a future with higher emissions. It found that hurricanes would track closer to the coasts including around Boston, New York and Virginia and be more likely to form along the Southeast coast.