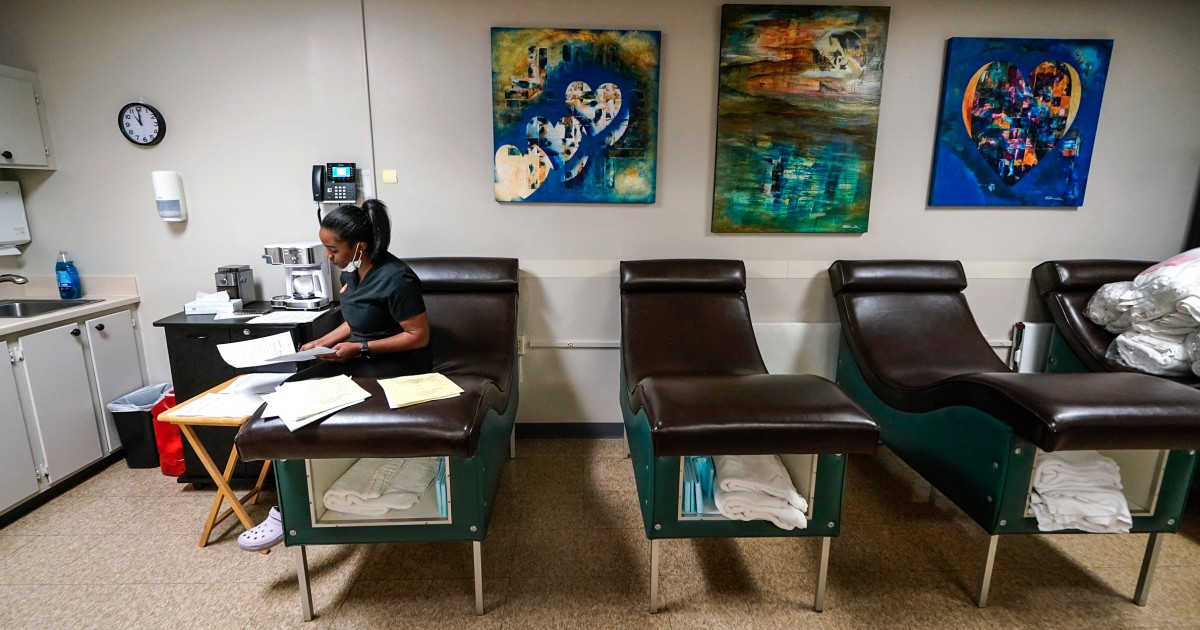 www.nbcnews.com
Abortion clinics close immediately, scramble to move up appointments as Roe ends
Melissa Grant was wrapping up a staff meeting on Friday when her phone and other employees' phones lit up with the news alert: The Supreme Court had overturned
Politics
Melissa Grant was wrapping up a staff meeting on Friday when her phone and other employees' phones lit up with the news alert: The Supreme Court had overturned the landmark Roe v. Wade ruling that guaranteed the constitutional right to an abortion for nearly 50 years.
The chief operations officer of Carafem, an abortion provider with clinics in Georgia, Tennessee, Illinois and Washington, D.C., Grant said that she and her team from across the country were on a call and had just finished discussing the potential decision when the news broke.
"On the one hand it was nice we were all together," she said. "But on the other, you can't prepare for news like that. I've been in this field for over 30 years now, and this is a day I never thought I would see happen."
The court's 5-4 ruling to overturn Roe had a cataclysmic effect. It triggered laws tied to the decision in 13 states that effectively banned or limited abortion immediately or in the coming weeks. Providers were left to scramble, consult with lawyers and even close their doors while doctors, patients and activists contended with the panic and heartbreak of the moment.
Abortion clinics in states like Texas and Louisiana have shuttered as a result of the decision — the closest provider to New Orleans is now in Illinois — and the future of the abortion rights movement and those seeking the procedure is more than fuzzy in some states, particularly the South and Midwest.
As a result of the decision, Caitlin Knowles Myers, an economist at Middlebury University, projected in a study that was included in an amicus brief of a Supreme Court case, that 100,000 women in these states would be unable to see a provider for an abortion because of the new laws.
As many as 75,000 would give birth to children as a result, her study found. Low-income people and people of color are expected to be the most affected.
Mandie Landry, a Louisiana state representative in New Orleans and an abortion advocate, lives near the clinic in her city. She said a small group of women gathered to close its doors and called patients before they arrived to warn them. Others who sought abortions in Louisiana were not as lucky, she said.
"I know for sure the Hope Clinic in Shreveport had people there for their appointment for the day and had to be told to go home," Landry said.
The Hope Medical Group for Women did not immediately respond to a request for comment, but an answering service for the clinic said it had canceled procedures for Friday and Saturday.
Meanwhile, Whole Woman's Health, a group of Texas clinics, said it is "pausing abortion services" in the state until further notice and working "to figure out when/if/how we can continue abortion services for patients in Texas."
The fallout from Roe's end may not be immediate for some states, but many said they see the dominoes falling and are preparing for the end of abortion access.
Grant said her team in Tennessee called about 30 women on Friday to inform them of the news and to encourage them to move up their appointments if they would like to get an abortion before a possible ban clamps down. Her Georgia clinic faces similar issues after the state attorney general, Chris Carr, called for an injunction on a six-week abortion ban to be lifted.
"We're trying to see as many people as possible who've been scheduled with us knowing that things are going to change and when they do change, it'll be fast," Grant said.