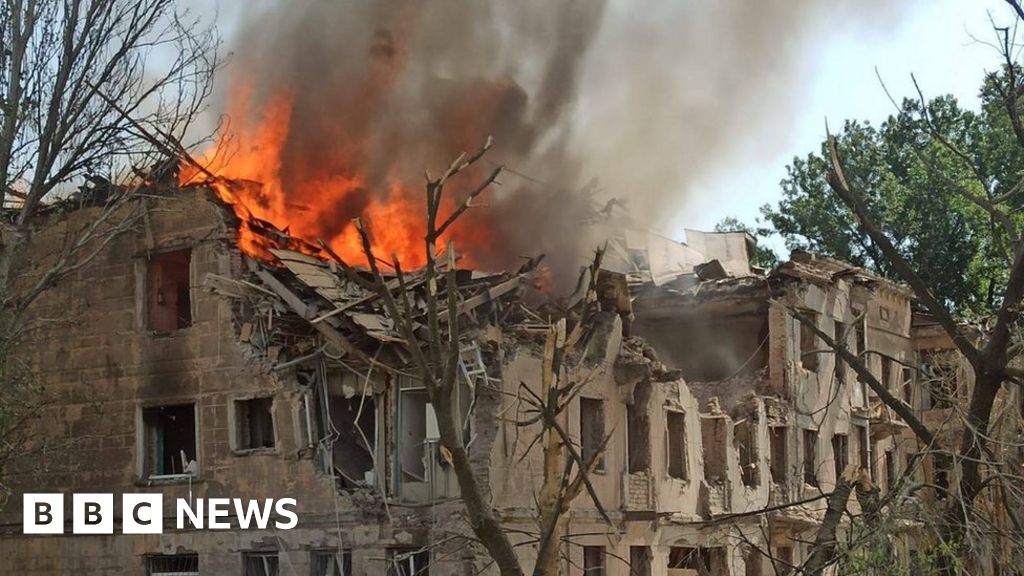 www.bbc.com
Russian rocket attack on Ukraine hospital kills two
More than 20 people were injured in the attack on a medical facility in the eastern city of Dnipro.
International
At least two people have been killed and 23 injured in a missile strike on a medical clinic in the eastern Ukrainian city of Dnipro, the regional governor says.
Of the 23 injured, 21 are in hospital and three are in a serious condition.
Two boys aged three and six were also among the wounded, governor Serhiy Lysak said.
Russian strikes on Ukraine have intensified in recent weeks ahead of an expected Ukrainian counteroffensive.
Mr Zelensky posted a video of the damaged clinic that showed firefighters at the scene and smoke billowing from the building.
"Russian terrorists once again confirm their status of fighters against everything humane and honest," he said.
Earlier, Mr Lysak said the region came under a "mass attack...with missiles and drones" on Thursday night.
"It was a very difficult night. It was loud," he said. "Dnipro has suffered."
Ukrainian authorities said they shot down 17 missiles and 31 drones launched from Russia overnight.
Several drones and missiles hit targets in Dnipro and the eastern city of Kharkiv, including an oil depot.
Ukraine's capital, Kyiv, was also targeted and officials said fragments of intercepted drones fell on the roof of a shopping centre, while a house and several cars were damaged.
In Russia, a blast damaged a residential and office building in the southern city of Krasnodar, east of Crimea, on Friday morning.
The region's governor, Veniamin Kondratyev, said it was caused by two Ukrainian drones: "There is some damage to buildings, but critical infrastructure was not damaged. And most importantly, there were no casualties."