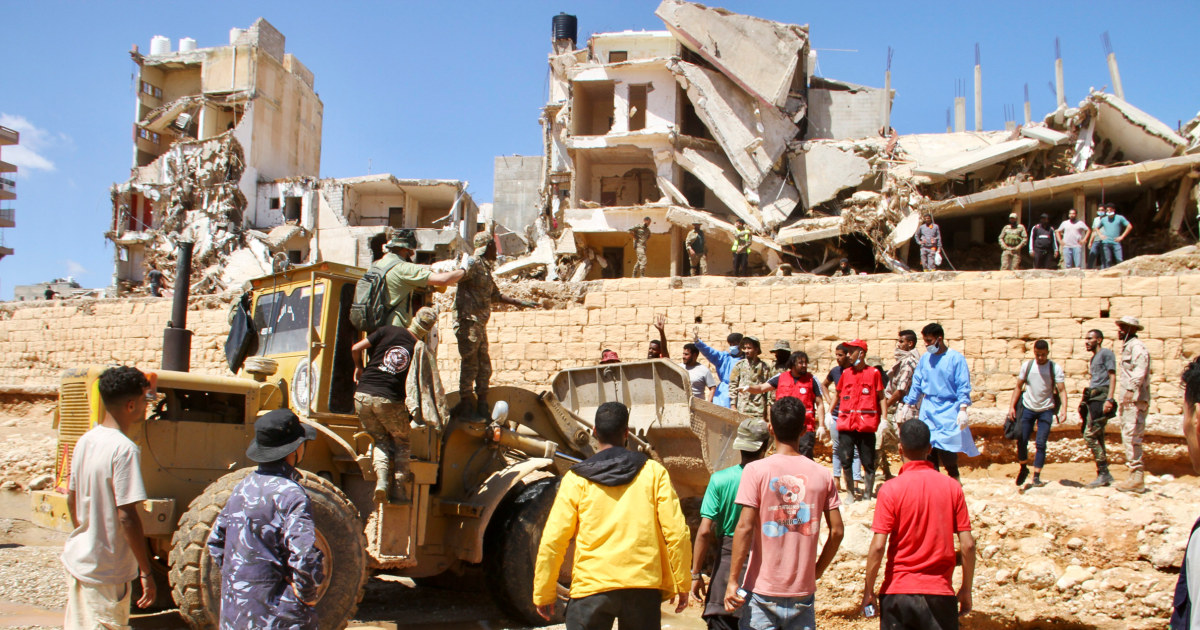 www.nbcnews.com
20,000 people feared dead in Libya floods
Up to 20,000 people are now feared dead after a torrent of water ripped through eastern Libya — a devastating toll that could largely have been avoided, global officials said Thursday.
International
Up to 20,000 people are now feared dead after a torrent of water ripped through eastern Libya — a devastating toll that could largely have been avoided, global officials said Thursday.
As rescuers in the ruined city of Derna searched underwater and under rubble, fears grew that rotting bodies could lead to a deadly outbreak of disease in the wake of this week's floods.
A precise tally of the rising number of people killed is incredibly difficult given the level of destruction and chaotic political situation in the region, with bodies still washing up on the shore and burials being held in mass graves.
Derna death toll could still soar
A deluge of rainfall from Mediterranean storm Daniel caused two dams to collapse, sending waves more than 20 feet high sweeping through the heart of Derna, a port city in the country's east.
Its mayor has said that the death toll could triple or more as search teams and survivors find more bodies in the ruins.
"The situation is very large and surprising for the city of Derna. We were not able to confront it with our capabilities that preceded the storm and the torrent," said Mayor Abdel Moneim Al-Ghaithi.
"Even if the capabilities were great and advanced, the scene we saw could not be confronted by us," he told Sky News Arabia on Wednesday night. The death toll in the city could ultimately exceed 20,000, he said, based on estimates of those living in areas that were swept away.
Previous estimates from aid agencies and government officials put the number of deaths at 8,000, with 10,000 people missing.
If confirmed, an estimated death toll of over 20,000 would mean that around a fifth of the city of Derna's population has been killed.
Most of the deaths could have been avoided if authorities had better warning systems in place, the United Nations' weather and climate agency said Thursday.
"They could have issued the warnings and the emergency management forces would have been able to carry out the evacuation of the people, and we could have avoided most of the human casualties," Petteri Taalas, head of the World Meteorological Organization, told reporters in Geneva according to the AFP news agency.
The WMO said this week that it issued warnings 72 hours before the dams collapsed, including contacting the Libyan authorities and making statements to the media. This led to a state of emergency being declared in the North African country.
A humanitarian disaster is also unfolding for survivors.
Fears are rising of waterborne disease affecting the area, especially with rotting bodies still washing ashore. "Access to clean water, sanitation and hygiene facilities will be required to prevent a further crisis within a crisis," Elie Abouaoun, country director for Libya at the International Rescue Committee, said in a statement Wednesday.
Around 30,000 people from Derna are displaced, according to the International Organization for Migration, a U.N. agency.
Satellite imagery has shown the sheer scale of destruction wrought by the floods. A government official estimated Wednesday that 25% of the city was completely destroyed or washed away.
Rescue teams from neighboring Egypt and Tunisia have arrived, alongside crews from the United Arab Emirates and Turkey.
Othman Abduljaleel, the eastern Libyan government's health minister, said divers were searching seawater off the coast of Derna.
In accordance with Islamic tradition, in which bodies are buried as soon as possible, more than 3,000 have already been placed in mass graves, he said.
The hope of finding survivors has all but faded as a colossal clean-up and recovery operation begins.
The Tripoli Public Services Company began clearing away rubble in Derna's previously densely populated center on Wednesday in an operation running 24 hours a day, the state-run Libyan News Agency reported.
Its staff are divided into three teams: one to remove rubble that may have trapped victims, one to pump out stagnant standing water and one to re-open paths by removing fallen buildings and cars swept away by the flood.
The enormous task of providing immediate aid and then rebuilding Derna is complicated by the legacies of a decade of civil conflict, which has left two rival governments ruling eastern and western Libya.
Derna is controlled by the Libyan National Army, run by Field Marshall Khalifa Hifter and based in the eastern city of Tobruk. The rest of the country is run by the Government of National Unity based in the capital, Tripoli, in the west.
This split has hampered reconstructions efforts for years — though aid workers say both sides are now talking to each other.
"Both governments have reached out to the international community requesting services and help," Tauhid Pasha, of the International Organization for Migration, told BBC Radio on Wednesday night.
"The Government of National Unity has extended its support to us and its request on behalf of the entire country and they are also coordinating with the government in the east," he said.