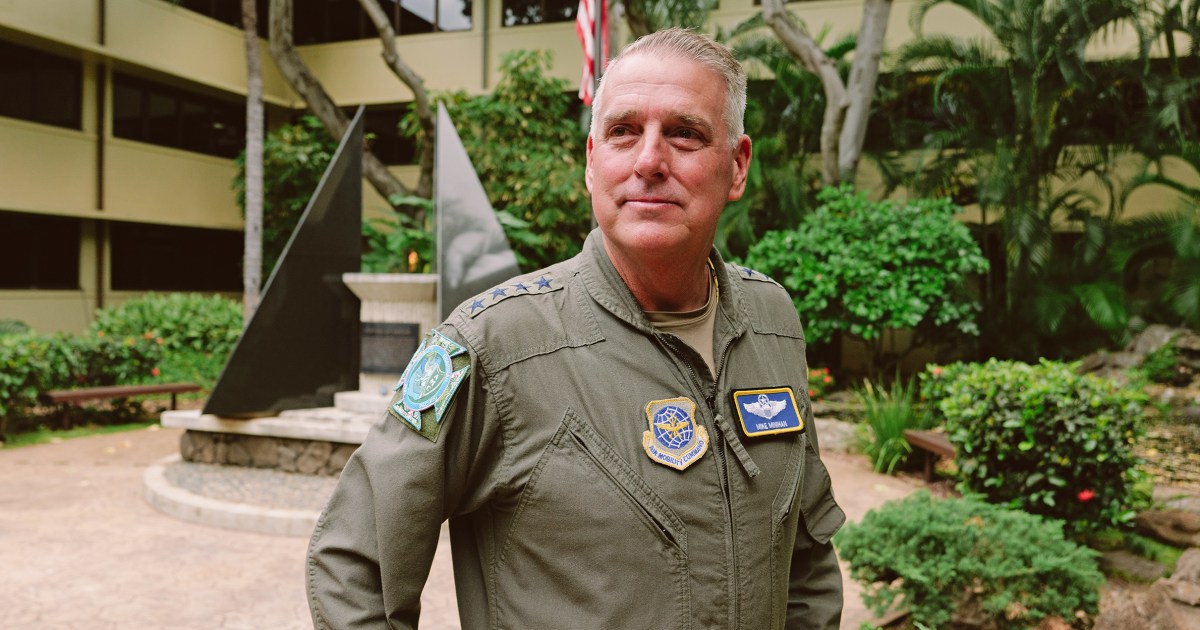 www.nbcnews.com
Air Force general who predicted war with China leads 'unprecedented' training exercise
Gen. Mike Minihan, who predicted war with China in 2025, is leading a massive training exercise in the Pacific involving more than 3,000 airmen from seven countries.
Education
ONE THOUSAND FEET OVER TINIAN ISLAND, Northern Mariana Islands — U.S. Air Force Capt. Brenden "Biggie" Small peers out the window of a C-130 as roughly a dozen other aircraft deploy parachutes carrying supplies to a small group of troops assembled below.
The mission is part of a training exercise involving 70 aircraft and more than 3,000 airmen from seven countries — the largest readiness exercise in Air Mobility Command history.
"On this scale," it's "really unprecedented," Small says.
For the first time, the exercise, called Mobility Guardian, is focusing on the Pacific as the U.S. gears up for a potential conflict with China.
Over two weeks, airmen from the U.S. and its allies are practicing resupply missions, aerial refueling and medical evacuations at bases in Hawaii, Guam, Australia and Japan.
"I don't believe conflict is inevitable. I don't believe it's unavoidable," said Gen. Mike Minihan, the head of the command. "But I also believe that ready now is what matters most. So ready now is the foundation of deterrence. And ready now is also the foundation of decisive victory."
Minihan made headlines in January when he wrote a controversial memo warning his commanders the U.S. could be at war with China in two years. The memo directed all Air Mobility Command personnel to prepare for a potential fight with China and practice their marksmanship — "fire a clip into a 7-meter target with the full understanding that unrepentant lethality matters most."
"Aim for the head," Minihan added.
In an interview at U.S. Pacific Air Forces Headquarters in Hawaii, Minihan said he stands by the memo.
"I'm not trying to be provocative. I'm not trying to be coy," Minihan said. "I'm trying to provide my formation with the tools and the action and the priority necessary to win."
In recent months, the Chinese and U.S. militaries have had two close calls in the western Pacific.
The Defense Department says a Chinese fighter jet flew dangerously close to a U.S. military surveillance plane over the South China Sea on May 30. Days later, a Chinese naval ship came within 150 yards of a U.S. destroyer in the Taiwan Strait, cutting across its bow. China rejected the Pentagon's description and blamed the U.S. for both incidents.
The close encounters reinforce growing concerns that the two superpowers could stumble into an unintended conflict. China's military might has grown considerably in the past decade, and Taiwan remains a flashpoint.
Other experts caution that while tensions are high, an armed conflict between the U.S. and China is unlikely given how closely interconnected the two countries' economies have become. They say that talk of war is exaggerated and that it worsens divisions between Washington and Beijing.
With U.S.-China relations under strain, Secretary of State Antony Blinken met with President Xi Jinping in June in a bid to reduce tensions.
"We have no illusions about the challenges of managing this relationship. There are many issues on which we profoundly, even vehemently, disagree," Blinken said at a news conference after the meeting.
But "it's the responsibility of both countries to find a path forward, and it's in both our interests and the interests of the world that we do so," he added.
The previous three Mobility Guardian exercises took place in the continental U.S. But with the threat of a potential conflict with China growing and the logistical challenge of getting people and supplies across the ocean, the Pentagon decided to move the training exercise to the region where it was most likely to play out.
"We're here in the Pacific, and we're enjoying all the tyrannies of geography," Minihan said. "So, specifically, distance and water. We're challenging ourselves and our crews to maneuver in this theater at the relevance that is needed to win. And so far, so good. It's going really well."
Joining the U.S. in the exercises are airmen from Canada, the United Kingdom, Australia, New Zealand, Japan and France.
"The U.S. military is ready to deliver power," Minihan said.
But he said it's not up to him whether a war with China breaks out in the next few years.
"Regardless of the timeline, my job is to be ready now," Minihan said. "And my obligation as the commander of Air Mobility Command is to be ready now to provide that deterrence and to be ready to provide that decisive victory."