This post may refer to COVID-19
To access official information about the coronavirus, access CDC - Centers for Disease Control and Prevention.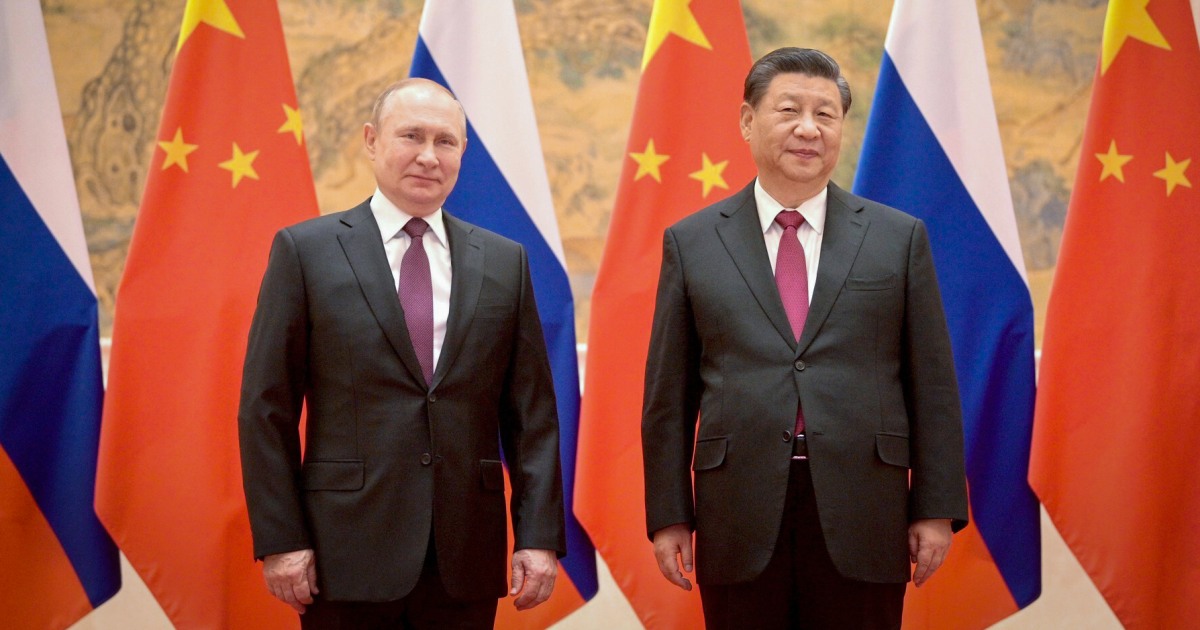 www.nbcnews.com
Chinese leader Xi to visit Russia next week for talks with Putin
Chinese President Xi Jinping will visit Russia early next week for talks with Vladimir Putin as tensions rise with the U.S. amid the war in Ukraine.
International
HONG KONG — Chinese President Xi Jinping will visit Russia early next week for talks with President Vladimir Putin, a trip that will showcase the countries' growing closeness as tensions escalate with the United States and the war in Ukraine grinds into a second year.
Xi will pay a state visit to Moscow from Monday to Wednesday at Putin's invitation, China's Foreign Ministry said Friday. It is his first trip to Russia since the invasion, and comes as China is trying to position itself as a mediator in the conflict despite skepticism from the U.S. and its allies.
The visit was also confirmed by the Kremlin, which said the talks would focus on the countries' "comprehensive partnership and strategic cooperation." A number of "important bilateral documents" would also be signed, it said in a statement.
The Chinese Foreign Ministry did not confirm reports that Xi's Russia trip would be followed by a virtual meeting with Ukrainian President Volodomyr Zelenskyy, whom the Chinese leader hasn't spoken to since before the war began last February.
"We are in communication with all parties," spokesperson Wang Wenbin said at a regular briefing in response to a question about the reports.
Xi's Moscow visit comes as U.S. ties with both China and Russia have been steadily deteriorating.
On Thursday, the U.S. military released newly declassified video it says shows a Russian fighter jet harassing and colliding with an American drone over the Black Sea, aggression that U.S. officials told NBC News was approved by the Kremlin leadership.
Tensions with China have soared over Taiwan, questions over the origins of Covid-19, a U.S. submarine deal with Australia and Britain, White House demands that TikTok's Chinese owners sell their stakes in the popular app, and the downing of a Chinese surveillance balloon that was detected over U.S. territory.
The diplomatic chill was reflected in comments last week by Xi, who accused the U.S. of leading a campaign of "containment, encirclement and suppression" against China that had created "severe challenges" for the country.
Beijing has been seeking to rival Washington as a mediator on the global stage, a diplomatic push that was given a high-profile boost when it brokered the agreement for archrivals Iran and Saudi Arabia to normalize ties last week.
China, which declared a "no limits" partnership with Russia weeks before the invasion, has tried to portray itself as neutral in the conflict. It has refrained from condemning Russia's aggression or even calling it an invasion, while calling for negotiations and being careful to avoid violating international sanctions.
A 12-point peace proposal Beijing released last month received a tepid response in both Ukraine and Russia, while it was quickly dismissed by the West as too favorable to Moscow.
Wang said Xi's visit to Russia was "for peace."
"We have always believed that political dialogue is the only way out of the conflict," he said.
The U.S. has also been warning that China may be considering sending artillery and ammunition to Russia for use in the conflict, which would represent a significant shift in its approach. Beijing denies the allegations, with Wang saying on Friday that China had always taken a "prudent and responsible attitude" toward military exports.
"China's position and approach have been consistent, in sharp contrast to the double standards of some countries on arms sales and the practice of adding fuel to the fire in the Ukraine crisis," he said, referring to the provision of weapons to Ukraine by the U.S. and others.
In a rare call on Thursday with his Ukrainian counterpart, China's new foreign minister, Qin Gang, said Beijing was concerned that the conflict could escalate out of control and that it hoped for a political solution.
Ukrainian Foreign Minister Dmytro Kuleba, who also spoke with Blinken earlier Thursday, said on Twitter that he and Qin had "discussed the significance of the principle of territorial integrity." He said he also underscored the importance of Zelenskyy's own peace plan.
Xi and Putin previously met in Uzbekistan last September on the sidelines of a regional summit. Putin invited Xi to make a state visit during a videoconference in December, and China's top diplomat, Wang Yi, laid further groundwork for the trip when he was in Moscow last month.
Though the war in Ukraine has tested China-Russia relations, they seem to be returning to their prewar status, and Xi's trip "is probably going to cement that," said Ian Bremmer, president of Eurasia Group, a consulting firm based in New York.
"They're going to display a lot of friendship," he told NBC News. "I think it will be very clear that Putin, from China's perspective, is very far from a pariah."