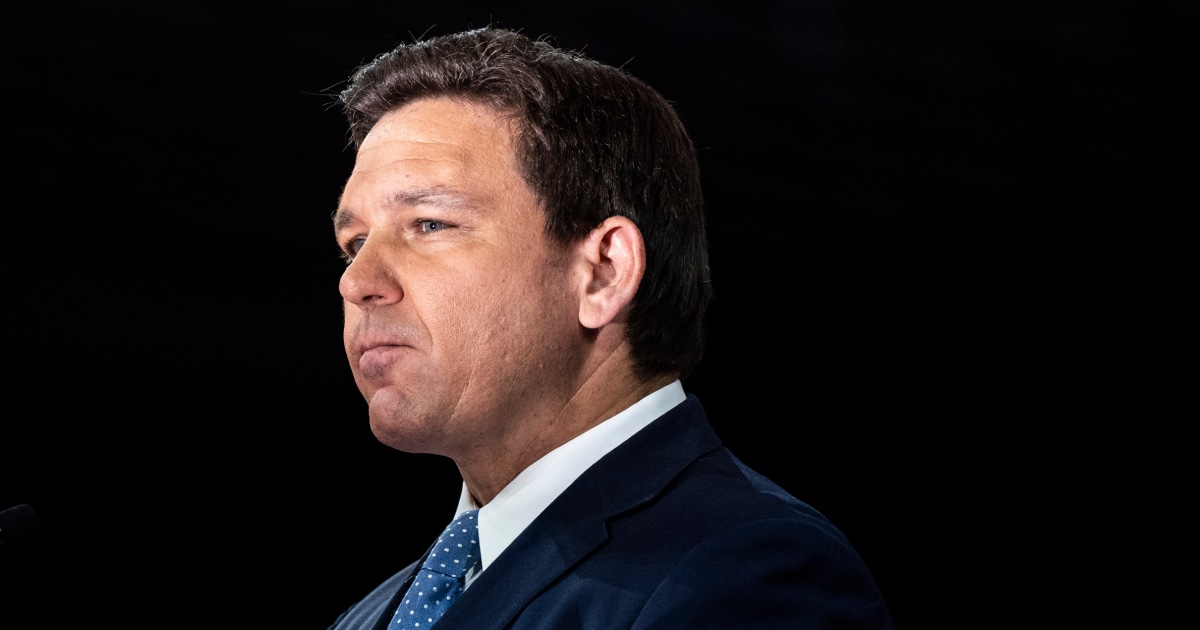 www.nbcnews.com
DeSantis suspends Florida prosecutor for suggesting he would not enforce restrictions on abortion, gender therapy
Florida Gov.
Politics
MIAMI — Florida Gov. Ron DeSantis suspended the top county prosecutor from Tampa on Thursday after the Democrat publicly said he wouldn't enforce a new state abortion restriction or a potential law banning surgeries for transgender children.
Flanked by state and area law enforcement officials who are fellow Republicans, DeSantis said at his press conference that Hillsborough County State Attorney Andrew Warren was neglecting his official duties and was essentially usurping the veto power of a governor by signaling his refusal to prosecute those who break laws with which he disagrees.
"When you flagrantly violate your oath of office, when you make yourself above the law, you have violated your duty," DeSantis said. "You have neglected your duty and you are displaying a lack of competence to be able to perform those duties."
Warren, who became a face of progressive criminal justice reform after he first won office in 2016 and had considered running for Florida Attorney General in 2022, could not be immediately reached for comment.
A Warren adviser who was not authorized to publicly speak on his behalf said Warren was blindsided by the DeSantis announcement and by the area law enforcement officials who bashed him as soft on crime while standing next to the governor at the press conference in Tampa.
The adviser described the suspension as "political, another notch in Ron's belt as he positions himself to run for president."
The high-profile political dynamics were telegraphed a day earlier by DeSantis's press secretary, Christina Pushaw, who hyped the coming announcement on social media. The governor's office also issued a statement to conservative media calling Warren a "Soros-backed" prosecutor, a reference to progressive financier George Soros, whom Warren in 2020 acknowledged may have helped his first successful election campaign four years before.
Warren was elected with more than 53 percent of the vote, or 370,000 ballots, in 2020 in Hillsborough County. A Democratic stronghold, Hillsborough has a Republican sheriff, Chad Chronister, who joined other colleagues in trashing Warren at the DeSantis press conference.
The suspension is another continuation of DeSantis's muscular exercise of power, which Democrats and other critics routinely describe as dictatorial. More popular among Florida Republicans than former President Donald Trump, DeSantis has met little resistance from the GOP-led Legislature, although his office has a relatively poor court record defending laws he signed.
Florida's Constitution gives a governor the right to suspend state officials for reasons of "misfeasance, malfeasance, neglect of duty, drunkenness, incompetence, permanent inability to perform official duties, or commission of a felony."
DeSantis's order, however, did not cite specific instances where Warren refused to do his job. Instead, DeSantis's order said, Warren's "blanket refusal" to enforce Florida's new abortion restrictions or prospective restrictions concerning issues related to surgeries or restroom use for transgender people ran afoul of the state constitution.