This post may refer to COVID-19
To access official information about the coronavirus, access CDC - Centers for Disease Control and Prevention.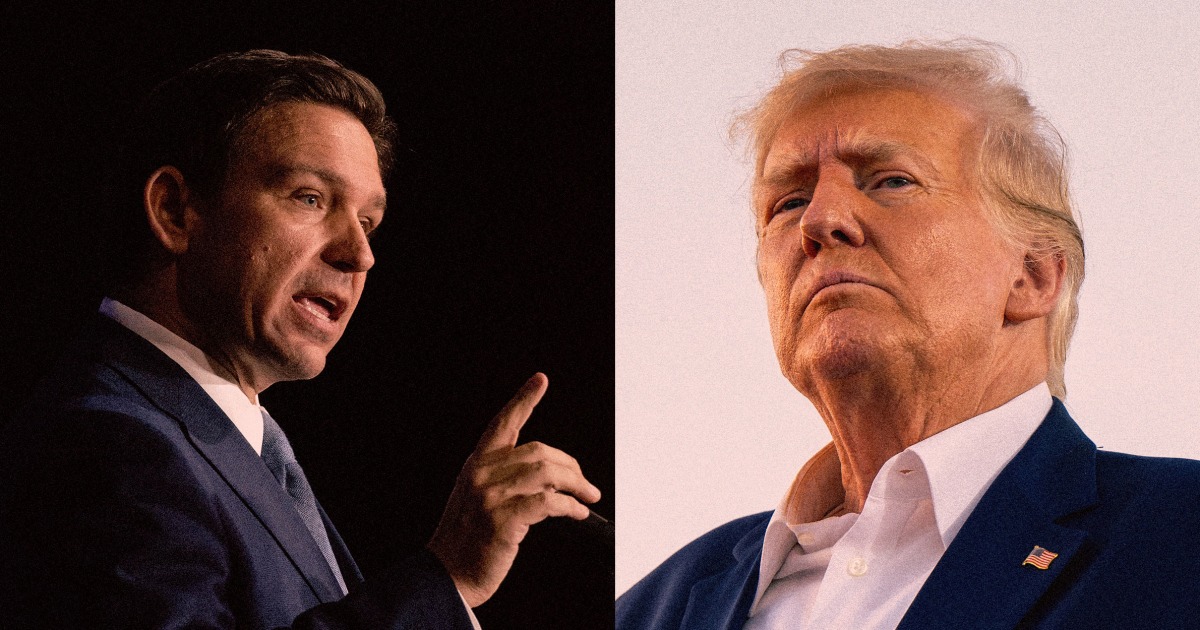 www.nbcnews.com
Don't expect Ron DeSantis to go scorched earth against Trump
When he formally launches his 2024 bid, Ron DeSantis will finally have the chance to declare open warfare on Donald Trump. But don't expect him to take it.
Politics
When he formally launches his presidential run this week, Ron DeSantis will finally have the chance to declare open warfare on Donald Trump.
It's an opportunity he will gladly decline.
The brash and bellicose Florida governor — the self-designated "new sheriff in town" in his fight with Disney who boasts about sending migrants to Martha's Vineyard, thrives on enemy slights and gleefully dives head first into culture wars — will go scorched earth no more. At least not when it comes to Trump.
Instead, DeSantis will be judicious, or as his team puts it, "strategic" about crossing into Mar-a-Lago territory. The governor will mostly ignore the daily Trump taunts and will take the former president head-on only in specific circumstances — particularly on policy — according to three political advisers to DeSantis.
The guarded approach is to the disappointment of Never Trumpers and Trump skeptics who thought they'd found their own bully to proverbially punch Trump smack in the nose. But to the DeSantis team, it's just their political reality.
"If they want to hand Donald Trump the nomination, I suppose they can go about doing that. But there's a reality that a lot of Trump supporters are Ron DeSantis fans and a lot of Ron DeSantis supporters are Trump fans, or at least probably voted for the guy twice," said a DeSantis adviser who was not authorized to speak on the record about strategy. "Why make political math more difficult for yourself — needlessly?"
DeSantis is expected to officially jump into the race for the White House this week. When he does, he enters the same trap as the bulk of the group swarming in and around the GOP primary: threatening the front-runner, but ultimately pulling their punches to not drive away vital Trump voters they think they need to win the nomination.
Vida Keller, legislative director for the state GOP in the battleground state of Nevada, said many GOP voters view Trump as having helped DeSantis when he endorsed him for governor in his 2018 run.
"I've actually heard people saying, 'If he goes after Trump, he's a traitor,'" Keller said of DeSantis. "It's like, yeah, Trump was great when you needed him."
It is the paradox of Trump: Trump can launch nuclear attacks on his foes and walk away unscathed, but if his opponents attempt the same, it's a meltdown.
"I've seen very smart people think they're going to break the code of Trump. And they always fail. He lets them be the worst iterations of themselves," said self-proclaimed "Trump Anthropologist" Rick Wilson, a longtime Republican who helped launch the anti-Trump Lincoln Project.
"Ron just does not have the presence and the shamelessness of Trump," Wilson went on. "That's part of [Trump's] superpower — he just does not care. He'll just lie, and lie and lie."
DeSantis' team acknowledges it doesn't know the alchemy behind derailing Trump, aside from being "nimble and smart" about reacting to the former president.
That is why, so far, DeSantis' super PAC Never Back Down has carried the load when it comes to getting aggressive with Trump. That dynamic is expected to continue to play out.
"The governor's never shied away from a fight, but he's not one to be distracted from nonsense," the adviser said.
And Trump has certainly tried to distract. For months, Trump has mounted an anti-DeSantis crusade; affiliated super PACs have poured millions of dollars into negative advertising and launched verbal and written assaults on the governor in a failed attempt to keep DeSantis from entering the race.
In fact, according to one analysis, the Trump-affiliated MAGA Inc.'s spending on anti-DeSantis ads so far this year already outpaced all of what the Trump group spent on Senate campaigns in the 2022 midterms.
"The more Trump is able to define DeSantis early on, then that makes climbing out of the hole much more difficult going forward," said Rob Pyers, who tracks campaign data and is research director for the non-partisan California Target Book, which analyzes race data in the state. At the same time, Pyers warned that if DeSantis turns to squabble with Trump and makes the same arguments that other opponents have made in the past, "then he runs the risk of playing into into Trump's hands."
A second DeSantis adviser, who was not authorized to speak on the record, argued that by going after DeSantis so hard, "Trump is alienating some folks" in the party.
That's why, the adviser said, the DeSantis team will dig into a trove of what they see as his best contrasting arguments, including that the governor decisively won his re-election last fall while Trump lost in 2020, and in 2022, the candidates Trump endorsed had a losing record. That electability argument also involves honing in on the theory that DeSantis would be more competitive against Biden.
A third outside DeSantis adviser said the team anticipates that Trump's impulse to be against whatever DeSantis is for — and for whatever he's against — is going to trip him up, and they plan to seize on those moments.
The adviser pointed to some Trump comments they viewed as missteps, such as saying a six-week abortion ban is "too harsh" and his take on the Disney fight, which the DeSantis team viewed as siding with CEO Bob Iger.
The team is also expected to highlight that DeSantis can serve for a full eight years if elected and Trump cannot. And the governor is expected to hold up his victory in Miami-Dade County — historically blue territory with a a high percentage of Latino voters — as proof he can win broad support even after all the push-back he received over sending flights of migrants to Martha's Vineyard, his hard-nosed approach to keeping Florida open during Covid or his wars with schools over transgender issues.
"Part of our goal is to win over a lot of Trump supporters," said the second DeSantis adviser. "Given that, it makes more sense for us to highlight where DeSantis can be more effective."
Paul Bentz, an Arizona-based Republican pollster said DeSantis can't start off on the offensive because that would make the contest about Trump.
At some point though, DeSantis has to show he can take on Trump, he said.
"He will not be able to survive a primary or be victorious in a primary where he doesn't acknowledge Trump and, at least in some way, shape, or form, go after him," Bentz said.
For the most part, DeSantis' team ignores many of the Trump slights that are churned out at a regular clip. "Ron DeSanctimonious Gets Caught In The Mouse Trap," a news release from Trump screamed last week after news that Disney was pulling the plug on a new Florida campus. "The Culture Of Losing Continues."
"I think that's alienating some folks who are on the right or who are on the fence," the second adviser said.
When directly confronted on policy, however, DeSantis has responded.
Last week, at a press availability, DeSantis was asked about Trump's comments that the six-week abortion bill that DeSantis signed into law in Florida was "too harsh."
"I think that as a Florida resident he didn't give an answer," DeSantis said of Trump. "I signed the bill, I was proud to do it. He won't answer whether he would sign it or not."
He's also hit back in more extreme circumstances, like in February, when Trump, on a Truth Social post, put up a photo purportedly showing DeSantis with several young women and insinuated that the governor was acting inappropriately.
"I spend my time delivering results for the people of Florida, and fighting against Joe Biden," DeSantis said in response. "I don't spend my time trying to smear other Republicans."