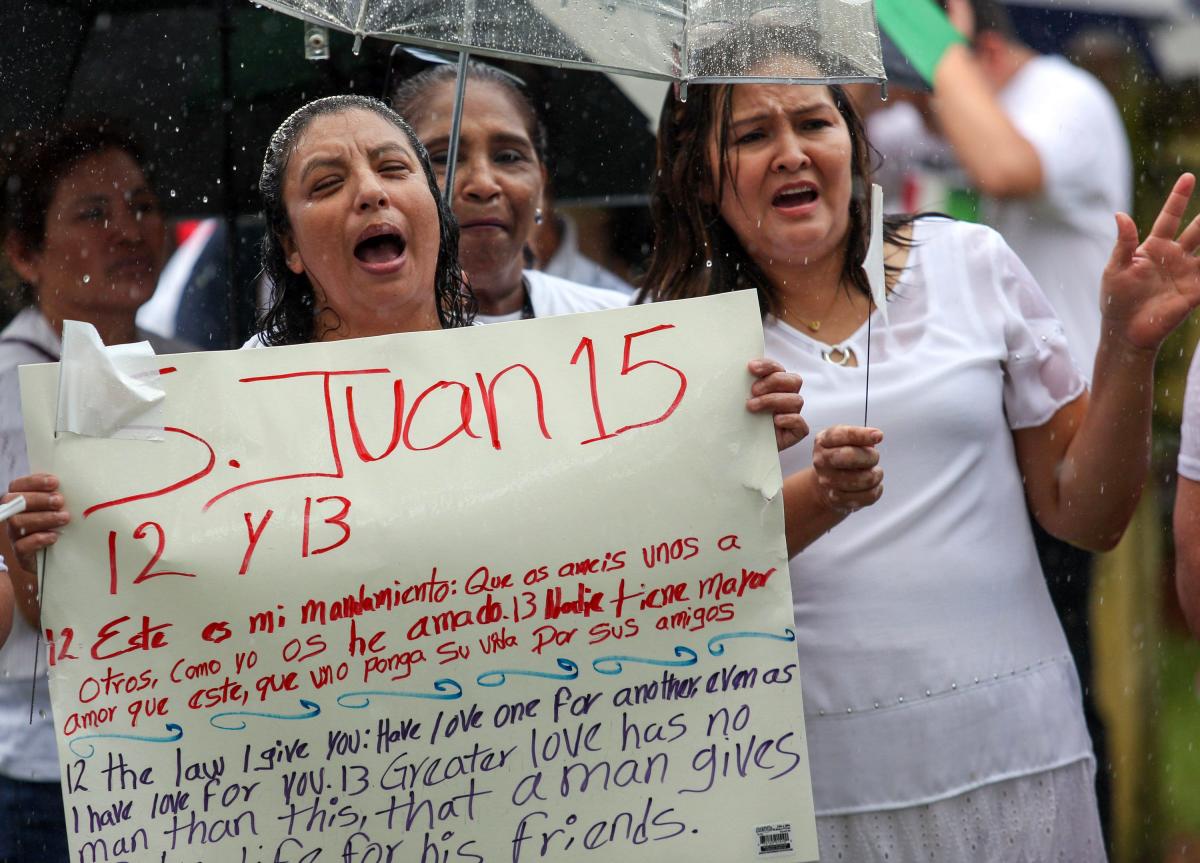 money.yahoo.com
Hundreds gather in Vero Beach to protest Florida's tough new immigration law
The rally was one of six across Florida where immigrants and others gathered to protest the law. All six Treasure Coast representatives voted for it.
Local
INDIAN RIVER COUNTY — Hundreds of demonstrators wrapped themselves in Mexican, Guatemalan and Puerto Rican flags as they marched on the Merrill P. Barber Bridge Thursday afternoon, protesting Senate Bill 1718.
Vero Beach was one of six cities statewide where opponents to Florida's new immigration law held rallies Thursday. The law, signed May 10 by Gov. Ron DeSantis, takes effect July 1 and will impact immigrants' employment, health care and the process of obtaining identification documents for undocumented immigrants.
What is SB 1718?
Employment requirements would allow state law enforcement officials to conduct random audits of businesses suspected of hiring undocumented workers. Businesses with more than 25 employees would be required to use the federal E-Verify system to check the immigration status of new workers.
Under the law, hospitals are required to report how much was spent on care for undocumented patients; how many patients were citizens, legal noncitizens, illegal noncitizens; and who declined to answer. Hospitals must inform patients their answers will not impact their health care or get them reported to immigration officials. The data, however, will be sent to the state.
Counties and municipalities are prohibited from providing funding to groups or individuals seeking to provide identification documents to an undocumented immigrant. Undocumented migrants also could face felony charges by displaying a false ID to obtain employment.
Taking a stance against S.B 1718
Riverside Park was packed with families huddled under umbrellas who braved the weather to show support for undocumented immigrants.
he rally was organized by the Puerto Rican-led Ministerio Cristiano Oasis de Bendecion church in Vero Beach. Support for the rally had grown since DeSantis signed the bill into law.
"It is a tragedy and a crime this is happening to their rights because even though they're not legal, they have rights in this country," said Katty Beniquez, event organizer. "We (immigrants) have to be treated like humans and not trash."
Beniquez moved to Vero Beach in 2004 from Puerto Rico and, with her husband, opened the church in 2008.
Reyna Tolentines, who immigrated from Mexico to Fellsmere, attended the rally with her daughter to show support for undocumented family members who are affected by the law.
"This law makes me feel sad because we all come here to better our lives and I'm seeing that the governor instead of helping us out is making it so that we all leave," said Tolentines.
Along with Thursday's rally, a statewide labor strike was held to protest the law. People were urged not to work or purchase anything, and were encouraged to call their representatives who voted for the immigration law.
In Fellsmere, grocery stores, restaurants and ice cream shops shuttered their doors for the day, posting signs on their doors saying they were closed in support of the migrant labor strike.
Mi Pueblo Meat Market, Yami's Ice Cream Shop and Fellsmere & Grocery closed for the day.
Nuno Fruteria remained open Thursday in solidarity with the Fellsmere striker and the immigrant community.
"When the law becomes effective, it is going to impact everyone," said Maria Nuno, 68. "The opportunity we had when we came here should be granted for them (immigrants) as well."
Nuno immigrated to Fellsmere from Mexico in 1981, and became a United States citizen in 1986.
What Treasure Coast representatives voted for Senate Bill 1718?
The bill passed 27-10 in the Senate on April 28. It passed 83-36 in the House on May 2. All Treasure Coast lawmakers voted in favor of the bill:
Rep. Robbie Brackett, R-Vero Beach
Rep. Dana Trabulsy, R-Fort Pierce
Rep. Toby Overdorf, R-Stuart
Rep. John Snyder, R-Palm City
Sen. Erin Grall, R-Fort Pierce
Sen. Gayle Harrell, R-Stuart.