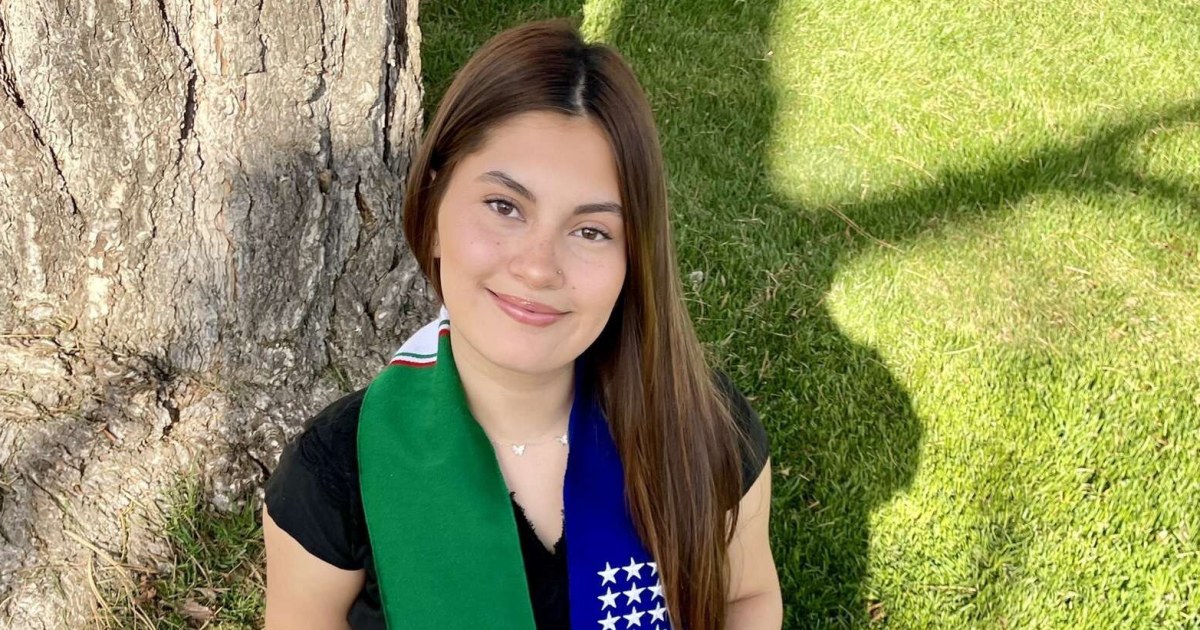 www.nbcnews.com
Latina sues school that didn't allow sash with Mexican, U.S. flag
High school senior Naomi Villasano took legal action against a Colorado school district for not allowing her to wear a graduation sash of the Mexican and U.S. flag.
Culture & Entertainment
A Colorado high school senior is taking legal action against her school district after officials denied her request to wear a sash with an image of the U.S. and Mexican flags during her upcoming graduation.
The district's decision is a violation of Naomi Villasano's constitutionally protected right to free speech, according to a lawsuit filed by the Mexican American Legal Defense and Educational Fund (MALDEF), a Latino legal civil rights organization, and the Greenberg Traurig, LLP, law firm.
According to the lawsuit involving Garfield County School District 16, Grand Valley High School Principal Kelly McCormick told Villasano, who's 18, that she couldn't wear the sash despite acknowledging that the school, located in the town of Parachute, didn't have a specific written policy about regalia worn on or over the graduation gown.
Garfield County School District Superintendent Jennifer Baugh followed up by emailing Villasano and writing, "The district didn't permit flags on regalia because it didn't want to open the door to a student wearing a Confederate flag pin or flag that would cause offense," the lawsuit stated.
Villasano, the daughter of Mexican immigrants, argued before the school board that she's "a 200 percenter — 100% American and 100% Mexican," and stated in the MALDEF news release that "it is important for me to represent my culture not only for myself but for my family."
The lawsuit claims she is being denied her right to free speech and calls upon the defendants to let her wear the sash at her graduation on Saturday.
"We live in an age of increasing threats to the First Amendment in public schools," said Thomas Saenz, MALDEF president and general counsel. "Here, the district has wrongly concluded that it is allowed to discriminate against certain students and their heritage while honoring that of other students; our Constitution does not permit such obvious discrimination."
The district's superintendent, school board members and the Grand Valley High School principal are listed as defendants in the lawsuit, which was filed Wednesday in the U.S. District Court for the District of Colorado.
Responding to an email from NBC News, Superintendent Baugh said in a statement: "At this time, the District does not have a comment on the pending litigation."
Villasano said she's fighting against the ban in hopes of making a change, "not just for Latinos, but for all future graduates so that nobody else has to go through what I've been through," according to the statement.
"A graduation is supposed to be a moment of celebration, but Garfield County School District 16 is depriving Naomi of the opportunity to celebrate her Mexican American heritage during one of the most important moments of her life," said Kenneth Parreno, a staff attorney at MALDEF in the press release. "The United States Constitution and Colorado law protect the rights of students to express their heritage, and schools cannot pick and choose what types of cultural heritage can be celebrated."