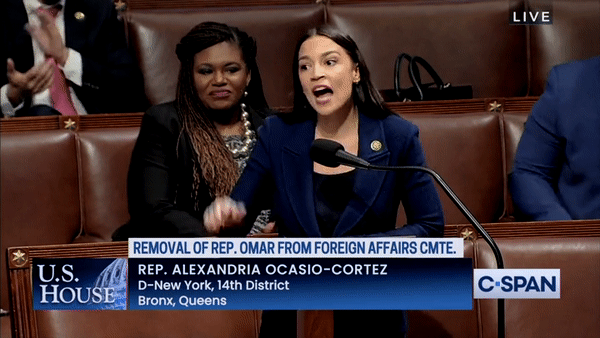 www.foxnews.com
Ocasio-Cortez explodes over vote to boot Omar, slaps notebook against podium: 'Targeting women of color'
Rep. Alexandria Ocasio-Cortez, D-N.Y., gave an angry speech Thursday in response to GOP House members voting to boot Rep. Ilhan Omar, D-Minn., from the Foreign Affairs Committee.
Politics
Rep. Alexandria Ocasio-Cortez, D-N.Y., angrily hit back at congressional Republicans during a raucous speech on the House floor Thursday in response to a vote to boot Rep. Ilhan Omar, D-Minn., off the House Foreign Affairs Committee.
The New York Democratic lawmaker declared to her fellow members that the GOP was "targeting women of color" with its vote to oust Omar, which Republicans said was due to past antisemitic and anti-American remarks.
Ocasio-Cortez also accused the GOP of hypocrisy for elevating Rep. Marjorie Taylor Greene, R-Ga., to high-profile committee assignments despite her own history of controversial statements about Jewish people.
The congresswoman smacked her notebook against the podium after her speaking time ended.
Not long before a party-line 218-211 vote to boot Omar from the committee, Ocasio-Cortez took to the House floor with a passionate repudiation of the "disgusting" post-9/11 legacy of "targeting and racism against Muslim Americans."
"I think one of the things that we should talk about here is also one of the disgusting legacies after 9/11 — has been the targeting and racism against Muslim Americans throughout the United States of America," she said.
Ocasio-Cortez added, "And this is an extension of that legacy!"
She then blasted House Republicans' claims that the vote was "consistent" with their previous position on the Minnesota Democrat's behavior. Ocasio-Cortez also mentioned a past "threat" on her life from a fellow member of Congress, Rep. Paul Gosar, R-Ariz., who was censured by Congress in 2021 for sharing a meme of anime cartoon characters killing one another that included AOC's likeness. Omar has taken criticism for invoking antisemitic tropes, such as saying pro-Israel members were bought and paid for by the lobbying group American Israel Public Affairs Committee.
"Consistency? There is nothing consistent with the Republican Party's continued attack, except for the racism and incitement of violence against women of color in this body. I had a member of the Republican Caucus threaten my life and the Republican Caucus rewarded him with one of the most prestigious committee assignments in this Congress," Ocasio-Cortez said.
Angrily, she continued, "Don't tell me this is about consistency! Don't tell me that this is about a condemnation of antisemitic remarks when you have a member of the Republican caucus who has talked about Jewish space lasers and an entire amount of tropes, and also elevated her to some of the highest committee assignments in this body!"
At the climax of her speech, Ocasio-Cortez declared, "This is about targeting women of color in the United States of America! Don't tell me, because I didn't get a single apology when my life was threatened!"
The congresswoman then smacked a notebook against the lectern as she walked off.
Some of Ocasio-Cortez's critics took issue with her invocation of color, noting that White men like Reps. Adam Schiff, D-Calif., and Eric Swalwell, D-Calif., had also been removed from their committees as Republicans took the majority.