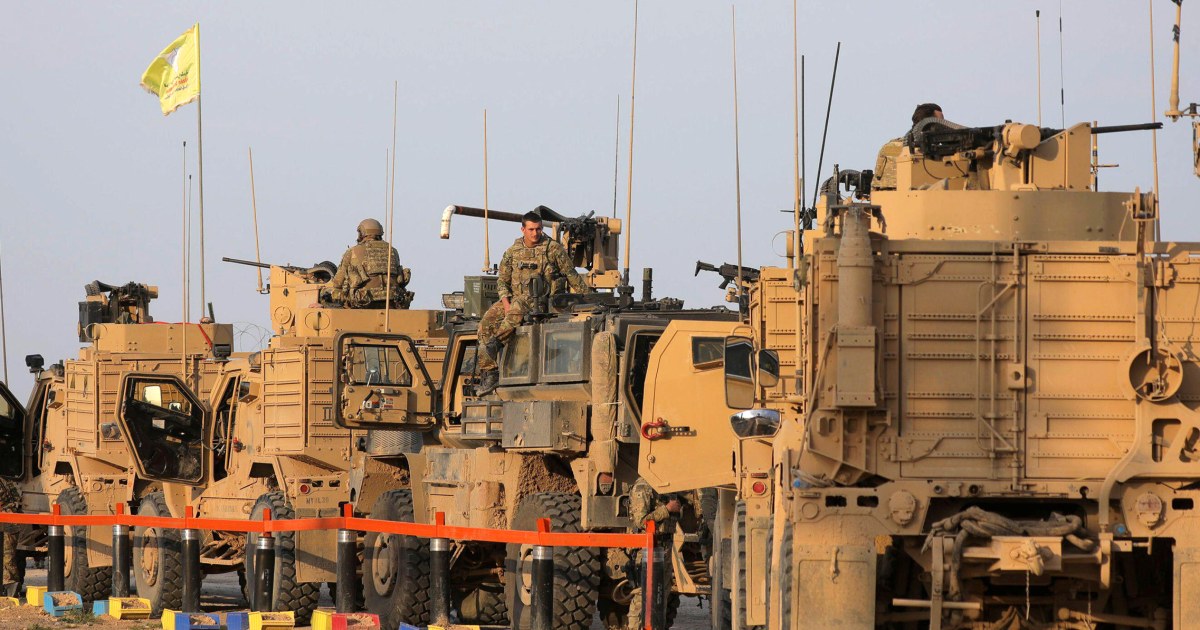 www.nbcnews.com
U.S. contractor killed, five service members wounded in Syria drone strike
A U.S. contractor was killed and five U.S. service members and one U.S. contractor were wounded Thursday when a suicide drone hit a Coalition base in Syria.
International
The United States launched airstrikes against Iranian-linked targets in Syria on Thursday after a U.S. contractor was killed and five U.S. service members and one U.S. contractor were wounded when a suicide drone hit a coalition base in the country's northeast.
The intelligence community believes the drone to have been of Iranian origin, the Defense Department said in a statement.The U.S. retaliated with airstrikes on Iranian-linked targets in the area, which one activist group said killed fighters on the ground.
Defense Secretary Lloyd Austin said, "At the direction of President Biden, I authorized U.S. Central Command forces to conduct precision airstrikes tonight in eastern Syria against facilities used by groups affiliated with Iran's Islamic Revolutionary Guards Corps (IRGC).
"The airstrikes were conducted in response to today's attack as well as a series of recent attacks against Coalition forces in Syria by groups affiliated with the IRGC.
"Our thoughts are with the family and colleagues of the contractor who was killed and with those who were wounded in the attack earlier today," he said.
Two wounded service members were treated on-site at the base near Hasakah, while three others and the wounded U.S. contractor were evacuated to medical facilities in Iraq.
The Syrian Observatory for Human Rights, a London-based opposition war monitor that relies on local sources, reported that the U.S. airstrikes killed 11 fighters on the ground.
Six Iranian-backed militiamen were killed in a strike on a warehouse in the Harabesh district located in the eastern city of Deir Ezzor, the observatory said. It added that three fighters were killed at a military post near the town of Boukamal bordering Iraq, where Iranian militia are thought to be based, and two other fighters were killed on the outskirts of Mayadeen, a town in the same region.
NBC News has not verified the reports.
The U.S. has struck targets affiliated with Iran in Syria previously under the Biden administration.
Gen. Michael "Erik" Kurilla, the commander of U.S. Central Command, said Thursday in testimony to Congress that there have been 78 attacks against facilities housing U.S. troops in Iraq and Syria since January 2021. The attacks, mainly by drones and rockets, are believed to have been carried out by Iran or Iranian-backed proxies.
Iran has previously denied any role, and has not acknowledged Thursday's strikes.
Kurilla — testifying to the House Armed Services Committee earlier on Thursday — cautioned about Iran's fleet of drones, which have been used by Russia in its war on Ukraine and suspected of being deployed in attacks across the Middle East.
"The Iranian regime now holds the largest and most capable unmanned aerial vehicle force in the region," he said.
U.S. forces entered Syria in 2015, backing allied forces in their fight against the Islamic State group. The U.S. still maintains the base near Hasakah in northeast Syria where Thursday's drone strike happened.
There are roughly 900 U.S. troops, and even more contractors, in Syria, including in the north and farther south and east.
Armed Russian jets have flown over a U.S. military garrison in Syria nearly every day in March, violating a 4-year-old agreement between the U.S. and Russia and risking escalation, the U.S. general in charge of air operations in the region told NBC News earlier this week.