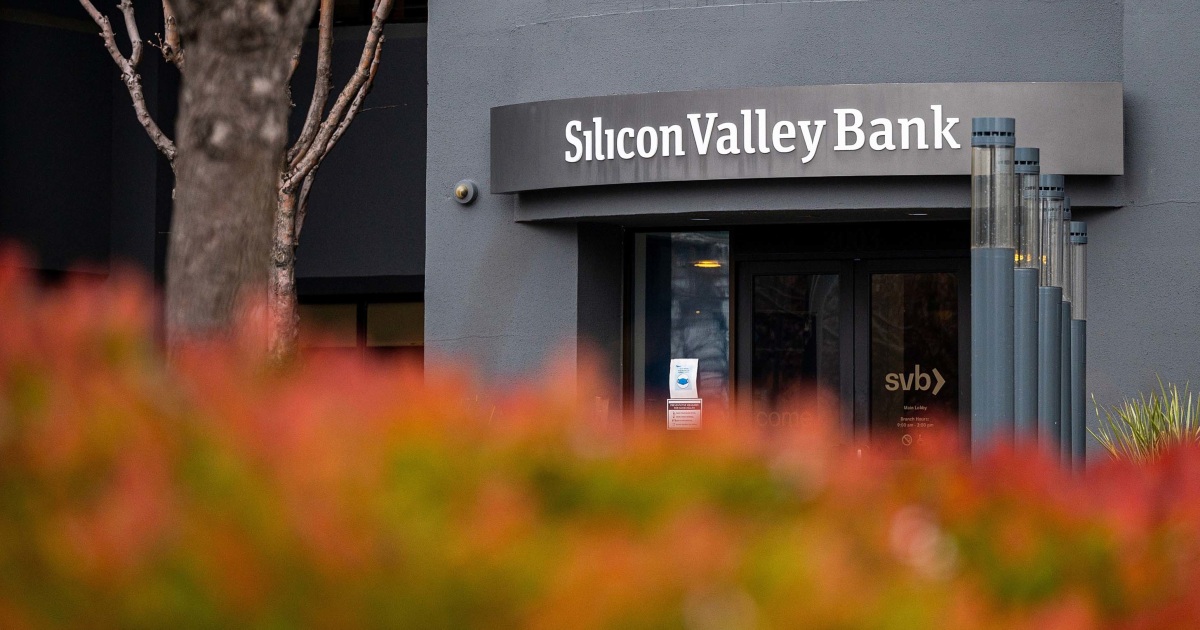 www.nbcnews.com
U.S. moves to protect all deposits at Silicon Valley Bank in bid to stem wider fallout
Silicon Valley Bank depositors will have access to "all of their money," federal regulators announced on Sunday.
Local
Federal regulators stepped in Sunday to back all Silicon Valley Bank deposits, resolving a key uncertainty surrounding the second-largest bank failure in U.S. history hours before global stock markets resumed trading.
The U.S. Treasury, the Federal Reserve and the Federal Deposit Insurance Corp. said the government would back Silicon Valley Bank deposits beyond the federally insured ceiling of $250,000. The decision addressed concerns around the fate of uninsured funds held at the Santa Clara, California-based bank — the country's 16th largest — which had $209 billion in assets and more than $175 billion in deposits.
"Depositors will have access to all of their money starting Monday, March 13," the agencies said in a joint statement Sunday evening. "No losses associated with the resolution of Silicon Valley Bank will be borne by the taxpayer."
Senior management of SVB will be removed, the statement said.
The announcement marks an extraordinary step by federal regulators to calm financial markets before Monday trading resumed in Asia and Europe, followed by North America. Dow futures jumped more than 400 points following news of the backstop plan.
Hours later the British bank HSBC said it would buy the bank's British assets for just £1 ($1.21), in a deal facilitated by the British government and the central Bank of England. As of Friday, SVB U.K. had loans worth around £5.5 billion ($6.66 billion) and deposits of around £6.7 billion ($8.11 billion).
"This ensures customer deposits are protected and can bank as normal, with no taxpayer support," U.K. finance minister Jeremy Hunt said in a statement. "I am pleased we have reached a resolution in such short order."
European markets reacted badly to the SVB saga, with the FTSE 100 index of the country's most valuable public companies down 2.4% by mid-morning Monday, a two-month low.
The fallout was particularly felt by European lenders: Swiss bank Credit Suisse and Germany's Commerzbank both saw their share prices fall more than 10% on the Stoxx 600 index of European companies, with the index down 2.5% overall.
Major markets in the Asia-Pacific region had been mixed on Monday morning, with Japan's benchmark Nikkei 225 slipping 1.1% at finish though the Shanghai Composite rose 1.2% as Chinese shares tracked the gains in U.S. futures.
President Joe Biden said late Sunday that he was pleased after the U.S. move.
"The American people and American businesses can have confidence that their bank deposits will be there when they need them," he said in a statement. "I am firmly committed to holding those responsible for this mess fully accountable and to continuing our efforts to strengthen oversight and regulation of larger banks so that we are not in this position again."
He said he would speak more about banking security Monday morning.
Some Silicon Valley Bank customers and staffers breathed sighs of relief after the regulators' announcement.
Vanessa Pham said she was preparing for the possibility that Omsom, the Asian food products business she co-founded that banks with SVB, might run out of money within anywhere from two weeks to three months.
"I will be patiently, eagerly waiting the actual deposit in our bank and our access with it," Pham said.
A source inside Silicon Valley Bank who worked as a managing director in a regional office before Friday's shutdown said he was happy for his clients. He welcomed what he called a "favorable resolution," adding that he feared tens of thousands of jobs could have been lost if uninsured deposits were not covered.
A second SVB employee said Sunday, "The feeling that clients were going to lose money and that they were facing all this disruption on our behalf I think crushed people. So now they're at least going to be made whole for their deposits, which is a huge sense of relief."
The employee added that while depositors have been guaranteed, the bank's employees — who SVB has said number more than 8,500 — face doubts about their jobs: "There's still a lot of uncertainty. Management was just fired as a part of that, and we still might get bought."
Federal regulators also said Sunday that they took control of a second bank, New York's Signature Bank, which is roughly half the size of SVB and had become a hub for cryptocurrency financing. They said a similar guarantee for Signature Bank depositors would be instituted in the process of shutting it down.
A senior Treasury official told reporters Sunday that regulators are watching other banks that may have similar issues. As part of coordinated interagency efforts to backstop any further bank failures, the Fed has set up an emergency lending program to give banks expanded and quick access to funds "in times of stress."
The official also did not rule out the possibility of finding a buyer for either SVB or Signature Bank.
A federal guarantee for SVB depositors was the hoped-for solution among tech industry players and pundits calling for a rescue of the bank's corporate and startup clients, many of whom had all but frozen their operations in anticipation of what would come next for a bank that held much of their assets.
The intervention forced Washington officials to invoke a "systemic risk exception," an extraordinary measure allowing financial regulators to step in without congressional action. The move required joint approval from the Federal Reserve, the FDIC and the Treasury in consultation with Biden.
The U.K. deal will likely calm markets and nerves of start-ups and their backers. Some 250 British tech CEOs warned on Sunday that SVB's failure would present an existential threat to the sector.
"You know, there's been a lot of concern because Silicon Valley Bank in the U.K., like in the U.S., is very important to a large number of technology companies, which obviously employ many people in high skilled jobs," British Prime Minister Rishi Sunak told NBC News's Lester Holt on Sunday evening.