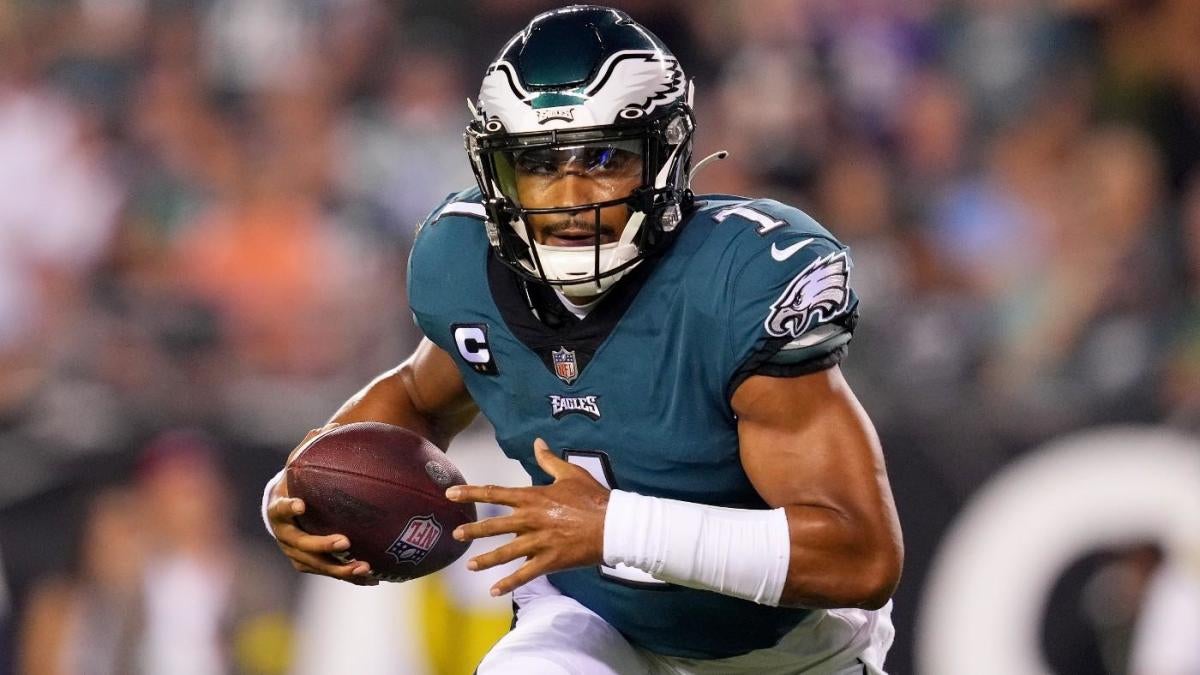 www.cbssports.com
2022 NFL awards predictions, snubs: Patrick Mahomes wins another MVP, Kyle Shanahan claims Coach of the Year
Projecting winners for the top accolades
Sports
The NFL announced finalists for eight of its major 2022 awards on Wednesday, including MVP, Defensive Player of the Year and Coach of the Year. But which big names are most likely to take home trophies at the NFL Honors show Feb. 9? And which players deserve more recognition during awards season?
Here's a full rundown of every major award, our predicted winners, plus notable snubs:
MVP
Finalists:
Bills QB Josh Allen
Bengals QB Joe Burrow
Chiefs QB Patrick Mahomes
Eagles QB Jalen Hurts
Vikings WR Justin Jefferson
Projected winner: Mahomes
Jefferson cemented his status as the game's best pass catcher, but he went quiet one too many times for an overachieving team with an early playoff exit. We'd personally vouch for Burrow and Hurts here; the former has been the NFL's smoothest clutch quarterback, and Hurts broke out as an unflappable dual threat. But Mahomes already has the MVP resume, he stayed on the field all year, and he made post-Tyreek Hill offense look easy, coasting to NFL-best production at the position.
Snubs: 49ers RB Christian McCaffrey
Yes, Kyle Shanahan gets results from just about anyone in his backfield, but splitting 2022 between two teams, CMC was nothing short of sterling as both a runner and receiver, finishing the regular season with 1,880 scrimmage yards (third-most in the NFL), plus 13 TDs as a safety valve for both Jimmy Garoppolo and Brock Purdy under center.
Offensive Player of the Year
Chiefs QB Patrick Mahomes
Eagles QB Jalen Hurts
Dolphins WR Tyreek Hill
Vikings WR Justin Jefferson
Projected winner: Hurts
If Mahomes wins MVP as expected, this one's bound to honor the next-best thing. And while Jefferson might be the betting favorite thanks to his latest monster campaign (128 catches, 1,809 yards) as the Vikings' catalyst, we're focusing on TDs here: Hurts racked up 35 as both a passer and runner in just 15 games, including an NFL-best 13 as a rushing QB.
While inefficient as a passer, Fields was absolutely electric on the ground, leading all QBs with 1,143 yards to make Chicago watchable in 2022. Jacobs and Chubb both topped 1,500 rushing yards on old-school ground-and-pound squads. And Ekeler? We've heard too little about the non-QB who led the NFL with 18 TDs. The veteran totaled 1,637 yards (eighth-most in the NFL) while racking up a career-high 107 catches to help L.A. into the postseason.