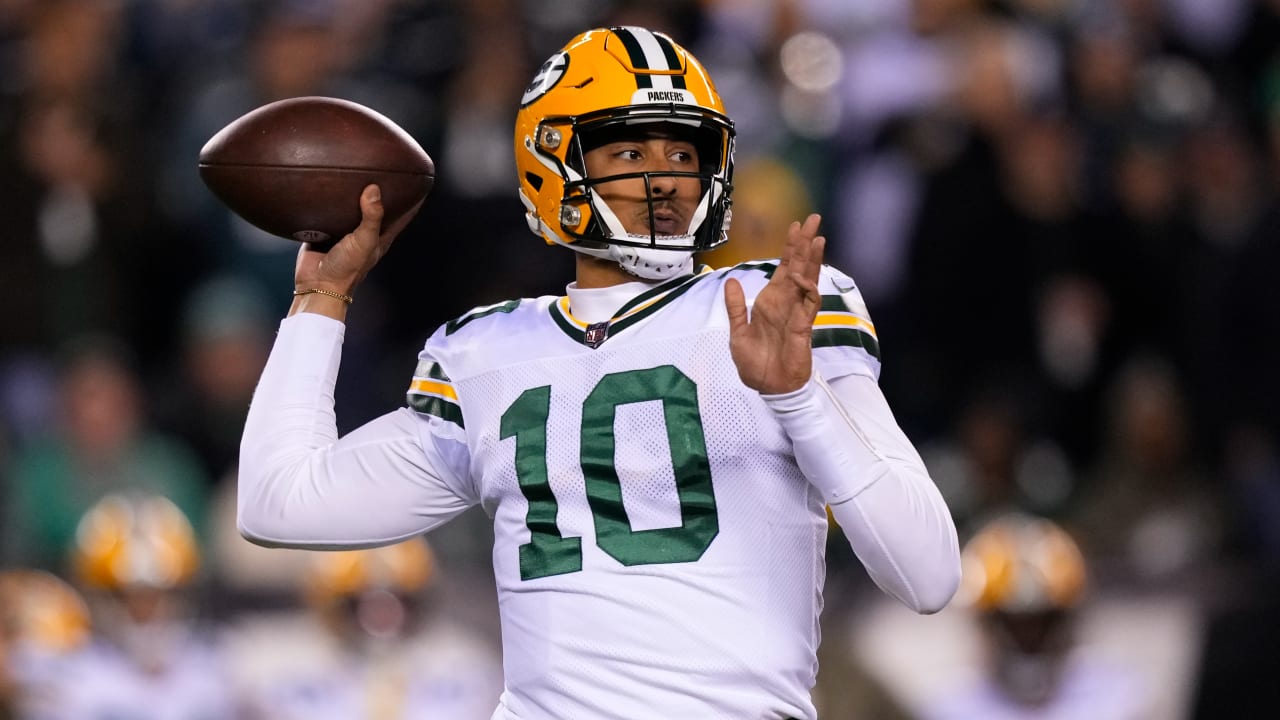 www.nfl.com
2023 NFL free agency: Winners, losers from Wednesday's moves
What does Aaron Rodgers' declaration that he intends to play for the Jets mean for Packers quarterback Jordan Love? Gregg Rosenthal breaks down the winners and losers from Wednesday's free agency moves and news.
Sports
MOVING UP
Jordan Love: The Packers chose Love. Speaking Wednesday on The Pat McAfee Show, Rodgers said it became clear to him the Packers were moving on from him last month after he returned from his darkness retreat. Green Bay figures to exercise Love's fifth-year option and pick up his guaranteed 2024 salary, which gives him a two-year runway to prove he's the right guy to take over the next position in the Packers' quarterback lineage.
It wouldn't surprise me if their streak of declining to draft receivers in the first round ends now, if they don't look at the deep tight end class. It also makes sense for Green Bay to invest in more pass-catchers in free agency. If general manager Brian Gutekunst wants to be the next Ted Thompson, this transition from Rodgers to Love needs to work. The Packers will do everything possible to make Love's life easier.
Colts conspiracy theories: The Colts have cleared a lot of salary, between trading cornerback Stephon Gilmore and cutting QB Matt Ryan. They've already been leapfrogged in the 2023 NFL Draft by the Panthers, who traded with the Bears for the No. 1 overall pick, and with Houston picking second, Arizona drafting third and Indianapolis going fourth, the Colts could have the third choice, at best, of rookie quarterbacks in April. If there was a team to surprisingly jump into the mix for Lamar Jackson, they would make the most sense.
The Cowboys' self-scouting: Ezekiel Elliott's contract was another classic example of the Cowboys' struggles in this facet of team-building. In 2019, they gave $50 million in guarantees to a player whose career arc as a heavily used running back should not have surprised anyone. Throughout the Jerry Jones era, they've constantly made moves that suggest they've believed their own hype, paying their own players too much money at the wrong time. But Elliott needed to go, and I look at his release Wednesday as a step in the right direction, even if Elliott didn't give them much choice, coming off the worst season of his career at age 27. Previous Cowboys front offices might have kept him around another season, perhaps for sentimental reasons.
The Titans: It's been a rough offseason for the Titans, but the rumored fire sale hasn't happened yet. QB Ryan Tannehill and running back Derrick Henry have not had their names mentioned by the insiders much in recent days. Tennessee had to cut some notable players, like receiver Robert Woods and tackle Taylor Lewan, but none of those moves were unexpected. The signings the Titans have made were intriguing risk-reward choices, like linebacker Azeez Al-Shaair, defensive lineman Arden Key and tackle Andre Dillard. Al-Shaair looks like a star in the making and is a worthy replacement for David Long. Key was one of my favorite versatile defensive game-wreckers among those available in free agency.
STUCK IN NEUTRAL
The Patriots' offense: It was odd seeing JuJu Smith-Schuster sign in New England for virtually the same money (three years, $25 million, up to $33 million with incentives) that Jakobi Meyers received from the Raiders (three years, $33 million). As Meyers said on Twitter on Wednesday, it's a cold world.
The Patriots clearly decided that Smith-Schuster was a better player. Smith-Schuster is more injury-prone, but he's also more dynamic after the catch. They are both good players whom I struggled to choose between when making my Top 101 free agents list. It makes sense they got basically the same deal, but it's curious the Patriots didn't stick with the player they know, especially when their record identifying receivers from outside the organization (or in the draft) is so spotty.
Combine the Smith-Schuster move with a few defensive players re-signed and a couple journeyman tackles picked up (Riley Reiff and Calvin Anderson), and it feels like the Patriots are stuck in place while the rest of the AFC East gets better.