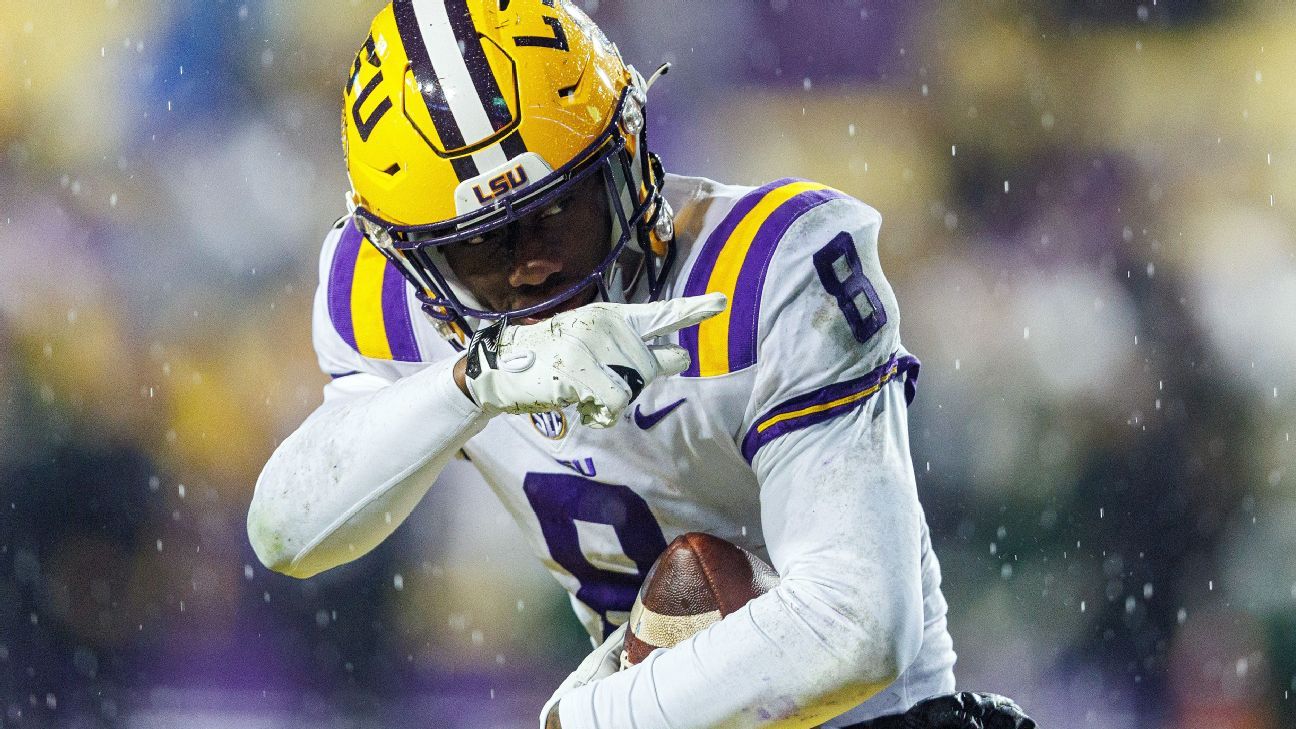 www.espn.com
CFP rankings takeaways: What we learned and what it means for Rivalry Week
LSU could find itself as the second SEC team in the College Football Playoff, while Notre Dame-USC looms large for Pac-12 and Big Ten hopes.
Sports
A two-loss team has never made the College Football Playoff, but at No. 5 this week, LSU (9-2) inched one step closer to making history.
In the most notable decision from an otherwise predictable top six, the CFP selection committee deemed the Tigers a notch above one-loss USC, which is coming off its best win of the season, a 48-45 road victory against No. 18 UCLA. The Trojans also have a CFP Top 25 win against No. 21 Oregon State, but the committee bumped LSU up one spot after Tennessee lost 63-38 to still-unranked South Carolina and dropped from No. 5 to No. 10.
That same Tennessee team beat LSU 40-13 in Baton Rouge.
LSU, though, has wins against No. 7 Alabama and No. 20 Ole Miss, and the 32-31 overtime victory against the Tide on Nov. 5 is clearly carrying weight in the room, along with the fact the Tigers have clinched the SEC West and will face Georgia in the SEC championship game. With LSU on the bubble, there should be little doubt the Tigers can finish in the top four on Selection Day on Dec. 4 if they beat Texas A&M on Saturday and Georgia in the SEC championship.
"It came up over and over again to make sure, and there's reasons for both teams, but the committee at the end of the day saw the wins over Alabama and Mississippi as stronger than the wins over UCLA and Oregon State," selection committee chair Boo Corrigan said. "One area we still have questions on is the strength of the defense of USC, and looking at it in its entirety, we believe that LSU deserved to be ranked 5 and SC 6."
The possibility of LSU winning the SEC should concern every other contender -- especially the loser of the Ohio State-Michigan game Saturday -- because it sustains the possibility of two SEC teams finishing in the top four.
Again.
Here's what the fourth of six rankings means to the biggest rivalry games of Week 13, ranked in order of their greatest impact:
https://www.espn.com/college-football/story/_/id/35087215/how-college-football-playoff-rankings-affect-rivalry-week