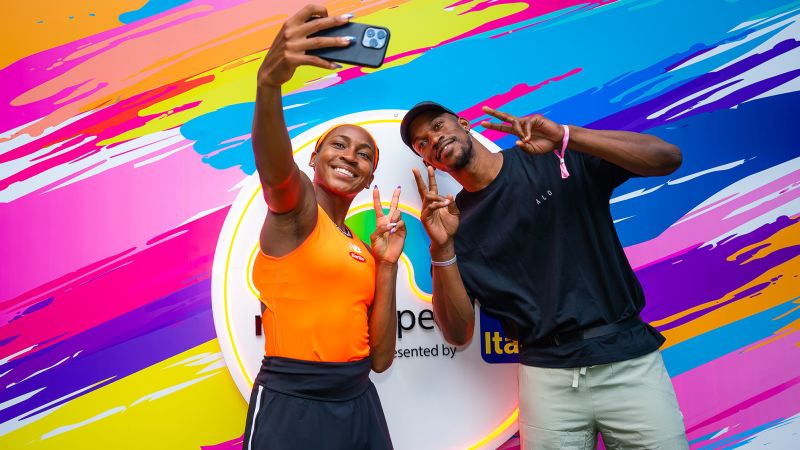 www.cnn.com
Coco Gauff says Miami Heat star Jimmy Butler offered her tickets to the NBA Finals before beginning of playoffs | CNN
Jimmy Butler's talents have been lauded this postseason. From his toughness to his elite shot-making, there is a reason he has earned the nickname 'Himmy Buckets.'
Sports
—
Jimmy Butler's talents have been lauded this postseason. From his toughness to his elite shot-making, there is a reason he has earned the nickname 'Himmy Buckets.'
But one talent we didn't know the Miami Heat star had was clairvoyance. But according to tennis star and Heat fan Coco Gauff, Butler is either excellent at predicting the future or just extremely confident.
In the lead up to the French Open, Gauff hinted she had a "funny story" about Butler but was "going to save it" to avoid jinxing it.
However, after her victory in the first round at Roland Garros on Tuesday and, more importantly, the Heat's dominant Game 7 win over the Boston Celtics to book their ticket to the NBA Finals against the Denver Nuggets, Gauff said she was finally ready to tell the story.
Gauff, who said she didn't watch Game 7 as it was on in the middle of the night before her first round match but was "very relieved" to see the result, explained that before the playoffs, Butler reached out to her to offer her tickets for the final home game of the season in April, before contacting her a few weeks later offering her tickets for the postseason.
"I said: 'I won't be here. I'll be in Madrid and then Rome and then France,'" Gauff told reporters.
"And then he said: 'OK, when we make the Finals, let me know if your family wants some tickets.' So this was before [the Heat] were even in the playoffs.
"This is before we lost to the Hawks for the first Play-In game. Everybody is like we have a 3% chance of making the Finals, but when he sent me that, I knew we were making the Finals because he didn't say, 'If we make the Finals,' he said: 'When we make the Finals.' Now that we are in the Finals, I can say that story.
"But I remember screenshotting it and sending it to my family and I was, like: 'Oh, we're going to the Finals!'"
Butler's confidence stuck with the 19-year-old, as she said: "I just really like that mentality of him."
Read here:
https://www.cnn.com/2023/05/31/tennis/coco-gauff-jimmy-butler-nba-finals-spt-intl/index.html