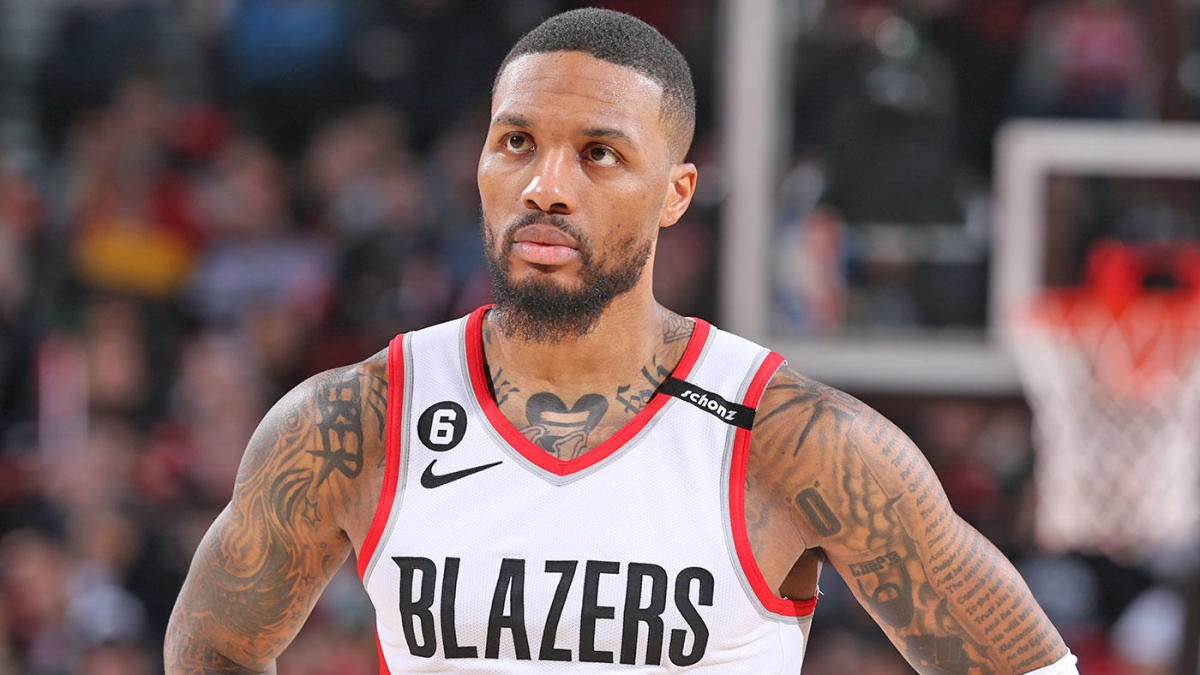 www.cbssports.com
Damian Lillard trade request is 'unsettling' for Blazers, but Chauncey Billups says he'll always support him
Portland's coach called the situation "difficult," adding that Lillard is "not about any type of drama"
Sports
The Portland Trail Blazers are in limbo. Franchise player Damian Lillard wants to be traded to the Miami Heat specifically, and, as general manager Joe Cronin said at a press conference in July, often more than one destination is required for a team to get a fair return for a superstar. There is no guarantee that this situation will be resolved before media day, which is only a week and a half away.
If nothing changes soon, then Portland coach Chauncey Billups' job during training camp, which begins on Oct. 3, will be tricky. With the Lillard situation hanging over the team, other Blazers know that they could be included in a blockbuster trade or see their roles change afterward. They also know they'll have to answer questions about all this, ideally without feeding into what could be a circus-like atmosphere. Billups, a former Finals MVP, and five-time All-Star who played 17 years in the NBA, acknowledged in an interview with NBA.com's Steve Aschburner that none of this is easy:
Your team is waiting for a mighty big shoe to drop, with Damian Lillard's status still unresolved. That can't be ideal. How does it not become a negative, a distraction?
Yeah, yeah. Obviously it's unsettling, it's difficult. But for me, all I can do, I'm responsible for giving my best to who we have. I don't know how it's going to play out. There's nothing I can do to control it. But I do know who we have on our team right now and who I've been working with this summer. Who I'm excited about. All I can really do is pour myself into our guys. And see what happens whenever that happens. I'm excited about Shaedon's progress. And coaching Scoot [Henderson] and Ant [Anfernee Simons].
Figuring out what happens with Dame? Everybody knows how I feel about Dame and my opportunity to coach him. We'll just see. I don't know what's going to happen, but I'll be ready to do the best I can.
Billups has had a relationship with Lillard dating back to when the former was near the end of his career and the latter was just getting started. The coach told NBA.com that "100% of our fan base will be Dame fans" regardless of what happens, and, given an opportunity to expound on the negative effect Lillard's unresolved trade request could have on the team, Billups instead praised Lillard's professionalism and said that the drama must be weighing on Lillard:
Any sense that Lillard lobbying publicly for a trade and where he prefers to go could drain the goodwill he's built up there?
Dame has been incredible. To the fans of Portland, to our organization. He hasn't been negative at all to anybody in our organization. Dame has been a stand-up guy. A professional the whole way through. It's the business at hand. I don't think there's pressure on either side.
As this drags on, though, would it be hard for him or the circumstances to not hurt your team's situation?
I'm not sure. Dame is one of the most stable human beings I've ever been around. He's not about any type of drama. So this whole process probably weighs very heavy on him. It's just not who he is.
But he's at a crossroads in his career, and he's doing what he feels is best for him and his family. I'm always going to be supportive of that.
In some ways, the Lillard story is complicated. Lillard almost asked out in 2021, then signed an extension in 2022 and repeatedly expressed his loyalty to the city and his desire to spend his entire career with the Blazers, only to request a trade to Miami the following summer, mere months after he and Cronin had said they were on the same page about the direction of the team. (They weren't lying, but, when Cronin's front office couldn't pull off the kind of win-now moves that Lillard expected early this offseason, they were no longer on the same page.)
In other ways, though, it's simple: Lillard has spent his entire 11-year career in Portland and is generally beloved by his teammates and members of the organization for both his play and his leadership. Even though he is asking to be traded to one specific place, while signed to a contract that will pay him approximately $63 million in the 2026-27 season, no one in the organization is about to badmouth him. This is Damian Lillard we're talking about.
Everybody involved would have preferred a clean, quick, rumor-free breakup (or a continued partnership), but that was always going to be difficult in these circumstances. The reality is that Lillard knew the Blazers weren't a championship contender when he signed his extension, and they've had little leverage in trade talks since then -- the entire league knew they were under pressure to improve the roster before Lillard made his request, and the entire league knows now that Lillard only wants to go to one place. Billups is surely right that the saga is weighing on Lillard, and Cronin was surely sincere when he said a couple of months ago that he felt like he'd failed Lillard. All of this is awkward, but if Portland's only alternative is to make a bad trade, then it must endure the awkwardness.
Time is running out, but it's still theoretically possible for the Blazers to turn the page on the Lillard era before media day and training camp. Last week, ESPN's Adrian Wojnarowski reported that they've been in touch with more teams in September, and, on Wednesday, Kyle Neubeck of PHLY Sports reported that the Chicago Bulls are trying to get in the mix. Maybe Portland can get a team like the Bulls to put together a viable offer, and then maybe Miami will be willing to offer absolutely everything it can for Lillard, and then maybe this whole thing can be put to rest and Billups can spend his time figuring out how Scoot Henderson and Shaedon Sharpe will fit with whoever arrives in the Lillard trade instead of thinking about how to navigate a situation nobody wants to be stuck in.