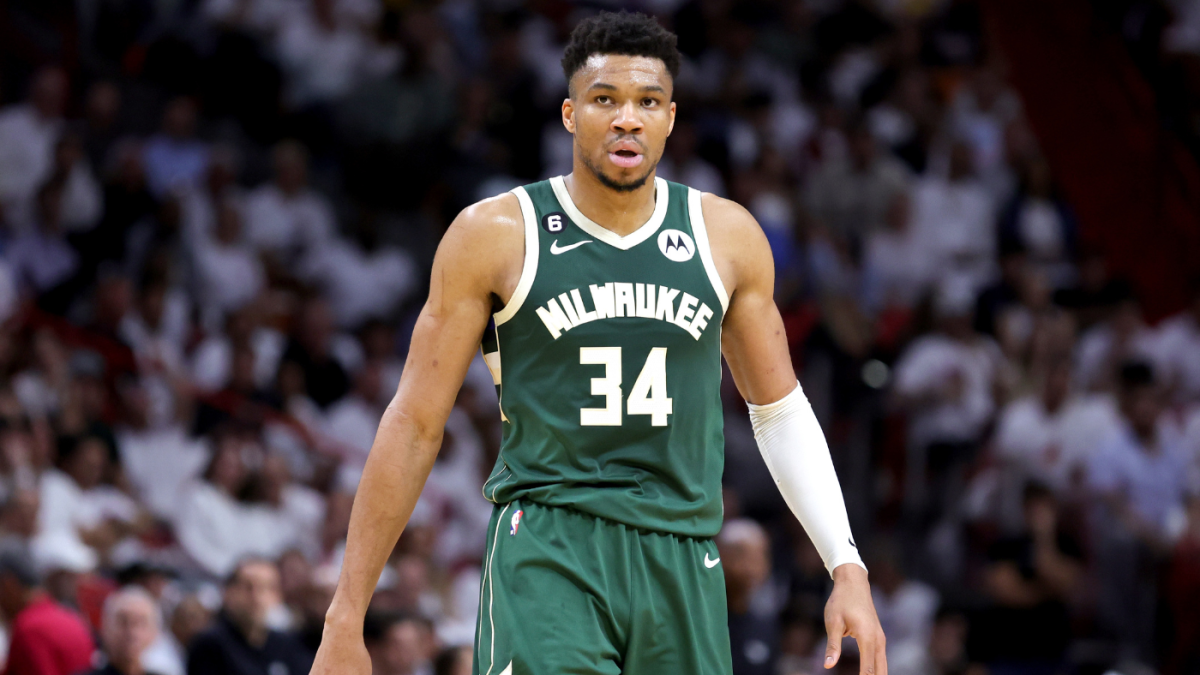 www.cbssports.com
Giannis Antetokounmpo is giving the Bucks a license to trade him, and they should at least consider doing it
Milwaukee probably doesn't have the means to keep putting a contender around Giannis
Sports
Giannis Antetokounmpo has quadrupled down this offseason on his urgency to win another championship, be that in Milwaukee or somewhere else. He has said it plainly. No bones about it. If Milwaukee isn't in the business of championships, he's out.
It's not an unusual thing for a superstar to keep the pressure on his franchise by threatening, implicitly or explicitly, to leave. Only the opposite, in fact, would be unusual -- if Giannis was going around saying he was happy in Milwaukee win or lose.
What's striking is the depths and degrees to which Antetokounmpo is going to deliver his message. He's not out here dropping little hints. He's giving dissertations on the matter. When he was recently asked on the "48 Minutes" podcast whether he sees himself playing the rest of his career in Milwaukee, he could've easily diverted. Or kept it simple. I'm not worried about that right now. I'm only worried about this season. Standard stuff. Instead, he went on this rant:
"At the end of the day, I am a winner," Antetokounmpo said (at the 23:26 mark of the podcast). "I want to be a winner. Contracts, fame, status, comfort zone does not matter to me. What matters the end of the day is that thing right there." Then he pointed to the Larry O'Brien Trophy behind him. "That's what matters. And I don't want to be able to get stuck in this lifetime to keep on talking about the same story: 'Oh, we went to Game 6 in the NBA Finals, we won. We were down 2-0, we came back, we won four games.' I'm tired of hearing the same story over and over again."
He continued:
"I feel like people get stuck on that -- which is unbelievable, it's great, I know people are excited, I know that we hadn't won a championship for 50 years -- but at the end of the day, I want to create new memories. I want to win another championship. We talk about Hakeem [Olajuwon, with whom Antetokounmpo plans to work out before the season starts], he has two championships. The moment I win a second championship, then maybe I can be compared to Hakeem. Right now, I cannot be compared to Hakeem. He has two, I have one. Let me just say it as simple as I can.
"But at the end of the day, if the Milwaukee Bucks organization -- which is the same thing I say every single year I've been with the Bucks -- as long as we are in for a championship, as long as nobody's comfortable, as long as everybody's sacrificing the same amount of time and sweat and blood that I've sacrificed for this city to win a championship, we are all good. The moment I feel like people are complacent and they're OK -- because at the end of the day, this is the NBA, you are taken care of. You stay in a five-star hotel, you eat the best food, lobsters. You go and ... drink wine. I don't drink, but you know. You get in a charter, your plane. On the 15th and the 1st, you get your paycheck. Everybody is comfortable. No, no, no, no, no, no, no. No way, no way. By being comfortable, I cannot reach my full potential. As you guys have seen, every year I try to get better. Better every year. Every year, that's the approach I have for the game and that's the approach I have for life. I don't want to be comfortable. I want us to win another championship.
"But at the end of the day, I talk too much and the game is played, it's not talked. But as long as we play and we approach the game every single day the right way and we all sacrifice for a common goal, I can see myself being with the Milwaukee Bucks for the rest of my career. But the moment I feel like people are not as committed as I am to get that golden thing in the back, I am not. It's more than the money, it's more than the fame, it's more than the lobsters, it's more than the charter flights, private flights. For me, it's all about that [trophy]. And I want that.
"So as I said, if the Milwaukee Bucks are on the same page for the rest of my career, great. If not, I have to win. I have to win. And I think the city and people will understand it. Because I'm one of the most competitive guys, and I've given everything that I can for the city of Milwaukee. I bleed green. I'm actually wearing the Milwaukee Bucks [shirt] on this interview. I'm actually wearing that and the shorts, and I'm actually about to go to bed. So I'm a Milwaukee Buck. But most importantly, I'm a winner. I want to win. And I have to do whatever it takes for me to win. And if there's a better situation for me to win the Larry O'Brien, I have to take that better situation."
Again, this is a lot more than he needed to reveal. And again, this is the second time he has gone here. Less than a month ago, in an interview with Tania Ganguli for The New York Times, Giannis indicated that he does not plan to sign an extension with the Bucks this summer before saying he doesn't intend to spend "20 years on the same team and [not] win another championship."
The part about Antetokounmpo not signing an extension this summer could simply be, and almost certainly is, financially driven. This summer he can only sign a four-year extension. Next summer he can sign for five, and that last year, with the way the salary cap is going, could be worth quite a bit of money.
But that's beside the point. Everyone knows players are going to wait for the most fiscally opportune time to sign contracts and everyone knows superstar players want to win championships. This feels like more than that. This feels like actual heat he's putting on the Bucks to continue putting a premier team around him. And the problem is, the Bucks might not be a position, at least not for much longer, to deliver on his demand.
Khris Middleton is 32 and, if last season is any indication, potentially on the decline. Jrue Holiday is 33 with a $39.4 million player option to decide on next summer. Brook Lopez will turn 36 this season. Milwaukee is well into the luxury tax this season and next, and only has one first-round draft pick (2029 or 2030) available to trade over the next seven years because of all the picks they still owe New Orleans from the Holiday deal and the way those picks fall in relation to the Stepien rule.
Translation: They are aging quickly and have no real means of replacing Middleton, Holiday and Lopez with a new core of top-tier support staff. It begs the question: Should the Bucks get ahead of this things and at least consider trading Giannis if things don't go well this season?
It sounds crazy, and it might be. Some people feel there are certain player that are simply too good to trade, regardless of circumstance. If you have Giannis, or Steph, or Jokic, or prime LeBron, you don't trade those guys. Period. You just keep pressing your bet, leveraging every asset possible and riding out whatever you have left of support players until you eventually go bust. Then the star leaves and you start over from zero, hopefully with a championship or two in the can.
But LeBron, just as an example, has left every team he ever left on skid row. If the Bucks don't want that to happen with in a post-Giannis era, it would not be unreasonable to at least consider trading him. And if they were to go that route, they would have all these public ultimatums that Giannis has been issuing as a sort of insurance against the PR lashing they would surely receive for trading a player of this caliber in the middle of his prime.
Look, the guy basically said he was going to leave if we didn't put a title contender on the floor, and we no longer have viable avenues for doing that. What were we supposed to do?
Contrary to the way this normally goes, there is no rule that a franchise has to wait until a star player goes public with a trade request before they trade him, or at least look into trading him. The Blazers could have moved on Damian Lillard years ago and been justified in doing so, but they rode it out until he went public and now they have basically zero leverage to bring back the kind of value they're giving up.
In this day and age of stars playing musical teams, franchises have to start getting ahead of this sort of thing. You can't press your bet forever. Eventually you crap out. At some point you have to take all your winnings and re-up with a new bet.
I'm not saying the Bucks should do this, necessarily. But they should take an honest look at how things go this season, and if they don't go well, they should at least consider, as crazy as it sounds, trading Giannis, who will be in the final year of his contract next season (there's no chance he's picking up his $52M player option for 2024-25).
Because if they don't, they could miss out on what could be the biggest trade return in NBA history only to end up watching Giannis play for someone else anyway.