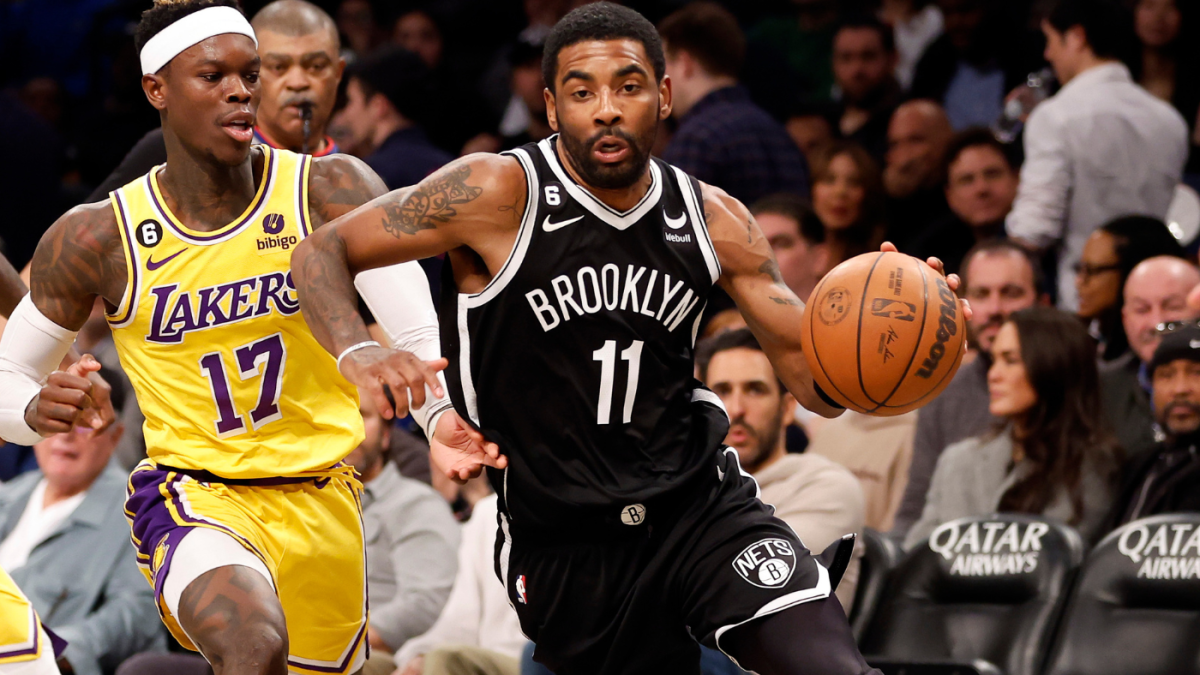 www.cbssports.com
Lakers trade rumors: Kyrie Irving has interest in rejoining LeBron James; Russell Westbrook market takes shape
A Kyrie-LeBron reunion at this deadline became a possibility with Irving's surprising trade request
Sports
The Los Angeles Lakers have already made one move ahead of the Feb. 9 NBA trade deadline, when they sent three second-round picks and Kendrick Nunn to the Washington Wizards in exchange for Rui Hachimura. However, that deal certainly doesn't do anything to vault them into the championship conversation. But it does signal that general manager Rob Pelinka and the rest of the Lakers front office intend on being active at the deadline, ideally in hopes of building a roster that can let LeBron James make another postseason run.
There are just six days until the deadline for the Lakers to make any additional deals, and between now and then there will surely be a slew of rumors to keep us guessing about their plans. But until something is solidified, here are the latest trade rumors surrounding the Lakers.
Irving still has interest in L.A.
The never-ending Kyrie Irving saga started a new chapter on Friday when the Nets guard submitted a trade request ahead of next week's deadline. While he hasn't indicated his preferred destinations, he still has interest in heading to Los Angeles to play with LeBron James and Anthony Davis, according to Adrian Wojnarowski. That should reignite the Russell Westbrook-Irving trade possibility, which was discussed heavily last summer.
Whether anything actually gets done, however remains to be seen. The Nets will want at least one of the Lakers' available first-round picks in 2027 and 2029, and perhaps both of them, but the Lakers to this point have been hesitant to mortgage their future in that way. Will Irving make them reconsider? He would almost certainly be the most talented player they could acquire, but he also has a long history of erratic behavior, which would make such a deal a huge risk, especially ahead of his pending free agency.
The Mavericks and Suns also have interest in Irving, per The Athletic.
Jazz interested in Russell Westbrook
Utah has seemingly been attached to every player on the trade market this season. The Jazz have been one of the NBA's surprise teams of the season, sitting at eighth in the West with a 27-26 record behind newly minted All-Star Lauri Markkanen's standout play. Utah intends on competing this season but also has an eye on the future after trading away Donovan Mitchell and Rudy Gobert last summer. With a whole treasure trove of assets in the form of both players and future picks, they have the power to sway the rest of the season based on their moves.
It's unclear what a deal between the Lakers and Jazz would look like, but Bleacher Report's Chris Haynes reports that the two sides have had "exploratory talks" regarding Westbrook. With L.A. looking to add more shooting depth to their roster, perhaps sending Malik Beasley to L.A. in exchange for Westbrook and a future first-round pick might do the job. Beasley is shooting 36.2 percent from deep this season, while averaging 13.6 points for the Jazz. His production would certainly boost this Lakers squad that ranks just 27th in the league from 3-point land.
Trent Jr. and VanVleet to the Lakers?
This is more pie in the sky than actual rumors going on, but The Athletic's John Hollinger reports that a deal to send Westbrook and both of L.A.'s first-round picks to the Raptors in exchange for Gary Trent Jr. and Fred VanVleet might be something the Lakers look at. Hollinger notes that this idea "has been fairly heavily trafficked in theory despite little evidence that it's been discussed in reality," so that doesn't indicate that there's actual truth behind this one. Both Trent and VanVleet are set to be unrestricted free agents this summer, but with Trent being a Klutch client, and VanVleet potentially signing with Klutch in the near future, it would make contract negotiations easier for the Lakers.
Bogdanovic still a top target
This has been reported many times over, but Haynes reiterated that the Lakers still see Bojan Bogdanovic as a "principal target" ahead of the deadline. However, the Pistons have told several teams interested in him that they might not make him available. This could all be a negotiating tactic on Detroit's part in hopes of getting a better deal, especially since they want an unprotected first-round pick in return for the versatile forward. The Lakers can send either one or both of their 2027 and 2029 first-round picks to the Pistons to land Bogdanovic, it's just a matter of if that deal is good enough and if Detroit gets a better offer elsewhere. The Pistons could also ultimately decide to keep Bogdanovic through the season and resurvey the land during the offseason to try and bargain for a better deal.