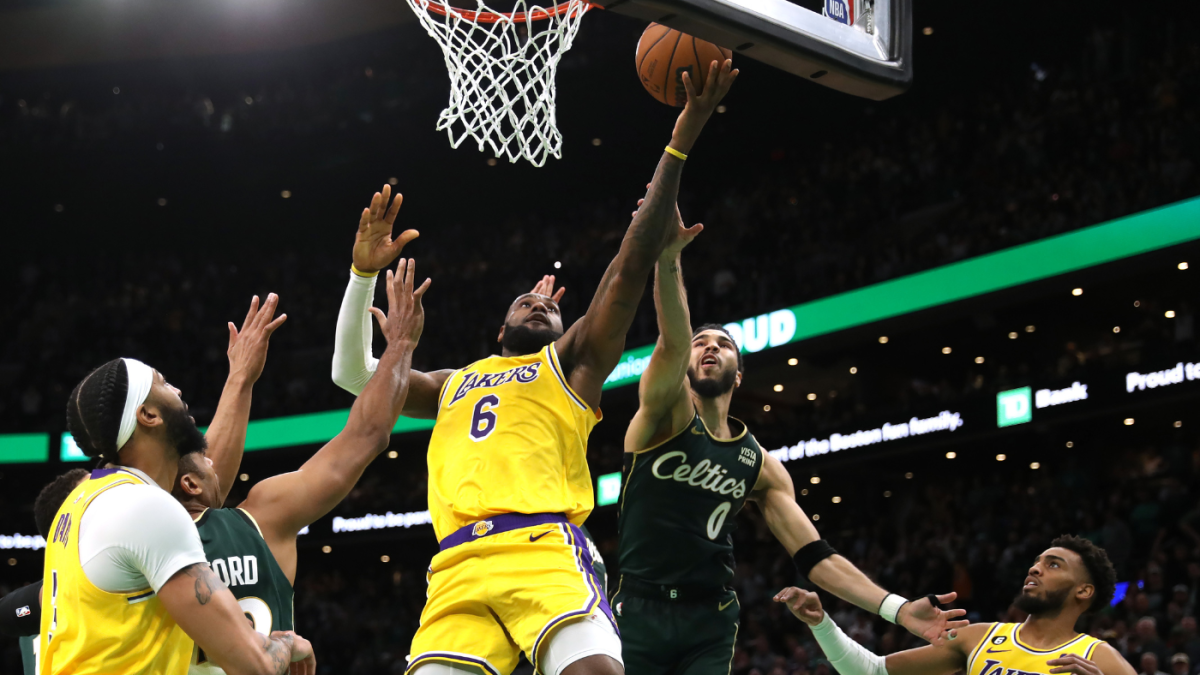 www.cbssports.com
LeBron James, Lakers get robbed in Boston, but it's set up (once again) by Darvin Ham's late-game coaching
Ham is costing the Lakers wins they cannot afford to give away
Sports
LeBron James and the Lakers have not gotten an accurate whistle down the stretch of a handful of games this season, and it burned them again Saturday night in a brutal 125-121 overtime loss against the Celtics in Boston.
With the score tied at 105, the Lakers had a frontcourt sideline out of bounds with 4.1 seconds to play in regulation. LeBron curled around the top for the inbound pass and continued directly downhill, getting all the way to the rim for a game-winning layup attempt. He didn't even draw iron, and for an obvious reason. He was clearly fouled by Jayson Tatum, who hacked clear as day straight across LeBron's left forearm.
Never mind the rigged comment in the tweet. These games are not rigged. They just missed the call, plain and simple. Per multiple reports, the league didn't even wait for its usual next-day Last Two Minute Report to admit that they missed the call.
You can understand LeBron's frustration reaching a boiling point. This isn't the first time this has happened to him or the Lakers this season. Heck, it's not even the first time it's happened this month.
Indeed, James was burned by a no-call on another potential game-winning layup attempt in a double-overtime loss to Dallas on Jan. 12; the Last Two Minute Report confirmed that Christian Wood indeed hacked LeBron with the score tied and the final seconds ticking down at the end of the first overtime.
So, yeah, this is another tough beat for LeBron and the Lakers, who don't have the error margin to absorb multiple late-game robberies. That said, in both the examples referenced, the Lakers never should've been in a position to be wronged by the officials in the first place.
After the loss to the Mavericks, Darvin Ham admitted he was "kicking [himself] in the butt" for not double-teaming Luka Doncic with the Lakers up three at the end of regulation, instead letting him play one on one and ultimately hit the game-tying 3-pointer.
But that wasn't Ham's first or biggest mistake on that possession. He should've had the Lakers foul Doncic before the shot to keep him or anyone else from even attempting a game-tying 3.
I've said it a hundred times, and I'll say it again. Being allowed to intentionally foul, an act that, in spirit, is supposed to be a detriment to your chances of success, when you're up by three late in a game is stupid. But until the league figures out a way to enforce its own rules with integrity, there is no statistical justification for allowing an opponent to attempt a game-tying 3-pointer over sending them to the free-throw line for two shots.
Yet there are still coaches, like Ham, who are either too stubborn to accept basic math or too afraid of fouling in the act of shooting -- these are professionals, they should be able to figure it out -- to do the smart thing. You would think that after watching Doncic burn the Lakers with a game-tying 3 a few weeks earlier, Ham wouldn't make the same mistake again.
But he did. On the possession before James was robbed of potential game-winning free throws, the Lakers had a three-point lead with the clock winding under 10 seconds. L.A. had multiple chances to foul and keep the Celtics from a game-tying attempt, beginning with Troy Brown Jr. and Patrick Beverley having Malcolm Brogdon double teamed at the top of the key.
Instead, they let Brown swing the ball to Tatum, who swung it to Al Horford, who had a wide-open 3 in the corner. That's the shot defenses try to guard against all game, and the Lakers willingly let the Celtics shoot it with the game on the line when they had multiple opportunities to foul instead.
Horford missed, but that's not the point. That's awful coaching being bailed out by good luck ... at least initially. See, the other problem with letting teams attempt game-tying 3s is that they are far more likely to generate an offensive rebound than a free throw, and sure enough that's exactly what happened.
Jaylen Brown swooped in to grab Horford's miss and finished a layup ... plus the foul on Beverley. He made the free throw to tie the game, and you know what happened from there.
To be clear, Beverley made a dumb play by fouling Brown. You're up three. Let the guy lay it up. Trying to contest that shot is a catastrophic error. But things happen in chaotic situations. Clock winding down. Tight game. Loose rebound. Instincts and emotions take over. Again, that scenario never should've played out. Ham has to instruct the Lakers to foul.
These are not the only late-game mistakes Ham has made this season. You can very much question his super-small closing lineups. On Saturday, he didn't play Russell Westbrook the entire fourth quarter (smart), only to throw him into the fire in the middle of overtime (not smart).
Westbrook made some good plays in overtime and he made some bad plays. Again, not the point. If he's not trustworthy enough to be on the floor in the fourth quarter, it's a prayer to randomly throw him into overtime, especially as part of a tiny three-guard lineup that collectively can't shoot.
A couple weeks ago, Ham let Westbrook absolutely botch the game's final possession with the Lakers trailing the Sixers by one rather than call timeout and ensure that LeBron get to at least touch the ball in such a crucial moment.
Ham said after that loss that he never considered calling a timeout because he liked the Westbrook vs. Joel Embiid matchup.
"I'll take that scenario every day of the week and twice on Sundays," Ham said.
As I wrote at the time, and as I will write again, that comment is nothing more than Ham trying to have Westbrook's back and perhaps protect his own by rationalizing a bad decision. That possession was a wreck, and you could see it happening damn near in slow motion.
Even if Ham initially liked the matchup, once Westbrook fumbled the ball, there was no way that was going to work out. Had Ham called timeout at that moment, with still roughly seven seconds on the clock, he could've designed a play to get LeBron the ball and ensure the Lakers get a good look at the basket.
These are horrific decisions, and they are costing the Lakers crucial wins that they cannot afford to lose. It happened again on Saturday, when the officials stole a game from the Lakers that Ham should've finished one possession earlier.