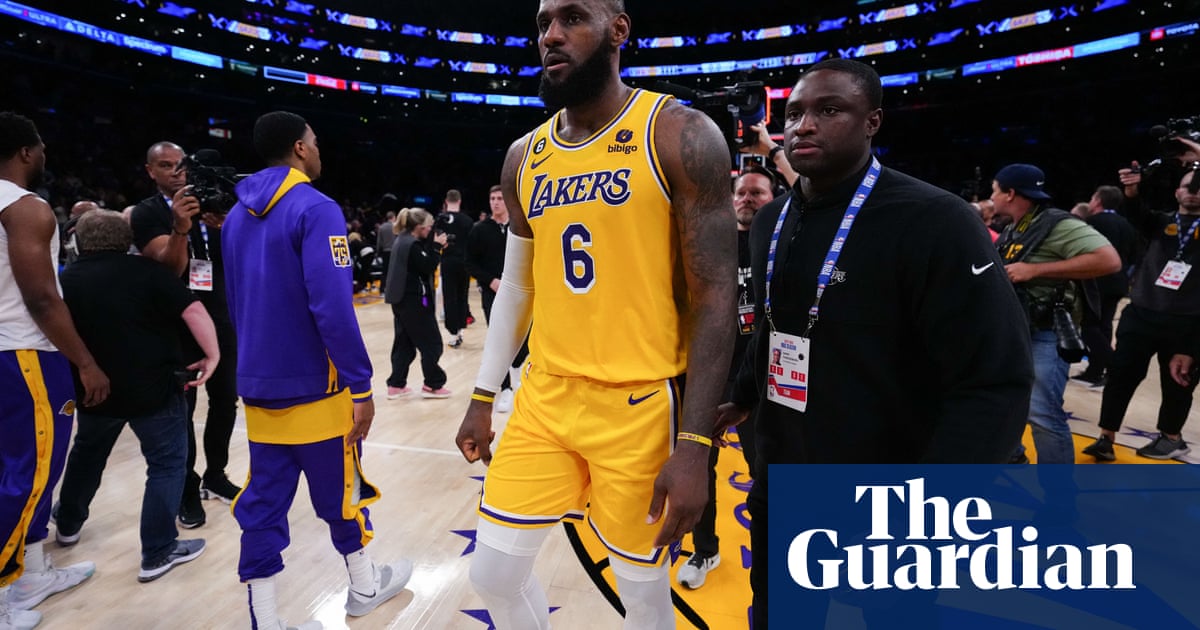 www.theguardian.com
LeBron James still has plenty to give. But is he even enjoying himself?
The NBA's all-time leading scorer alluded to retirement after the Lakers' playoff exit this week. Only he can decide if continuing is worth it
Sports
When LeBron James broke the NBA's individual scoring record in February, he was unusually reflective. He described his two decades in the league as a rollercoaster: "Like one of the great rides. You get off just wanting to do it again. My career has been like that. Your stomach drops at times, you're yelling, sometimes you can't breathe. But you always want to do it again." He later clarified that: "I'm not going nowhere. But [I know] it sounds like I am. I'm gonna go get something to eat, I'm gonna drink some wine, then I'm gonna drink some Lobos, and I'm probably not gonna sleep tonight. So I will see y'all when I see y'all, and I hope you had a great time too."
Much of what happened to James after that record-breaking night was surprising. At the trade deadline, the Los Angeles Lakers, who started the season 2-10, shipped off Russell Westbrook and revamped their roster. They then staged one of the most impressive turnarounds in recent NBA history and carried that momentum all the way to the Western Conference finals, where they were swept 4-0 by the Denver Nuggets. The Lakers were better than the result suggests: James and his teammates put up a valiant effort against the championship-favorite Nuggets, losing the four down-to-the-wire games by a combined total of just 24 points. The Nuggets' nearly flawless roster and boundless energy proved too much for an exhausted Lakers team that had been battling hard for months just to qualify for the playoffs.
Perhaps the most surprising plot twist though, in a season with no shortage of them, came from a clearly frustrated and exhausted James in his postgame comments on Monday. His parting words for the season seemed intentionally cryptic. Asked about his plans with the Lakers next season, he said: "I don't know. I don't know. I've got a lot to think about, to be honest. Just for me personally, going forward with the game of basketball … I've got a lot to think about." He later told ESPN's Dave McMenamin that, yes, he was alluding to the possibility of retirement, an option he had fervently rebuffed up to that point.
His boiling frustration was understandable. The 38-year-old James left it all on the floor in Game 4 against the Nuggets. He played all 48 minutes of a game that the Lakers lost by just a single field goal after, at one stage, leading by 15 points. He had put up 40 points, nine assists and 10 rebounds – the team's next highest scorer was Anthony Davis with 21. James was visibly distraught as the Lakers' lead evaporated in the second half, shaking his head dejectedly at skills coach Phil Handy as his Lakers teammates sent yet another Nuggets player to the free-throw line.
But there's reason to ponder if there was a deeper motivation behind James's comments. He may have been applying pressure on the Lakers front office who, while deserving of the praise for their work at the trade deadline, did James and the injury-plagued Davis a disservice by not moving Westbrook sooner. Instead they waited until the two stars had already carried a heavy load to keep the team afloat (both ended up succumbing to injury for a spell, a likely result of the extra minutes they had put in). James has been far from opaque about his desire to reunite with walking controversy Kyrie Irving, who will be an unrestricted free agent this offseason. And even if the Lakers don't get Irving, James probably hopes to have another star to help him next season, although if it's at the expense of team depth, history indicates that thinking to be unwise.
It's also possible he was setting the stage to miss substantial time next season rehabbing from what many think is much needed foot surgery. It could also be that he simply wants to get people talking this summer – James has certainly never shied away from being at the center of NBA discourse, and even his most ardent supporters don't mistake him for a wallflower.
But the most unsettling possibility is also the most simple: he will retire. This, at the end of his 20th season in the league, is the first time he has even alluded to thinking about retirement, and it comes on the heels of maybe his most trying season. Yes, it's long been James's public stance that he wants to play alongside his son Bronny, who starts college at USC this fall and could be NBA draft eligible in 2024. But he has seemed to soften on those sentiments, perhaps realizing the pressure it puts on his son. His most recent comments on the matter suggest he plans to leave it in Bronny's hands and let his oldest son chart his own course.
There's a cliched question: "What do you get the person who has everything?" And in the case of James's all-time-great career, a tangential question may also apply: "Short of another title, what do you get the career that has everything?" What does James have left to prove? Fans still enjoy watching him, but is he even enjoying himself any more? He hinted that the novelty may be wearing off in his final press conference of the season, saying: "I don't really get a kick out of making a Conference [final] appearance. I've done it. A lot." He laughed before adding: "It's not fun for me, to not be able to be a part of getting to the [NBA] finals."
James has actually long said that he only wants to keep playing if he is really good, and really enjoying himself. And as recently as March of last year he had some pretty definitive comments that he's still very much both. "I love competing, and I love the game," he said on his talk show, The Shop. "I know at some point I won't be able to play any more, at that level. I'm trying to squeeze as much juice out of this motherfucking orange as I can, while I can. Why not? And I'm still good. If I was out there on some bullshit, like 'nasty-looking Bron,' I'd have been quit. But I'm still nice out there."
Of course, a lot can change in a year, especially one as tumultuous as this one. But from the outside looking in, there's still plenty of juice to be squeezed from James's career. But only he can decide if it's worth it.
For decades, the Guardian has amplified voices, studies, scientists and data that point towards irrevocable and catastrophic climate breakdown.
Our reporting has galvanised action, pushed policymakers, and encouraged innovators to seek solutions, even as the crisis deepens. For a world facing an existential threat, this is service - rigorous, provocative and tireless - that we cannot do without. Will you invest in the Guardian today? Think of it as an offset, only one that works.
Unlike many others, we have no billionaire owner, meaning we can fearlessly chase the truth and report it with integrity. We will continue to work with trademark determination and passion to bring you journalism that's always free from commercial or political interference. No one edits our editor or diverts our attention from what's most important.
With your support, we'll continue to keep Guardian journalism open and free for everyone to read. When access to information is made equal, greater numbers of people can understand global events and their impact on people and communities. Together, we can demand better from the powerful and fight for democracy.