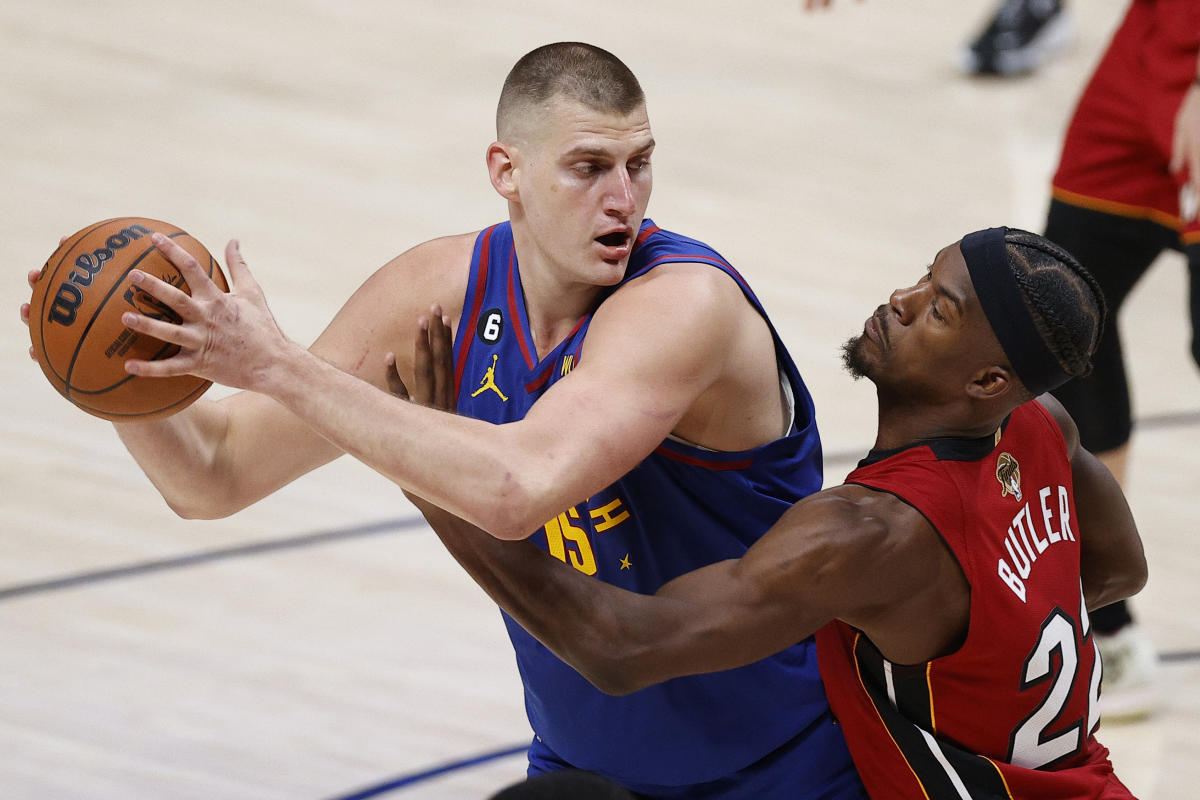 sports.yahoo.com
NBA Finals: Nuggets cruise at home for 1-0 lead over Heat
Denver's NBA Finals debut resulted in a dominant win.
Sports
The Denver Nuggets showed no signs of rust after nine days off.
The Western Conference champions cruised to a 104-93 win over the Miami Heat in their NBA Finals debut on Thursday. They'll take a one-game lead and a ton of confidence into Game 2.
Nikola Jokić took just one shot in the first quarter, and the Nuggets still sprinted out to a 29-20 lead. The two-time MVP was plenty active early, but focused on facilitating while racking up 6 first-quarter assists. The Nuggets extended their lead to 59-42 at halftime as a Heat team that just wrapped a seven-game series against the Celtics on Monday before a trip to the thin air of Denver struggled to make shots from the field.
The Heat didn't fold. They converted a late 11-0 run to cut their deficit to 84-74 and got as close as 96-87 on a Haywood Highsmith 3 with 2:34 remaining. But they never challenged Denver's lead.
Jokić led the way for the Nuggets with his record ninth triple-double of the postseason, posting 27 points, 14 assists and 10 rebounds while shooting 8 of 12 from the field. Jamal Murray added 26 points and 10 assists, while Michael Porter Jr. likewise double-doubled with 14 points and 12 rebounds.
Bam Adebayo led the Heat effort as their most reliable offensive weapon with 26 points and 13 rebounds. Jimmy Butler tallied 13 points, 7 rebounds and 7 assists while shooting 6 of 14 from the field. Highsmith continued his postseason breakout with 18 points in 22 minutes off the bench. It wasn't enough to challenge a Nuggets team that shot 51.3% from the floor to remain unbeaten at home in the postseason.
Game 2 is scheduled for Sunday night in Denver.
NBA Finals schedule:
Game 2: At Denver, 8 p.m. ET Sunday (ABC)
Game 3: At Miami, 8:30 p.m. ET Wednesday (ABC)
Game 4: At Miami, 8:30 p.m. ET June 9 (ABC)
*Game 5: At Denver, 8:30 p.m. ET June 12 (ABC)
*Game 6: At Miami, 8:30 p.m. ET June 15 (ABC)
*Game 7: At Denver, 8 p.m. ET June 18 (ABC)
* - if necessary
Read here:
https://sports.yahoo.com/nba-finals-nuggets-cruise-at-home-for-1-0-lead-over-heat-024336218.html