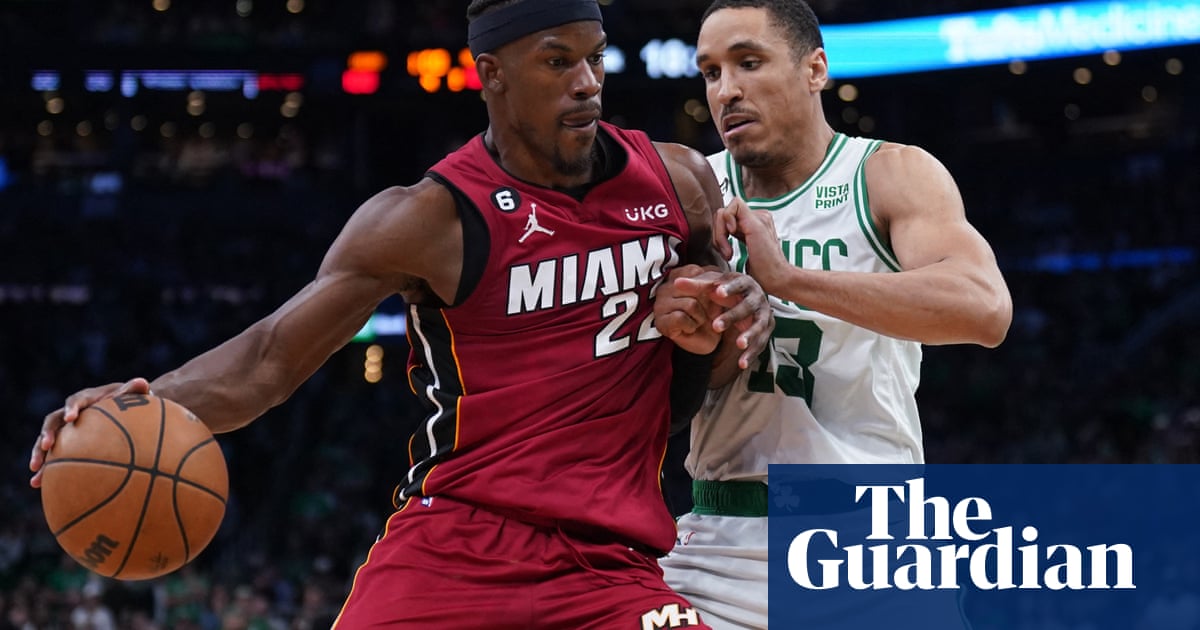 www.theguardian.com
NBA playoffs: Celtics fall apart late as Miami Heat take 2-0 lead in East finals
Jimmy Butler scored 27 points,and the eighth-seeded Heat left Boston with a 111-105 victory Friday night a 2-0 lead in the Eastern Conference finals
Sports
Jimmy Butler went forehead-to-forehead with the Boston Celtics, and the Heat are heading back to Miami with an opportunity to advance to the NBA finals.
Butler scored 27 points, hitting back-to-back buckets to tie the game and give Miami the lead, and the eighth-seeded Heat left Boston with a 111-105 victory Friday night and
Butler also provided eight rebounds, six assists and an emotional spark after Boston's Grant Williams started jawing with him: Butler stared down Williams, with both players drawing technical fouls for the double head-butt.
Don't stop with Doc Rivers. Time to burn the Philadelphia 76ers to the ground
Bryan Armen Graham
Bryan Armen Graham
Read more
Then 'Jimmy Buckets' scored and scored some more – nine points in all during a 23-9 run that turned a nine-point deficit into a 105-100 lead.
"I knew that was going to be good for us," said Caleb Martin, who came off the bench to score 25 points. "We'll take mad Jimmy at any time. You could kind of see it in his eyes he was ready to go after that."
Bam Adebayo had 22 points, 17 rebounds and nine assists for Miami, which returns home with a chance to sweep and become just the second No. 8 seed to reach the NBA finals.
Game 3 is Sunday night.
"He's going to have to make every single tough shot the rest of the series," Williams said. "And I'm not going to turn and look otherwise because I respect him as an fucking player."
Jayson Tatum had 34 points, 13 rebounds and eight assists for Boston. But the Celtics star went 0 for 3 with two turnovers in the fourth quarter, when Boston blew an 89-77 lead en route to a second home loss in three nights.
After finishing 13 games ahead of the Heat in the regular-season -- and then watching top-seeded Milwaukee fall to Miami in the first round -- the Celtics have stumbled on what appeared to be a clear path to their second straight NBA Finals.
"It's tough. It's a challenge. But there's no point being up here sad and (stuff)," Tatum said. "They came in and won two games. They played well; you give them credit. But we're not dead or anything. We've got a great opportunity. I still have the utmost confidence. Everybody has the utmost confidence. We've just got to get ready for Game 3."
Jaylen Brown scored 16 points on 7-for-23 shooting; he went 1 for 5 with a turnover in the final quarter, when Miami outscored Boston 36-22.
"We've got some dogs, and I love it. I love every bit of it," Butler said on the postgame TV broadcast. "Guys never quit. We never give up. We love playing with one another. We've got so much faith and trust in one another."
The Celtics led by 11 in the third quarter and made it a dozen early in the fourth. Williams made a three-pointer to make it 96-87 and was talking to Butler on the way back down the court. Butler scored at the other end and was fouled by Williams; the two players leaned into each other – drawing double technicals – before Butler hit the ensuing free throw.
"Some healthy competition. I ain't going to lie to you. Healthy competition. And I love it. I'm always here to compete. I like to talk, at times," Butler said. "As long as we get the win, I'm good with it."
Asked if Boston "poked the bear" by getting Butler angry, Brown said, "Next question." But Butler said there was no doubt that the attempt to get him off his game actually fired him up.
"Yes it did," Butler said. "But that's just competition at its finest. He hit a big shot and started talking to me. But I like that. It's just competition. It pushes that will to win. It makes me smile. ... I just don't know if I was the best person to talk to."
After Tatum missed from long distance – one of three missed threes in the fourth quarter – Butler drove to the basket to make it a four-point Boston lead. Miami trailed 98-96 when Butler was called for an offensive foul, kicking Marcus Smart after landing on a missed three-pointer.
Heat coach Erik Spoelstra challenged, but lost.
Butler responded.
He made a 17-footer to tie it 100-all, and then a short fadeaway to give Miami the lead. After Max Strus made one of two free throws, Adebayo scored on a putback dunk to make it 105-100 with less than a minute to play.
"I love that gnarly version of Jimmy," Spoelstra said. "But you get that regardless. I think now people are just paying more attention. ... Jimmy is just a real competitor."
Boston used a 21-2 run to turn an eight-point, first-quarter deficit into an 11-point lead.
I hope you appreciated this article. Before you move on, I was hoping you would consider taking the step of supporting the Guardian's journalism.
From Elon Musk to Rupert Murdoch, a small number of billionaire owners have a powerful hold on so much of the information that reaches the public about what's happening in the world. The Guardian is different. We have no billionaire owner or shareholders to consider. Our journalism is produced to serve the public interest – not profit motives.
And we avoid the trap that befalls much US media – the tendency, born of a desire to please all sides, to engage in false equivalence in the name of neutrality. While fairness guides everything we do, we know there is a right and a wrong position in the fight against racism and for reproductive justice. When we report on issues like the climate crisis, we're not afraid to name who is responsible. And as a global news organization, we're able to provide a fresh, outsider perspective on US politics – one so often missing from the insular American media bubble.
Around the world, readers can access the Guardian's paywall-free journalism because of our unique reader-supported model. That's because of people like you. Our readers keep us independent, beholden to no outside influence and accessible to everyone – whether they can afford to pay for news, or not.