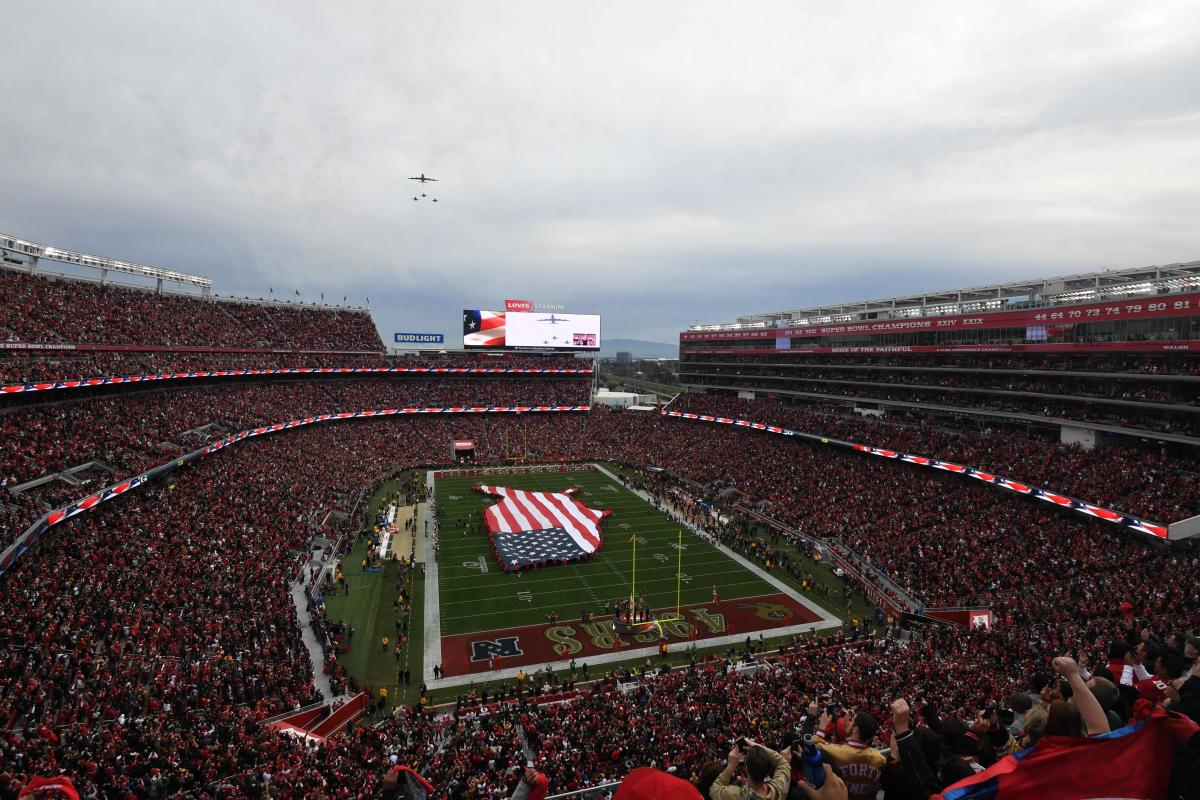 sports.yahoo.com
NFL: Super Bowl LX will be held in Santa Clara at 49ers' Levi's Stadium
The Bay Area will host the Super Bowl following the 2025 season.
Sports
The NFL announced Monday that Super Bowl LX will be held in Santa Clara, California, confirming earlier reports.
The 2026 championship game following the 2025 season will take place at Levi's Stadium, home of the San Francisco 49ers. It will mark the second time the stadium has hosted the Super Bowl, 10 years after the Denver Broncos beat the Carolina Panthers in Super Bowl 50 in Santa Clara.
The game will mark the first Super Bowl played in an open-air stadium since the Buccaneers defeated the Kansas City Chiefs in Tampa's Raymond James Stadium in 2021. Subsequent Super Bowls have been hosted at Rams and Chargers home SoFi Stadium in 2022 and Cardinals home State Farm Stadium in February.
The Super Bowl will make its Las Vegas debut next season at the Raiders' domed Allegiant Stadium. The Super Bowl will return to the Superdome in New Orleans in 2025 for the first time since 2013.
The Bay Area return of the Super Bowl will kick off a year of marquee events hosted in Santa Clara. Levi's Stadium is one of 16 North American sites that will host World Cup action in 2026. The United States will host 11 of those sites, while Vancouver, Toronto, Mexico City, Guadalajara and Monterrey will also hold games in the first World Cup hosted by multiple nations since 2002, which was held in South Korea and Japan.
Oakland A's broadcaster Glen Kuiper was fired Monday following his on-air utterance of a racial slur during a pregame show May 5.
The A's denounced the slur as "unacceptable" on the day of the incident. NBC Sports California suspended Kuiper indefinitely a day later.
On Monday, the network released a statement announcing that he has been fired:
"Following an internal review, the decision has been made for NBC Sports California to end its relationship with Glen Kuiper, effective immediately. We thank Glen for his dedication to Bay Area baseball over the years."
The incident occurred during a pregame show for an A's game at the Kansas City Royals. Kuiper and fellow broadcaster and former A's pitcher Dallas Braden were discussing a visit to the Negro Leagues Museum in Kansas City. Kuiper referenced their trip to the museum but uttered a racial slur in place of the museum's name.
Kuiper then issued an apology during the sixth inning of the A's-Royals game.
"A little bit earlier in the show, I said something, didn't come out quite the way I wanted it to," Kuiper said. "I just wanted to apologize if it sounded different than I meant it to be said. As I said, I just wanted to apologize for that."
He followed with an additional apology the next day, after he was suspended.
"I could not be more sorry and horrified by what I said," Kuiper said via a statement released by NBCSC. "I hope you will accept my sincerest apologies."
Negro Leagues Baseball Museum president Bob Kendrick addressed the incident in a tweet following Kuper's suspension.
"I welcomed Glen to the NLBM yesterday and know he was genuinely excited to be here," Kendrick wrote. "The word is painful and has no place in our society. And while I don't pretend to know Glen's heart, I do know that my heart is one of forgiveness. I hope all of you will find it in yourselves to do the same!"
Braden, who was sitting next to Kuiper during the broadcast, also released a statement addressing his lack of a reaction to Kuiper's on-air slur after he received criticism for not addressing it in the moment.
"Several people have questioned my lack of response to an issue that took place on air …" Braden wrote. "I believe my silence has been misinterpreted.
"At the time of the incident, I was not aware that anything in the broadcast was amiss. The nuances of live television mean that sometimes we, as broadcasters, miss some of what you, our audience, see and hear. … I missed the live comment and was not aware of it until the sixth inning when Glen Kuiper made an apology."
Kuiper, 60, has worked on A's broadcasts since 2004, when he started as an on-field correspondent. He took over as the primary TV play-by-play announcer in 2006 and maintained that position until his suspension and subsequent dismissal. He played two seasons of minor-league baseball as an infielder in 1985 and '86.