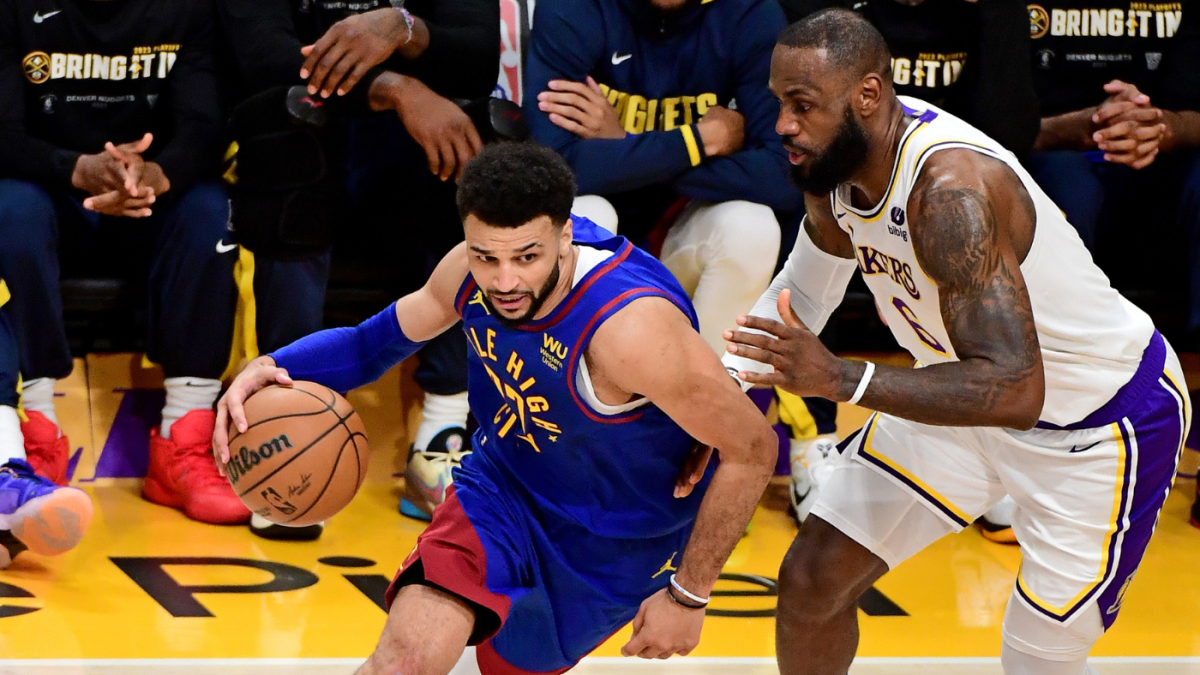 www.cbssports.com
Nuggets vs. Lakers score, takeaways: Jamal Murray, Nikola Jokic lead Denver to 3-0 series lead over L.A.
The Nuggets are one win away from a berth in the NBA Finals
Sports
The Denver Nuggets are one win away from a berth in the NBA Finals after taking down the Los Angeles Lakers in Game 3 of their best-of-seven series with a 119-108 win on Saturday night in L.A. Jamal Murray got things going early for Denver with 30 points in the first half and then Nikola Jokic finished the job with a strong second half of his own to put the Nuggets one win away from a Western Conference title.
LeBron James, Anthony Davis and Austin Reaves all scored 20+ points for the Lakers in the loss but, in the end, it wasn't enough to keep pace with Denver and now Los Angeles will have to do something that has never been done before in NBA history if they want to reach the finals by winning four games in a row. Here are the three biggest takeaways from Game 3:
1. The Lakers have no answer for Jamal Murray
There often comes a time, usually late in a playoff series, when one team is struck with the startling realization that there is absolutely nothing they can do to stop another team's star player. This typically comes after five or six games worth of adjustments. But by the first half of Game 3, the Lakers had already tried everything. They had no answer for Jamal Murray whatsoever.
They started the game with their typical lineup, and while Jarred Vanderbilt got a nominal matchup on Murray, Denver would just engineer switches to get him matched up against D'Angelo Russell. Russell stood no chance against Murray off the dribble, and Murray roasted him for 15 very quick points early in the first quarter. The Lakers can't afford to keep Vanderbilt in the game offensively much longer than that, so they turned to Dennis Schroder next.
Murray had an answer for that as well. He just took Schroder into the post and killed him with turnaround jumpers just like he did with Landry Shamet last round. The Lakers got so desperate in the second quarter that they even let LeBron James try his luck on Murray, but James couldn't chase Murray around the court in Denver's complex offense, so he managed to get loose for several 3-pointers.
This isn't a matter of Darvin Ham missing some adjustment or having a player on his bench he's not using. The Lakers are trying everything. They just have no answer anywhere on their roster for Murray's combination of speed, strength and skill.
2. Down with the ship
Here's something we can blame Darvin Ham for. He stuck with the starting lineup he's used for most of the postseason. The five-man unit of James, Russell, Vanderbilt, Davis and Reaves got outscored by 11 points in 26 minutes across Games 1 and 2. Then it got outscored by six points in the first six minutes of the game on Saturday... and Ham went back to it to start the third quarter. Unsurprisingly, it was again outscored, this time by just a single point, but remember, Nikola Jokic missed a big chunk of that stretch due to foul trouble.
That group makes sense in theory. It has one defensive vulnerability (Russell) and one offensive vulnerability (Vanderbilt). The group, as a whole, has been great since assembling in February. But Russell's offensive combustion in this series coupled with Denver's ability to wriggle Vanderbilt off of Murray has made it unplayable.
Only four Lakers have proven reliable on both ends of the floor in this series: James, Davis, Reaves and Rui Hachimura. Those four players have combined to score just under 82% of all Laker points in this matchup (276-of-337). They've all survived defensively. But the Lakers haven't found a fifth player who works with that group, and they haven't gotten much of anything out of anyone else. Perhaps there's some alignment Ham hasn't tried yet that could turn the players they've used into a workable group, but right now, the Lakers just look too thin to survive in this series without those four players all playing 40 or more minutes every night.
3. Are we entering a new phase for LeBron?
Think about many of the best playoff games of LeBron's career. The 45-point decimation of the Celtics in 2012. His back-to-back 40s against the Warriors in 2016 once Cleveland fell down 3-1. The 80 combined points he scored in the two Game 7s he played in 2018. James is at his absolute best with his back against the wall. He is one of the hardest players to eliminate in NBA history. That's what makes his performance in Game 3 so startling.
James had 23 points on 8-of-19 shooting. The Lakers got plenty of good offense out of his post-ups, but most of that was the result of his passing. When the Lakers needed a superstar to take over the game for them, James couldn't do it. Maybe that's the result of his lingering foot injury. The James the Lakers had in December and January was taking over games.
But we might just be reaching a new phase of LeBron's career. Maybe he can't summon 40-point games against top-notch opponents on command anymore. Next year will give us a better glimpse into what late-career James might look like. Hopefully, he's healthier and can give us one last vintage playoff run. But the Lakers have no chance against the Nuggets with this version of James. For the first time in 20 years, he looks downright mortal.
Read here:
https://www.cbssports.com/nba/news/nuggets-vs-lakers-score-takeaways-jamal-murray-nikola-jokic-lead-denver-to-3-0-series-lead-over-l-a/live/