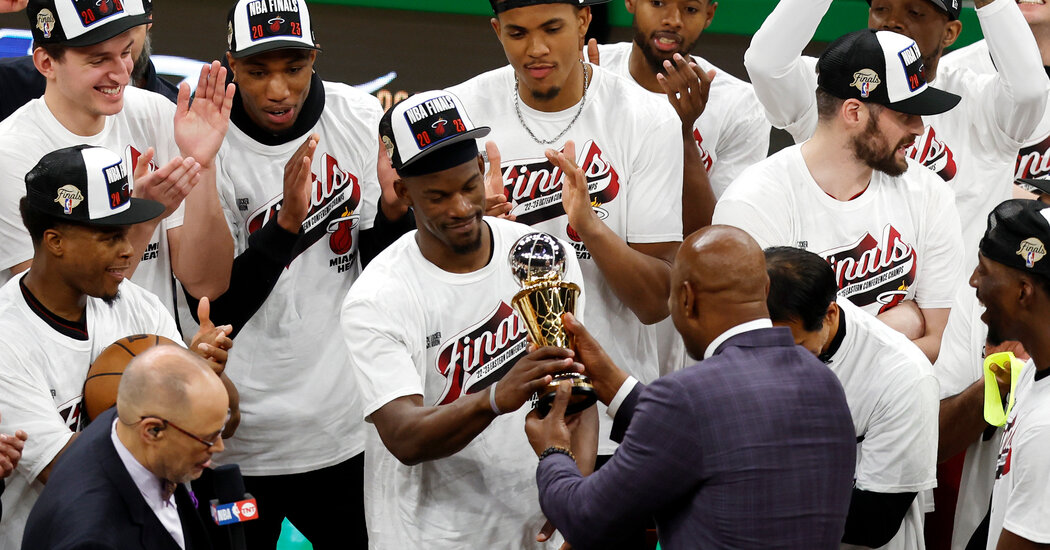 www.nytimes.com
The Miami Heat Earned a Trip to the N.B.A. Finals the Hard Way
The Heat, just the second eighth seed to reach the championship round, nearly blew a 3-0 series lead against the Celtics. Next they face the top-seeded Denver Nuggets.
Sports
The Miami Heat closed out the Boston Celtics in the NBA's Eastern Conference Finals on Monday, winning a deciding Game 7 103-84 to advance to the NBA Finals against the Denver Nuggets.
The road victory for the Heat blocked the proud Celtics franchise from becoming the first NBA team to rally to win a seven-game series after losing the first three contests.
"We have some incredible competitors in that locker room. They love the challenge," Heat coach Erik Spoelstra said. "They love putting themselves out there in front of everybody. Open to criticism. Open to everything."
Read here:
https://www.cnn.com/2023/05/29/sport/boston-celtics-miami-heat-game-7-nba-playoffs-spt-intl/index.html
Celtics point guard Malcolm Brodgon said he thought his team played tight and it affected their results on both ends of the court.
"I thought (the Heat) played loose. I thought they really executed on the defensive end," the league's Sixth Man of the Year said. "Then offensively they were poised. They weren't rushed, they weren't nervous."
Eighth-seeded Miami had to come through the play-In tournament but has not let its underdog status have any bearing on its impressive playoff run so far.
Against Boston on Monday, Miami forward Jimmy Butler led the way with 28 points while forward Caleb Martin netted 26 points and had 10 rebounds.
Boston shot a frigid 39% from the field as a team, and no Celtic managed to score 20 points in the game.
Many teams have tried, a few have gotten close, but ultimately all have failed in trying to achieve the comeback of all comebacks, netting 0 for 151 attempts.
Most teams to go down 0-3 didn't even make it this far.
This Boston squad marks the just the fourth team to ever force a Game 7 following a 0-3 start to a series: the New York Knicks forced a Game 7 in the 1951 NBA Finals against the Rochester Royals, the Denver Nuggets pushed it to the brink in the 1994 Western Conference semis against the Utah Jazz and the Portland Trail Blazers almost made history in the 2003 Western Conference first round against the Dallas Mavericks.
The Heat, who have won three NBA titles, most recently in 2013, will face the top-seeded Nuggets in Denver on Thursday.
The Nuggets have not played a game in a week after sweeping the Los Angeles Lakers in the Western Conference Finals last Monday.