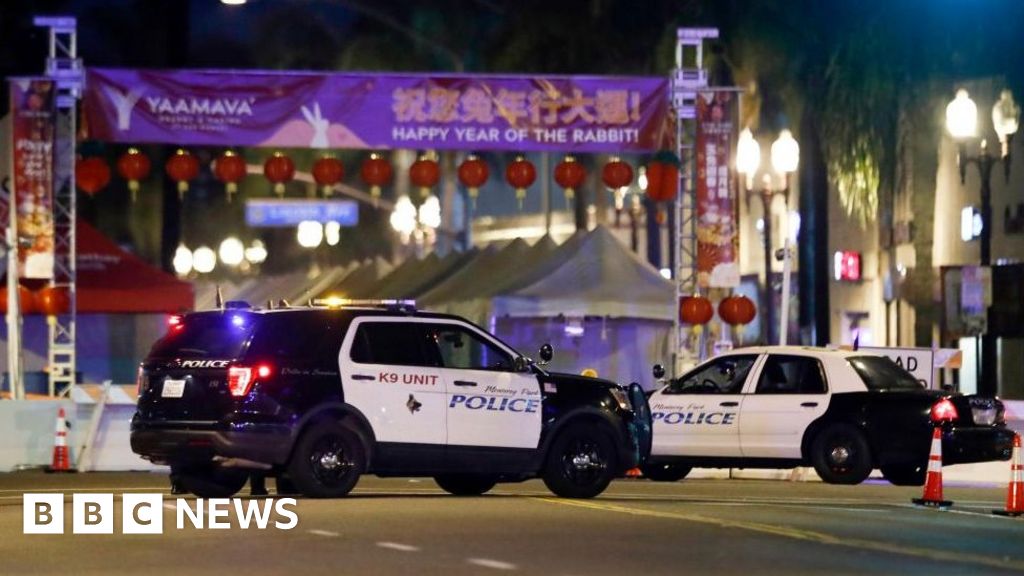 www.bbc.com
Monterey Park shooting: Suspect at large after shooting near LA kills 10
The shooting happened in a city where thousands had earlier gathered for a Lunar New Year festival.
Local
en people have died following a shooting at a ballroom dance studio in the Californian city of Monterey Park, police said.
Police say another 10 people are injured and the suspect remains at large.
The shooting happened at about 22:20 local time on Saturday (06:20 GMT on Sunday).
Thousands of people had earlier gathered in the city for the Monterey Park Lunar New Year festival.
The Los Angeles County Sheriff's Department said they are seeking a male suspect who fled the scene but did not provide any other details about him.
Captain Andrew Meyer said that emergency services arrived on the scene and found patrons "pouring out of the location screaming".
Officers then confirmed 10 people had died.
At least 10 others have been injured and are in local hospitals, where their conditions vary from stable to critical.
Investigators said there was no clear motive and it was too early to say whether the incident was being treated as a hate crime.
They confirmed that Sunday's Lunar New Year festival events had been cancelled.
Captain Meyer added that police were aware of an incident in Alhambra, a suburb north of Monterey Park, but did not elaborate further.
"We have investigators on scene trying to determine if there's a connection between these two incidents," he said.
No one was injured at the second location in Alhambra but police remain at the scene, CBS News reported.
Videos on social media showed a large police presence in the city, which is located about eight miles (13km) east of Los Angeles.
An eyewitness told the Los Angeles Times that three people ran into his restaurant and told him to lock the door as there was a man with a machine gun in the area.
"It appears to have happened at a dance studio nearby where a gunman came in with what an eyewitness described as a machine gun, some automatic gun that fired multiple rounds at mostly Asian-Americans," Jeong Park, a reporter with the paper, told the BBC.
An eyewitness told him that someone fled in a car minutes later.
Others attending the festival said they heard sounds which appeared to be fireworks, which struck them as unusual.
"And then I knew for a fact it was not fireworks when I heard the helicopter up above. Because we never have helicopters around here," one man, Gabriel, told Reuters.
The annual Lunar New Year festival in Monterey Park is a weekend-long event that has previously drawn crowds of more than 100,000 visitors.
Saturday night's festivities were scheduled to end at 21:00 local time.
Monterey Park has a population of about 60,000 people and is home to a large Asian community.