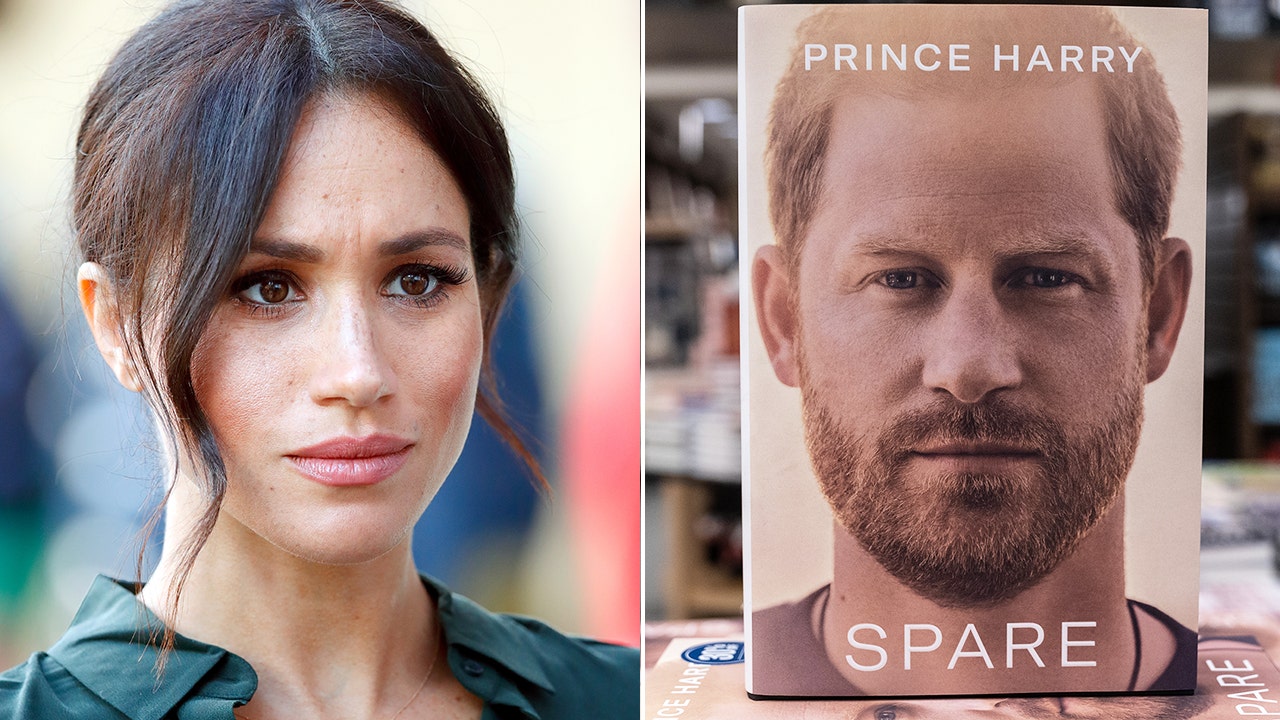 www.foxnews.com
Prince Harry's 'Spare': Meghan Markle's attempt to 'distance' herself amid Hollywood fallout
According to a new report, the Duchess of Sussex "may have raised gentle concerns" about Prince Harry's memoir "Spare" and whether it was the right move.
Culture & Entertainment
Meghan Markle was noticeably absent from the spotlight as Prince Harry embarked on a media tour for his latest tell-all.
The Duke of Sussex's explosive memoir, "Spare," which was published on Jan. 10, sold 1.43 million copies during its first day on sale in the U.K., U.S. and Canada, making it the fastest-selling nonfiction book of all time.
Despite the book's overwhelming success, sources recently told The Telegraph that the duchess, 41, "may have raised gentle concerns about whether it was the right move." The mother of two, who was described as "media-savvy," was "more wary than the duke about this particular project."
GB News host Dan Wootton called the Telegraph report "absolutely fascinating" because he felt "it was the first sign of Meghan trying to distance herself from all of the collateral PR damage caused by 'Spare,'" U.K.'s Express reported.
A spokesperson for the Duke and Duchess of Sussex did not immediately respond to Fox News Digital's request for comment.
Royal author Christopher Andersen, who recently wrote a book about King Charles III, told Fox News Digital that he was not surprised the former American actress is nowhere to be seen following the book's release. He suspected that she is sending a clear message – this was Harry's work alone.
"Meghan clearly doesn't want to make it look as if she's somehow manipulating Harry, or that she's had a hand in shaping his memoirs," Andersen explained. "The Sussexes are very sensitive to the fact that their critics believe she has some mesmeric sway over him. The fact is, this is Harry's story, and for better or worse he has to own it."
Andersen also believes there's a good reason why the former "Suits" star may have allegedly been wary about some of the contents in "Spare."
"What may be most concerning to both Harry and Meghan is the blowback they've gotten from people in the military who feel he was ill-advised to write about killing 25 enemy combatants while serving in Afghanistan," said Andersen. "I can't imagine if they'd had it to do over, that Meghan in particular would just as soon have had him leave those kinds of statistics out of the book."
To promote "Spare," Harry, 38, made solo appearances on ITV, CBS' "60 Minutes," "Good Morning America" and "The Late Show with Stephen Colbert."
In comparison, when Markle launched her "Archetypes" podcast, Harry made a comical cameo in the episode featuring Serena Williams. Additionally, when she promoted her children's book "The Bench" at a New York school, her husband was on site to support his spouse. The outlet also pointed out that when Markle spoke to The Cut magazine, Harry "appeared from somewhere in the house" to tell the journalist that his wife "had complained after her photoshoot that she was a mom, not a model."
"You can be both," he said.
"The book was always Harry's thing, in the same way the podcast was always hers," royal expert Shannon Felton Spence told Fox News Digital. "We didn't see him in podcast promotion. Their PR strategy has never made sense to me, but they are clearly trying to build a Harry and Meghan brand and a Harry brand and a Meghan brand."
"The question is… What about an Archewell brand?" she asked, referring to the couple's nonprofit. "The book has definitely hit their brand. In my estimation, they had everything they wanted one month ago after the Netflix documentary. Their story was out and garnered massive sympathy from even the most apathetic American viewers. The memoir undid all that goodwill, and the press tour has been an absolute cringe-fest."
"Spare" is the latest in a string of public pronouncements by the Duke and Duchess of Sussex since they quit royal life in 2020. At the time, they cited what they saw as the media's racist treatment of the duchess and a lack of support from the palace.
Following their exit, the couple sat down with Oprah Winfrey for an interview that was viewed by 50 million people globally. The Duke and Duchess of Sussex spoke out again in a six-part Netflix documentary released last month.