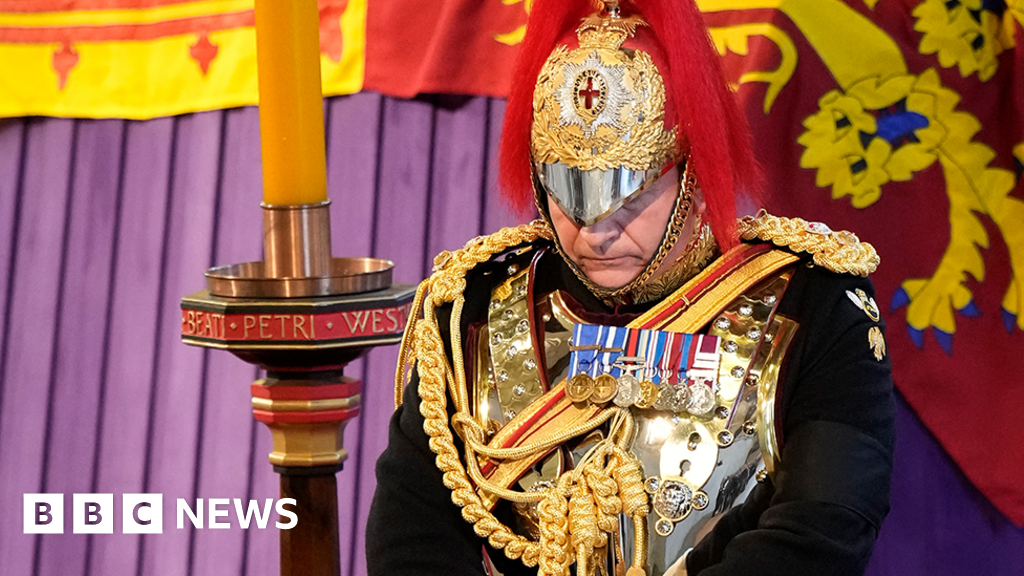 www.bbc.com
Queen's lying-in-state: The symbolism and ceremony explained
A look at the ceremonial events surrounding the Queen's lying-in-state, ahead of her state funeral on Monday.
International
Members of the public have begun to view the Queen's coffin as she lies in state in London's Westminster Hall.
Queues have been building since Wednesday morning, with hundreds of thousands of people expected to pay their respects during the four days until her funeral on Monday.
Lying in state begins
A line of mourners hoping to view the coffin is snaking for more than two miles from Westminster across Lambeth Bridge and along the banks of the Thames. Some have queued for hours for a chance to pay their respects.
From Wednesday afternoon the public have been filing into Westminster Hall and will continue for 24 hours a day until 06:30 BST on Monday, the day of the state funeral. The government has warned people could face 30-hour waits to get in.
They will walk by the Queen's closed coffin, which rests on a raised platform, known as a catafalque, beneath the 11th Century hall's medieval timber roof.
Each corner of the platform is being guarded in a continuous vigil by soldiers from units that serve the Royal Household.
The coffin is draped in the Royal Standard and topped with the Imperial State Crown, a wreath of white roses and dahlias and the Sovereign's orb and sceptre.
The grand hall is the oldest part of the Palace of Westminster, at the heart of British government.
The last member of the Royal Family to lie in state in the hall was the Queen Mother in 2002, when more than 200,000 people queued to view her coffin.
The BBC has a dedicated live stream for those unable to travel to London. The service will be available in the UK on the BBC home page, the BBC News website and app, iPlayer, BBC Parliament and the red-button from 17:00 BST on Wednesday. It will also be available internationally via bbc.com/news.