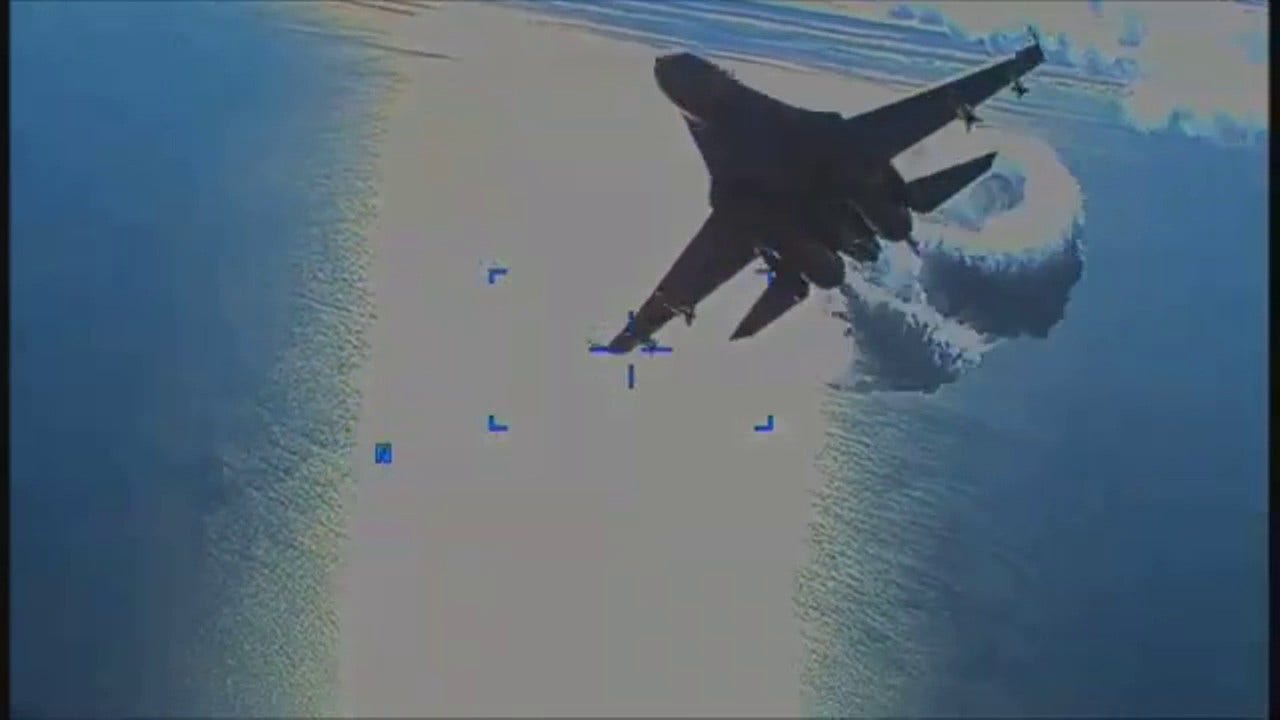 www.foxnews.com
US video shows moment Russian fighter jet collides with US drone
The U.S. European Command released video footage Thursday showing two Russian fighter jets encountering a MQ-9 drone that plummeted into the Black Sea.
International
U.S. officials have released video that shows a Russian Su-27 fighter jet colliding with the propeller of a U.S. MQ-9 Reaper drone.
The video release by the U.S. military's European Command on Thursday came amid a race to secure the downed American aircraft.
Russian ships are at the MQ-9 drone crash site in the Black Sea, a U.S. defense official told Fox News Thursday. Russia sent ships to search the debris field almost immediately following the crash.
A different U.S. official is not confident Russia will be able to obtain any of the drone debris.
This part of the Black Sea is 4,000-5,000 feet deep, Joint Chiefs of Staff Chairman General Mark Milley said in a Wednesday Pentagon press briefing alongside Defense Secretary Lloyd Austin. Milley said it has likely sank to some "significant depths" already.
The U.S. military has no ships in the Black Sea. When asked about U.S. recovery efforts, Milley said the U.S. has allies and partners in the region, but later in the press conference told reporters to not look too much into that.
Defense Secretary Lloyd Austin summarized the incident Wednesday in a press conference, saying, "Two Russian jets dumped fuel on an unmanned U.S. MQ-9 aircraft conducting routine operations in international airspace. And one Russian jet intercepted and hit our MQ-9 aircraft, resulting in a crash."
Austin sharply criticized the Russian military for its actions, stating that the Black Sea incident was "a part of a pattern of aggressive and risky and unsafe actions by Russian pilots in international airspace."
Russia has previously denied that the aircraft touched one another, and accused the U.S. of unnecessarily escalating the issue.
"We assume that the United States will refrain from further speculation in the media and stop flights near Russian borders,"said Russian Ambassador Anatoly Antonov on Wednesday.
Two U.S. military fighter pilots, speaking with Fox News, disputed the idea that Russian jets could have dumped fuel on the drone.
The pilots said any fuel the jet pilots could have been intending to dump would "vaporize instantly" when it hit the air. It would not have affected the drone or the flight.
Ukrainian officials have claimed the alleged incident is Russia's attempt to escalate U.S. involvement in the war.
"The incident with the American MQ-9 Reaper UAV — provoked by Russia over the Black Sea — is Putin's way of signaling his readiness to expand the conflict to involve other parties," said National Security and Defense Council Secretary Oleksiy Danilov. "The purpose of this all-in tactic is to always be raising the stakes."